Reliable travel trailers can provide you with a chance to explore the great outdoors with complete freedom and independence. And with numerous features and functionalities, modern RVs come with all the benefits that couples and families need to remain comfortably self-sufficient on their trip. Plus, you'll have the chance to cover greater distances because you won't have to make frequent stops to resupply, making time your ally.

You'd be surprised to hear that RVs have become incredibly more popular than ever before – especially since so many people are getting vaccinated. More and more families are now planning long vacations trips to explore the outdoors making up for all the lost time and opportunities when they were in lockdown.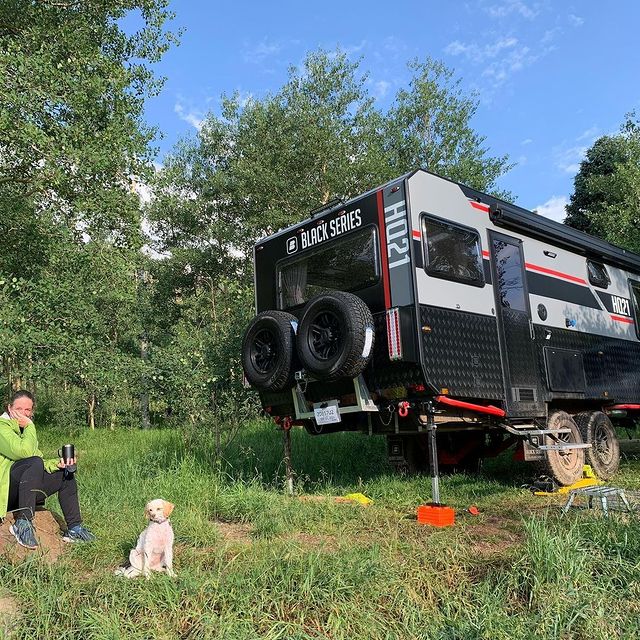 Why Travel Trailers are Getting Popular
There are a lot of reasons why people go boondocking in RVs. Let's take a look at some of the most important benefits.
1.
RV Boondocking Offer Complete Flexibility

If you're planning to go on an adventure after a long time and are looking for a comfortable and flexible experience, it doesn't get any better than an RV. These hookup vehicles offer total independence and an enjoyable experience – allowing you to be free from keeping a schedule.

You can change your route at will, without stopping for anything. You can park them at a desired spot and roam around or go for a quick hike. But more importantly, you won't have to depend on going at a camping ground. You could just stay inside your RV.
2.
Pack all the Essentials and More

RVs offer plenty of space to pack your stuff. From your favorite board games to books, snacks, etc. You can practically take anything you want to make your journey as comfortable as you can. There's really no question that Black Series travel trailers are considered a home away from home.

However, you need to keep in mind that packing too much stuff in your off-road camper can become a safety hazard. RVs come with a maximum storage capacity written on the manual or inside a cabinet. The total weight capacity is not just for your stuff, it's an overall weight limit of the RV. So make sure you don't exceed the weight limit. Doing so will cause problems with the vehicle's suspension, brakes, and tires.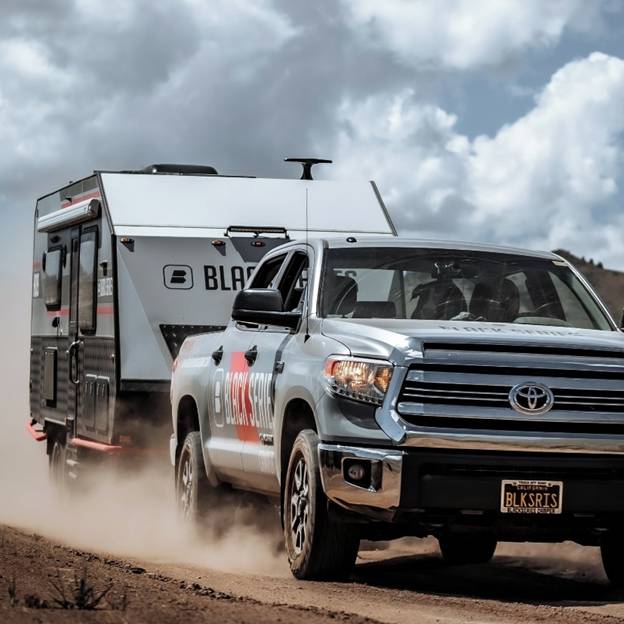 3.
RVing is an Excellent Way to Practice Social Distancing

While lockdowns have been eased throughout the country, people are still wary of crowds and having to mingle with too many people. And that's understandable and advisable. The Covid-19 outbreak hasn't gone anywhere, which means you should try to be as careful as you can. RVing offers an exceptional way to maintain social distancing compared to cruise ships and airplanes. Only you and your family will be using the RV – which means it's going to be self-contained. And because the HQ21 overland trailer by Black Series comes with a built-in bathroom, you won't have to worry about using public restrooms or washrooms in camping grounds.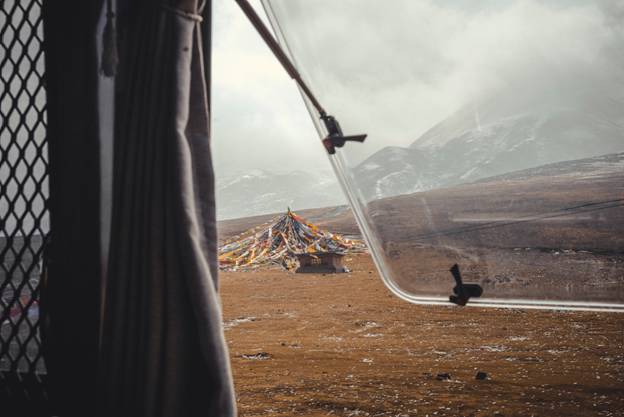 Why the New HQ21 Overland Trailer by Black Series is Perfect for Your Next Camping Trip
The new HQ21 overland trailer is Black Series latest edition in absolutely world-class and functional RVs. The company has undoubtedly outdone itself in bringing something that can be easily likened to a mini penthouse on wheels!
Black Series has also kept its promise on offering couples and families with a slew of the latest amenities and a modern interior, both of which are extremely hard to find in a lot of mainstream RVs. In light of this, let's take a look at what makes this RV different than the rest and why you should rent or buy the HQ21 for your next outdoor trip.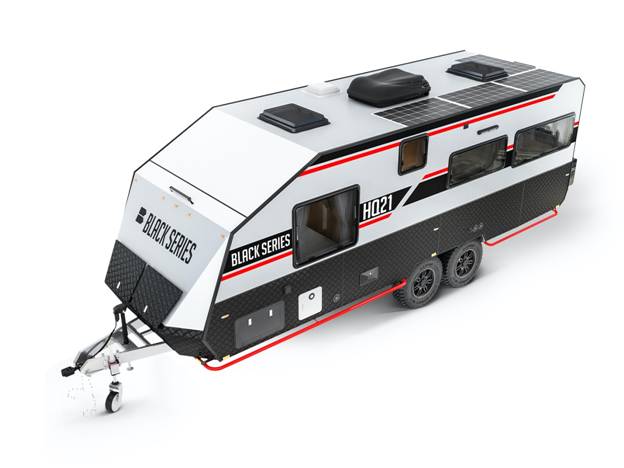 A Redesigned and Incredibly Spacious Interior
The HQ21 camper trailer is the company's largest RV – easily beating all other travel trailers in size alone! The RV is more than 28 feet long and the interior height reaches 10 feet. This modern design and interior layout enabled engineers to install a multitude of amenities and accessories to provide more comfort and flexibility for families.
The added space will allow you to store a lot of equipment and essential items needed for the journey. You'll have more walk space to stretch your legs in the morning. Plus, the HQ21 also comes equipped with a queen-sized bed, allowing for a relaxing and peaceful sleep after a long day of trekking or exploring.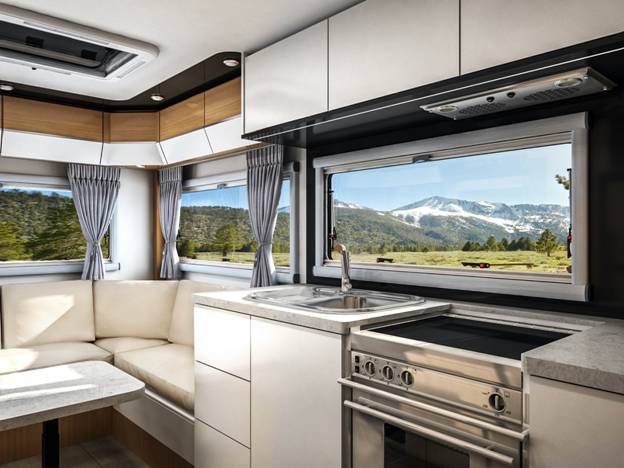 All the Appliances You Will Ever Need
One of the biggest size advantages of the HQ21 off-road camper trailer is the fact that it comes with even more appliances. The RV comes with a moveable and 24" TV with a DVD player. Plus, you can stock all the food you need for various parts of the journey in the 17-gallon Dometic fridge. Then there's the classic slide-out stainless kitchen with a built-in microwave oven. There's even a smoke alarm for emergencies.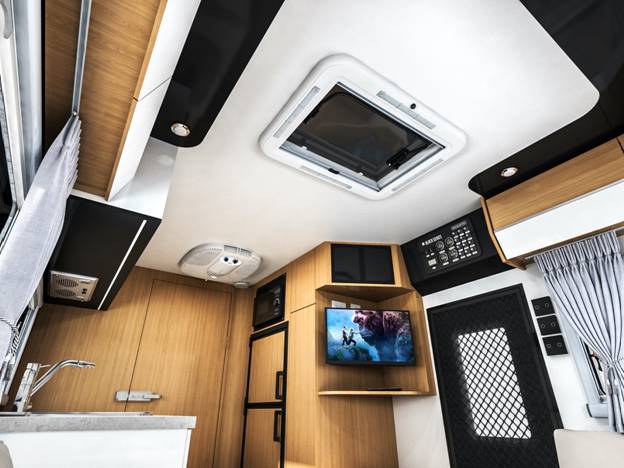 Bunk Beds for Kids and Guests
The revolutionary overland trailer comes with four bunk beds for superior and comfortable accommodation. Want to invite guests on your trip? No problem! Kids coming with you on the trip? No problem! When it's time for bed or movie-time in the RV, just use the lever strap to safely and easily pull down all four beds. You'll never have to worry about booking a hotel room or worry about accommodating your friends and family.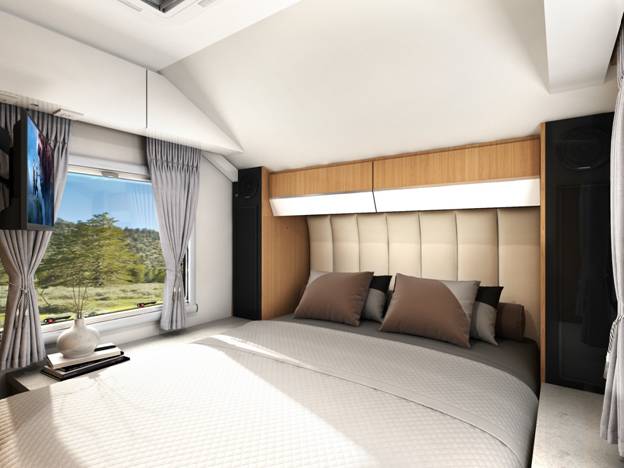 Beautiful Cabinetry
The RV's fitted with elegant and durable cabinets, made with topnotch materials. The colors go well with the luxurious and premium theme of the overland trailer.
New ROB Lighting
The pop-up camper comes with warm-toned ROB lighting, adding exquisite atmospheric ambience.
Velvet Curtains
The RV is built-in with privacy, multi-fold grey velvet curtains for enhanced visual aesthetics and functionality.
Final Thoughts
In all, the HQ21 is a magnificent overland trailer that can truly revolutionize boondocking, helping you maximize your RVing experience. A wonderful way to travel around the country in style and total comfort.