No one does it better than the Germans when it comes to achieving the perfect balance between work and play. By increasing their productivity when they're at work, Germans are able to enjoy a 35-hour workweek and more days off during the year. Less time at work means more time to experience the things in life that bring joy. And the more rested you are, the more efficient you become at getting your job done.

Now, we can't all head to the office and demand that our bosses allow us to work a less demanding schedule for the same salary, but we can take a few lessons from the Germans on enjoying life and taking care of our health.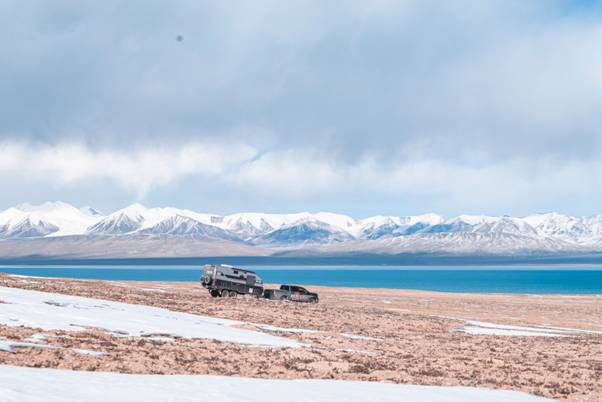 The Benefits Spending Time Outdoors Has on Productivity
While taking time out to recharge benefits your work output, spending time outdoors increases your productivity even further. But how does this work?
Working environments where employees feel happier are generally more productive. Studies have also shown that people who spend time in nature have improved memory skills and deeper focus. But why is this?
We as humans have a unique connection to nature called Biophilia, a concept first introduced by American biologist Edward O. Wilson in 1984. The term Biophilia describes our instinctive need to seek out nature. Because of this, when we step outside and feel the sunshine after a long day at work, we feel happier. It is also the reason why spending time camping or engaging in outdoor travel is so appealing.
So, let's look at some of the benefits enjoying time outdoors offers.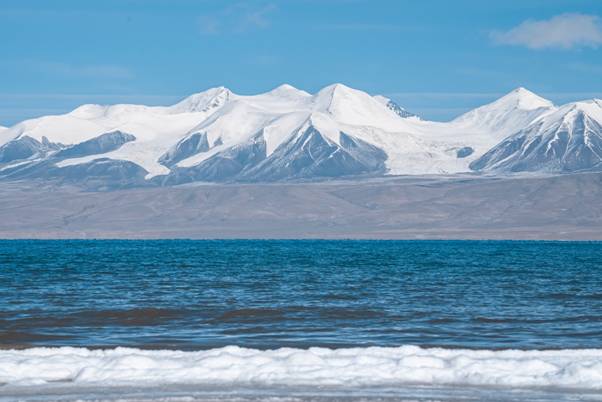 Increased Happiness and Joy
Various studies show that time outdoors boosts our happiness and shift our mood to a more positive one. Researchers also show us that time spent in nature helps prevent depression and anxiety and may improve symptoms.
Improved Energy Levels
While many of us reach for a cup of coffee to get us through that early morning slump, research has shown that a few minutes outdoors is far more refreshing and can boost energy levels substantially. Reconnecting with nature allows us to clear our minds and focus on the tasks ahead.
Improved Concentration and Memory
Time spent outdoors in nature is proven to improve memory and has a significant impact on short-term memory. Being outdoors also helps improve focus and concentration. By giving ourselves time away from our screens, we provide ourselves with the opportunity to reset our minds.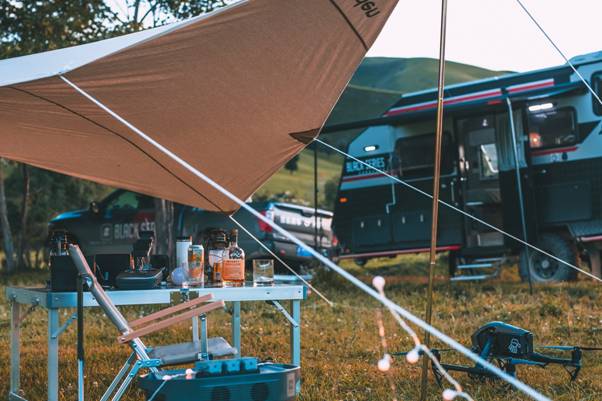 Nature Is a Natural Stress-Reliever
After numerous studies, researchers have found that engaging with nature lowers stress levels and has similar effects on your brain and mindset to yoga.
Increased Creativity
Disengaging from the pressures, stresses, and technology that come with daily life enables you to dissipate any brain fog or mental blocks. By doing this, you open up the opportunity for creative thought and fresh ideas.
Improved Physical Health
When you head outside and take a walk, go for a hike, or spend the afternoon fishing in a pristine river, you are expending energy. You're also stretching out your muscles, improving your blood flow, and improving your overall health.
While the benefits of spending time outdoors are innumerable, chances are your boss will not let you hop up from your desk every so often to take a meander through the park. So this is where outdoor travel becomes a meaningful way to spend your time.
But if camping isn't your scene, and neither are noisy campgrounds, then the Black Series HQ21 is worth a closer look.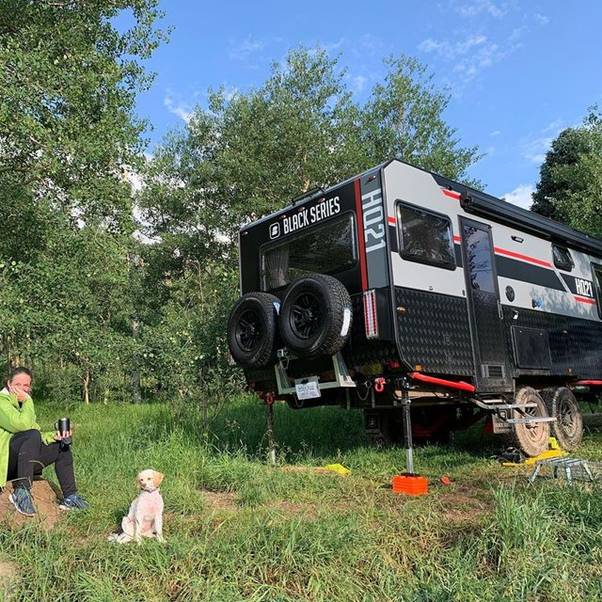 The Black Series HQ21
Black Series offers its flagship camper trailer for outdoor adventurers who seek luxury and the ability to enjoy the great outdoors without having to depend on a campsite.
Hotel-Style Luxury Interior
This robust off road camper trailer comes equipped with an interior that will rival even the most luxurious hotel suites across the globe. It offers a spacious bedroom, fitted with a comfortable queen-size bed and soft, lightweight bedding.
In addition, an en-suite bathroom offers luxury not often found in travel trailers in the form of a separate porcelain toilet and ceramic vanity and a full-sized shower that comes complete with hot water.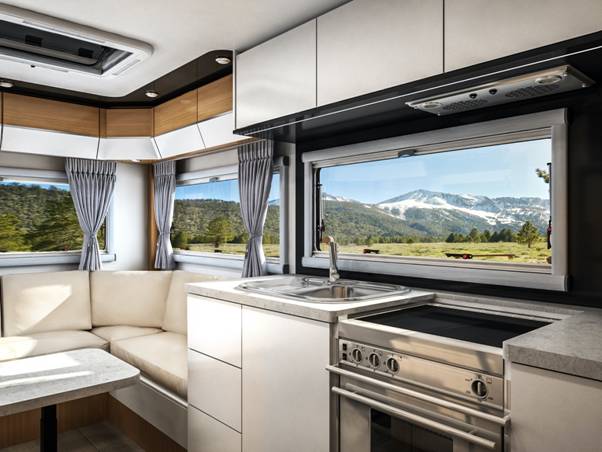 The kitchen comes fitted with a selection of full-size appliances, including a gas oven and stovetop, a refrigerator, microwave, and washing machine, making life onboard even more luxurious.
A generous lounge with a dinette and convertible table complete with soft, comfortable couches provides the perfect place to relax indoors.
Additional amenities such as a sizeable water tank, fresh filtered drinking water, a one-touch control system, and all the creature comforts of home make this offroad trailer ideal for that much-needed getaway to the outdoors.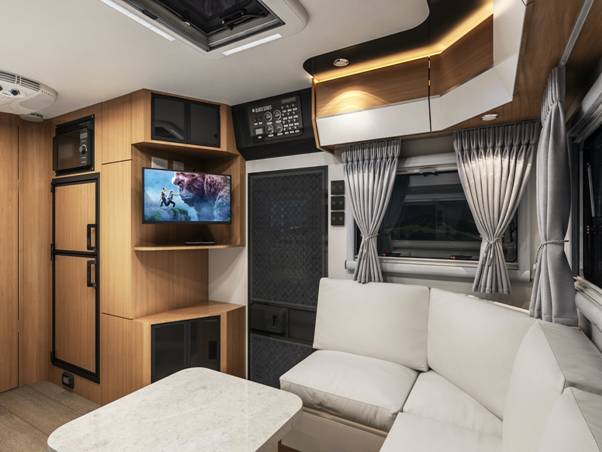 An Expertly Engineered Exterior
Black Series expertly engineers its off grid trailers to allow you to spend time in the wilderness without needing to be hooked up to the amenities of a campsite. This enables you to travel into nature, away from the crowds and the noise, without having to sacrifice things like fresh water and power.
The HQ21 comes fitted with a 12v/110v electrical system with an inverter with a peak of 2,000 watts that powers the HQ21. In addition, it comes equipped with four 100Ah batteries that are kept fully charged by the four roof-mounted 150watt solar panels and can also be powered by propane and shore power. This means you can spend days in nature while living off the grid.
The unique construction of the HQ21 allows you to tow it across all terrain surfaces, alleviating the need to stick purely to smooth-surfaced tar. An independent suspension system that allows each wheel to move independently provides a smoother, more stable ride no matter what surface you traverse.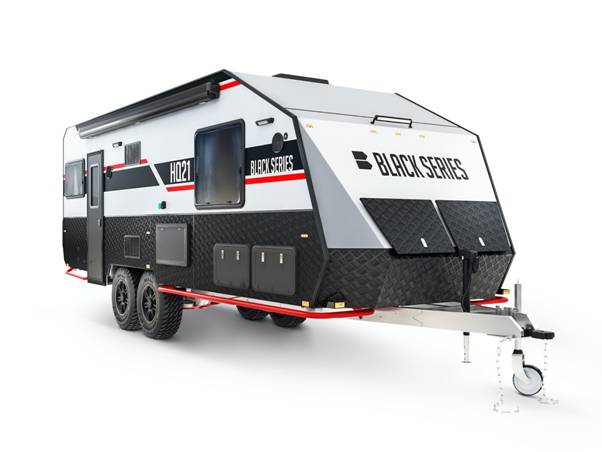 Final Thoughts
The Black Series HQ21 makes going on an adventure in the wilderness easy and even luxurious. It offers the ideal getaway, enabling you to experience a little of that German way of life while you relax your mind, stretch out your muscles, and detox yourself from stress.
The features this unique camper trailer provides also mean that should you need to pull out your laptop for a few hours, you can do so without interrupting your family's fun. Chances are you will find your productivity is increased, and you can get to joining in their fun quicker than you thought. The Black Series HQ21 makes creating the balance between work and play simple.