Just when the world thought Coronavirus was on its way out and families could finally get to celebrate this festive season, along comes the Omicron variant to put a spanner in the works.
If the arrival of this new strain of Covid-19 has put an end to that spectacular family holiday that was planned, chances are finding something new to do is on the cards.
The European Centre for Disease Prevention and Control reports that this new variant is spreading across Europe, with fresh cases arising in Portugal, the Netherlands, Austria, Belgium, Czechia, Denmark, Germany, and Italy. With this in mind, it is safe to say that holidaymakers may want to steer clear of any crowds.
So, what does this mean for festive season travels?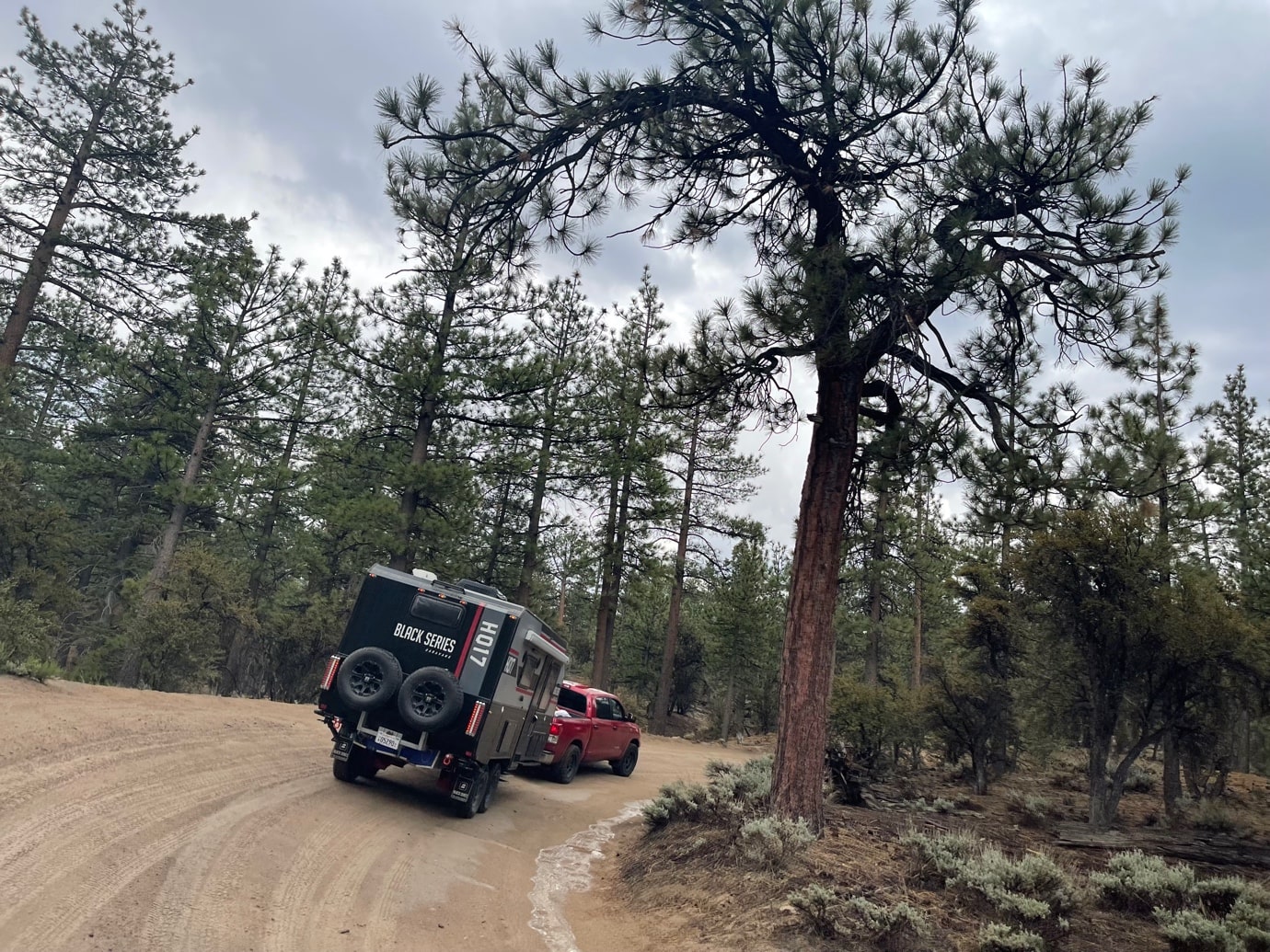 Staying Safe These Holidays
First, holidaymakers will want to make sure that they stay safe. If traveling is still on the cards, consider a location that is well-spaced and free from crowds.
Unfortunately, finding a holiday spot that isn't packed with people can prove tricky. And, while hotels and resorts may also close their doors or limit their number of guests, it makes it a little challenging to have a fun, carefree experience.
Those considering a trip to a campsite in a camper trailer may also want to reconsider. Grounds are often laid out with stands that leave little room between RVs, and during the seasonal holidays, are usually fully booked. In addition, many folks are less likely to sanitize or even wear a mask because of the outdoor settings, placing those around them at risk of becoming ill. Keeping this in mind, holidaymakers may not want to head out to their usual camping spot.
So, what now? Staying at home all holiday may not be the greatest of fun, or perhaps it is a family tradition to head out into the wilderness and get away from the festive rush. So how do travelers still have this nature-centric adventure? Well, consider an off road camper trailer from Black Series.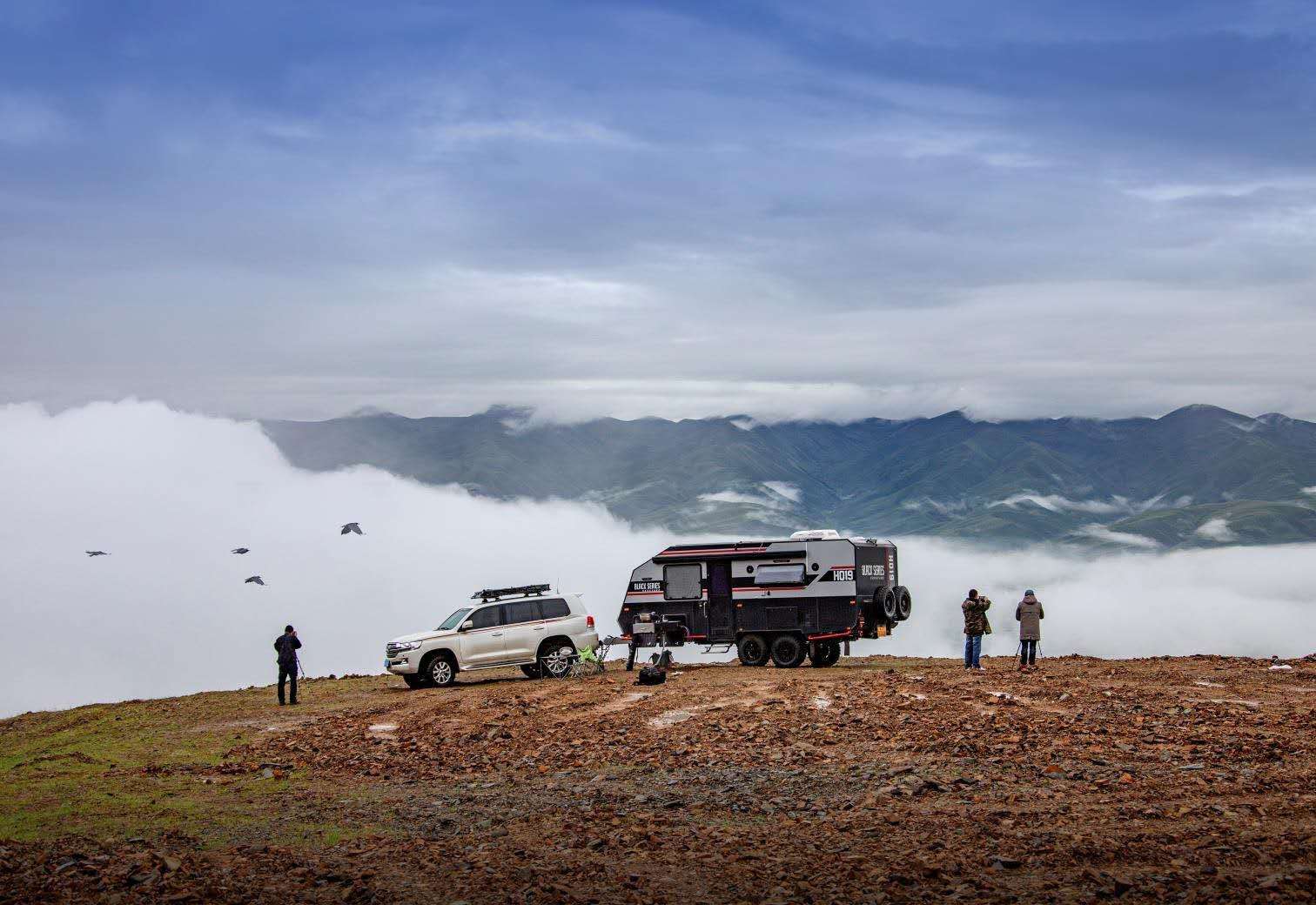 Black Series - Enjoy Safe Travels
Wondering what Black Series is? Black Series Campers Inc. is a family-owned and operated business with over ten years of industrial experience. The brand has taken the design of everyday travel trailers and pushed it just a little further. The result? Versatile and rugged overland trailers.
What Is the Difference Between a Traditional and an Overland Trailer?
While a camper in the traditional sense is just fine, they can be somewhat limiting. These caravans usually come fitted with smaller tires designed for use on smooth tar and well-graded gravel only. This limits where adventurers can go with their trailer and makes traveling in it rather unpleasant, especially when hitting a pothole.
In addition, a regular travel trailer requires users to hook it up to the amenities offered by a campground. For example, freshwater, black water services, and power are all provided by the campsite. To be able to live in a camper trailer for extended periods, travelers need to rely on these amenities, which means they will also need to stay on crowded campgrounds.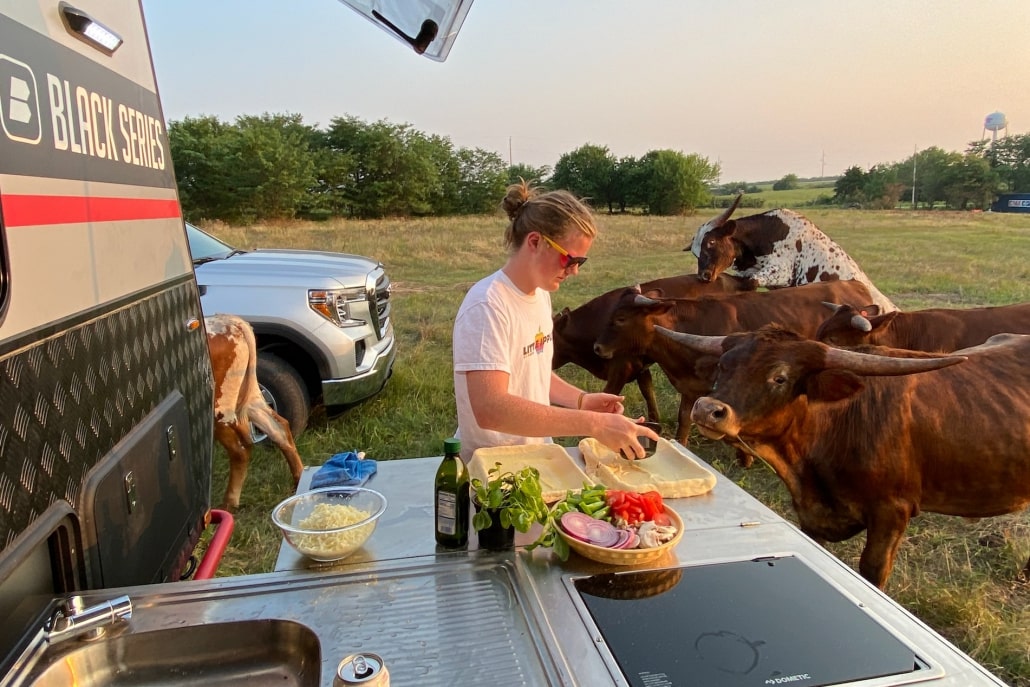 A Black Series offroad trailer offers a different experience. These vehicles are designed for off-road use, which means they come fitted with custom suspension and all-terrain tires. So, adventurers can take this camper trailer just about anywhere.
The body of these off grid trailers features sturdy paneling and protection bars, along with a durable undercarriage that keeps it from damage caused by rocks, logs, branches, and any other sharp or destructive elements.
Black Series designs this overland trailer to go just about anywhere - drive it on smooth tar or across rocky fields and through the wilderness. Outdoor travelers no longer need to stick to the tarred roads; and are now able to head off into the great wide open and experience nature at its best.
But, what about the amenities? Well, Black Series has things covered here too. These travel trailers come with an array of features that eliminate the need for campground amenities.
A sizeable freshwater tank holds more than a couple of days' worth of water, while separate tanks for greywater and black water mean users need to dump the contents less frequently.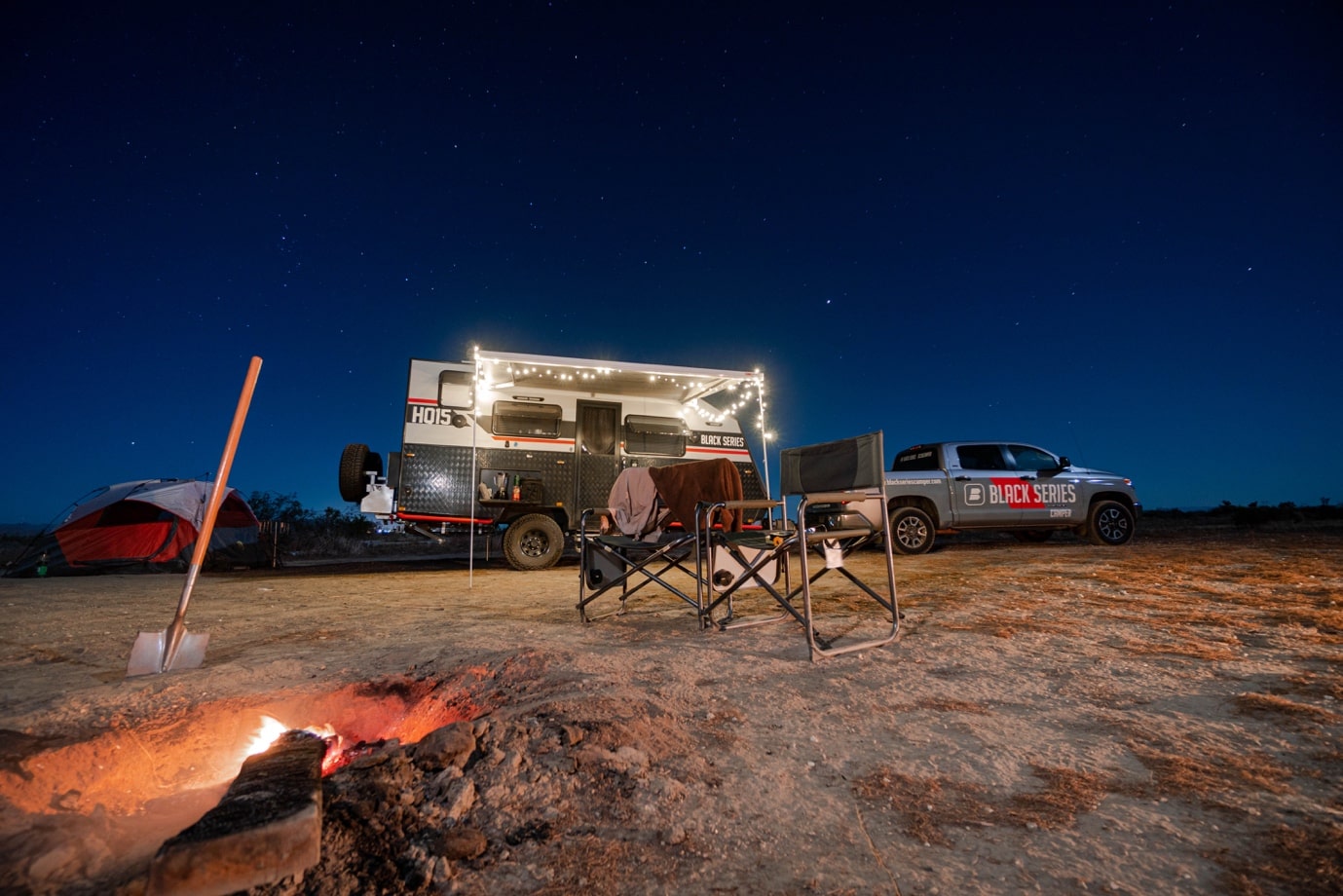 Solar panels and a series of additional power sources will keep the camper equipped with electricity for days on end so cooking up a sumptuous meal in the kitchen, enjoying the air conditioning in the bedroom, and lighting up the night with a range of indoor and outdoor lighting solutions are all possible off-grid.
Black Series designs their camper trailers to allow travelers to live comfortably for longer out in the wilderness without the need for the services of a campsite. Enjoy the comforts of home and the peaceful tranquility of nature without compromise.
How Does Black Series Facilitate Safer Holiday Travel?
Spending time amongst crowds is not the safest bet this holiday season, making traveling into the wilderness an appealing choice for a getaway.
Because a camper trailer from Black Series allows travelers to live independently in nature, it makes it easy to take a trip with family. Instead of having to rely on a busy campground, families can experience the great outdoors and some quality time without fear of exposure to Omicron or any other Covid-19 variants. The off-road ability of the Black Series off grid trailers makes it easy to take loved ones on a nature adventure they will never forget while keeping them safe.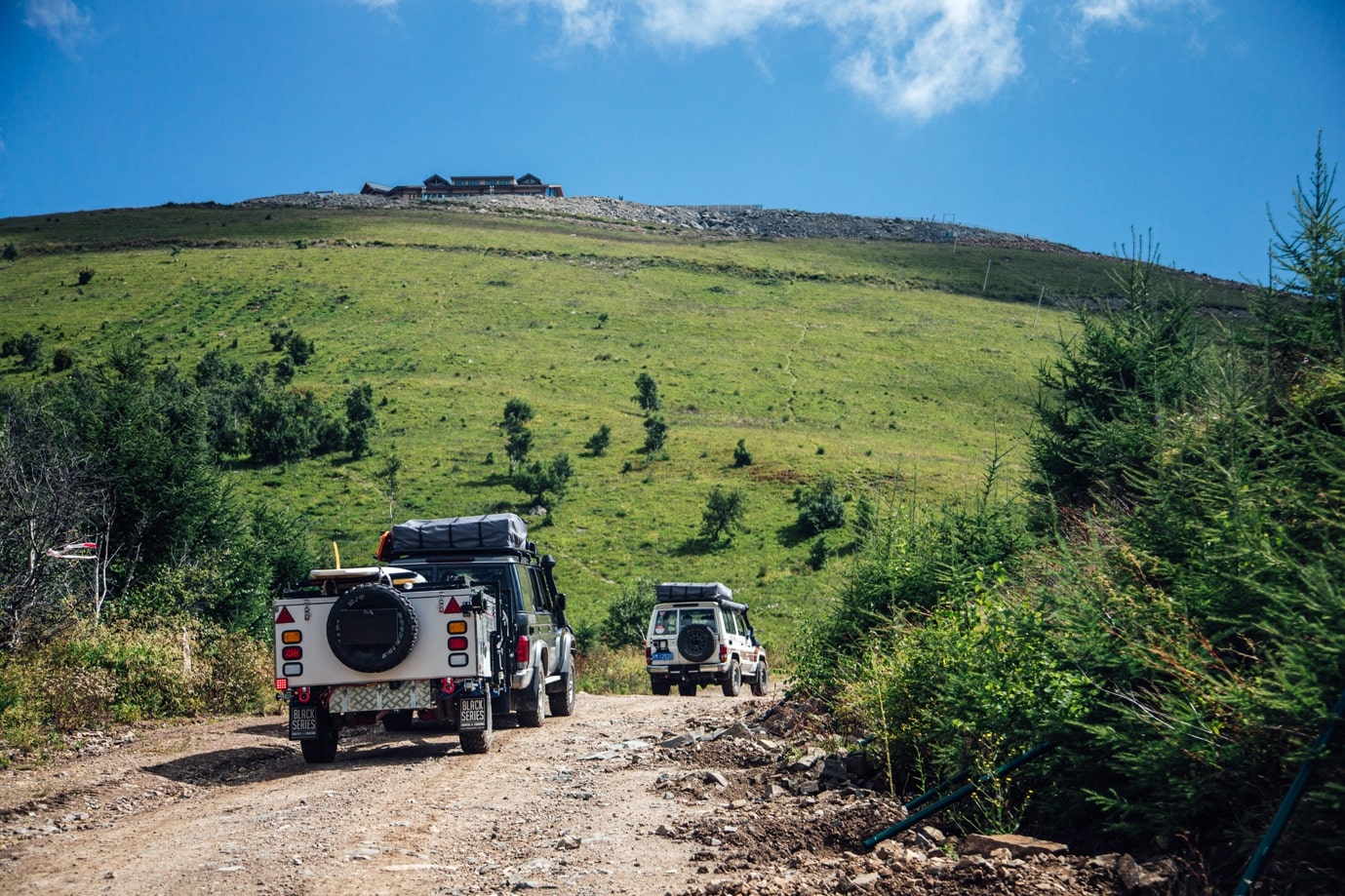 Final Thoughts
Black Series helps prevent Covid-19 from ruining exciting holiday travel plans by allowing holidaymakers to take their family away from the crowds and into nature.
The unique design of these off-road trailers allows them to be rugged enough to endure all-terrain adventures. And, the luxurious interiors provide the comfort of home. While the intelligent off-grid living system of the Black Series travel trailers enables adventurers to enjoy their trip for longer in just about any location. These features combined make it easy to experience the holidays with family members in a safe and exciting environment.
Who says holidaymakers need to cancel their plans? All they need is an overland trailer from Black Series!