The first ever Black Series Ambassador Team is here. This crew of off-road enthusiasts lives and breathes adventure. They're overlanders, expedition photographers, fly fisherman, professional skiers, hunters, split-boarders, river guides, mountain climbers, backcountry campers, and much, much more. To help you get to know them, we've asked a few incisive questions about their life, and their pursuit of the open road.
Asher Koles // @bloodknots, @blackkoles
Home Base: Salt Lake City, UT
Pursuits: Adventure Photography, Filmmaking, Fly Fishing, Mountain Sports
Trailer: HQ19
Vehicle: Toyota Tundra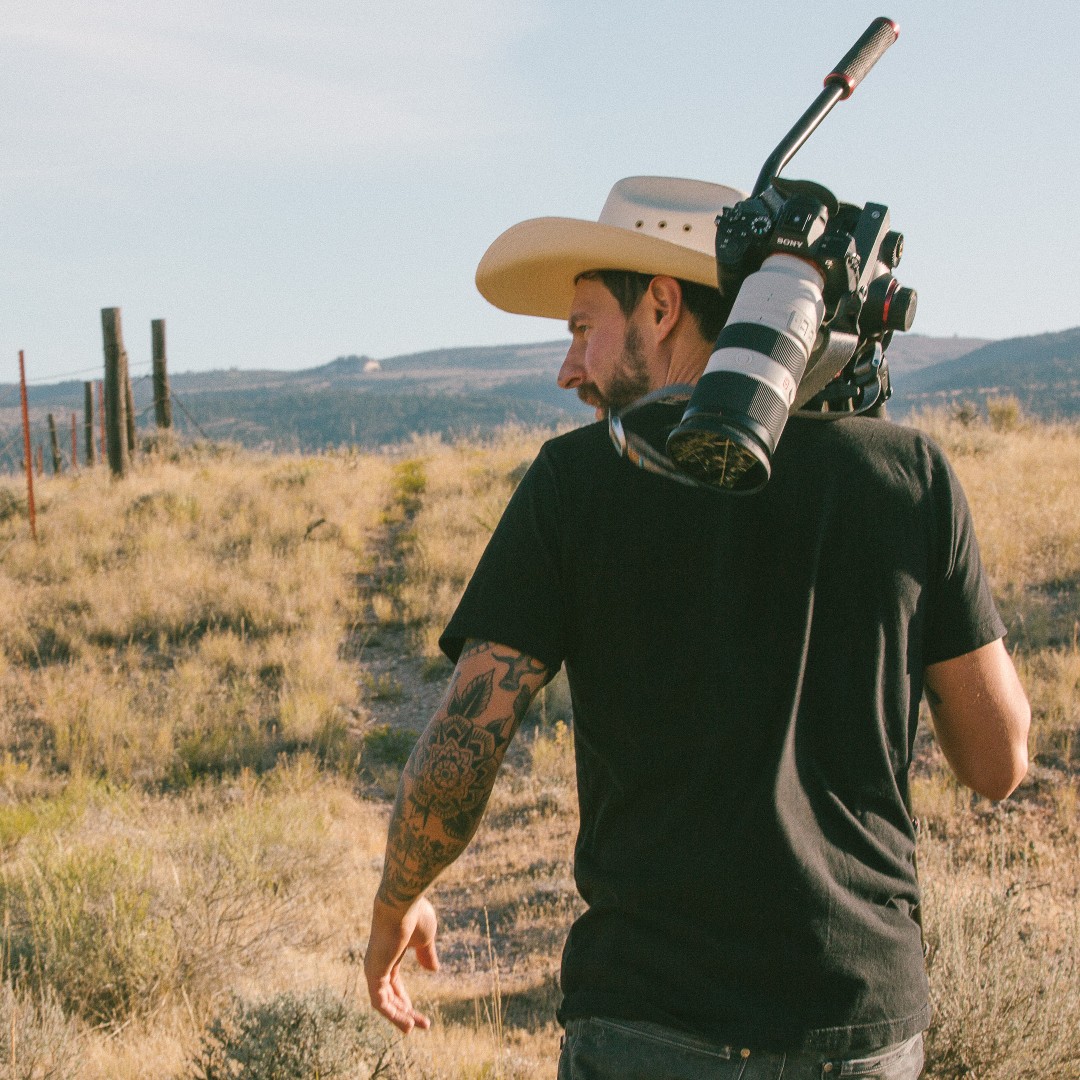 Where can you usually be found? What are you passionate about?
I'm a Utah-based photographer and filmmaker, so I'd say that documenting different pursuits, stories, and characters is my favorite activity. Personally, I guided fly fishing all around the west for nearly a decade and still chase trout, steelhead, and saltwater species all over the world. I mountain bike, bike-pack, and surf during the summer, and chase powder all winter on my snowmobile and split board. All of the above is integrated into my life in both work and play. I love my job!
What does your next big adventure look like?
I'm currently planning a spring 22' trip to Alaska for a cold water surfing trip that includes trying to summit and snowboard down a volcano in the Aleutian chain. There likely will be a short film that comes out of it. I'll probably take a couple of photos too, ha!
What is your favorite Black Series camper feature and why? Or a feature you're most excited to try out?
I think the standout is the off-road capabilities and suspension. I've always had slide-in trailers and bed-caps because I am afraid a trailer won't make it through some of the gnarly roads and savage conditions we endure. Very very stoked to bring the Black Series camper where no camper has been before.
Harlan Taney // @rooted_to_rise
Home Base: Flagstaff, AZ
Pursuits: River Guiding, Adventure Filmmaking, Rock Climbing
Trailer: HQ15
Vehicle: Toyota Tundra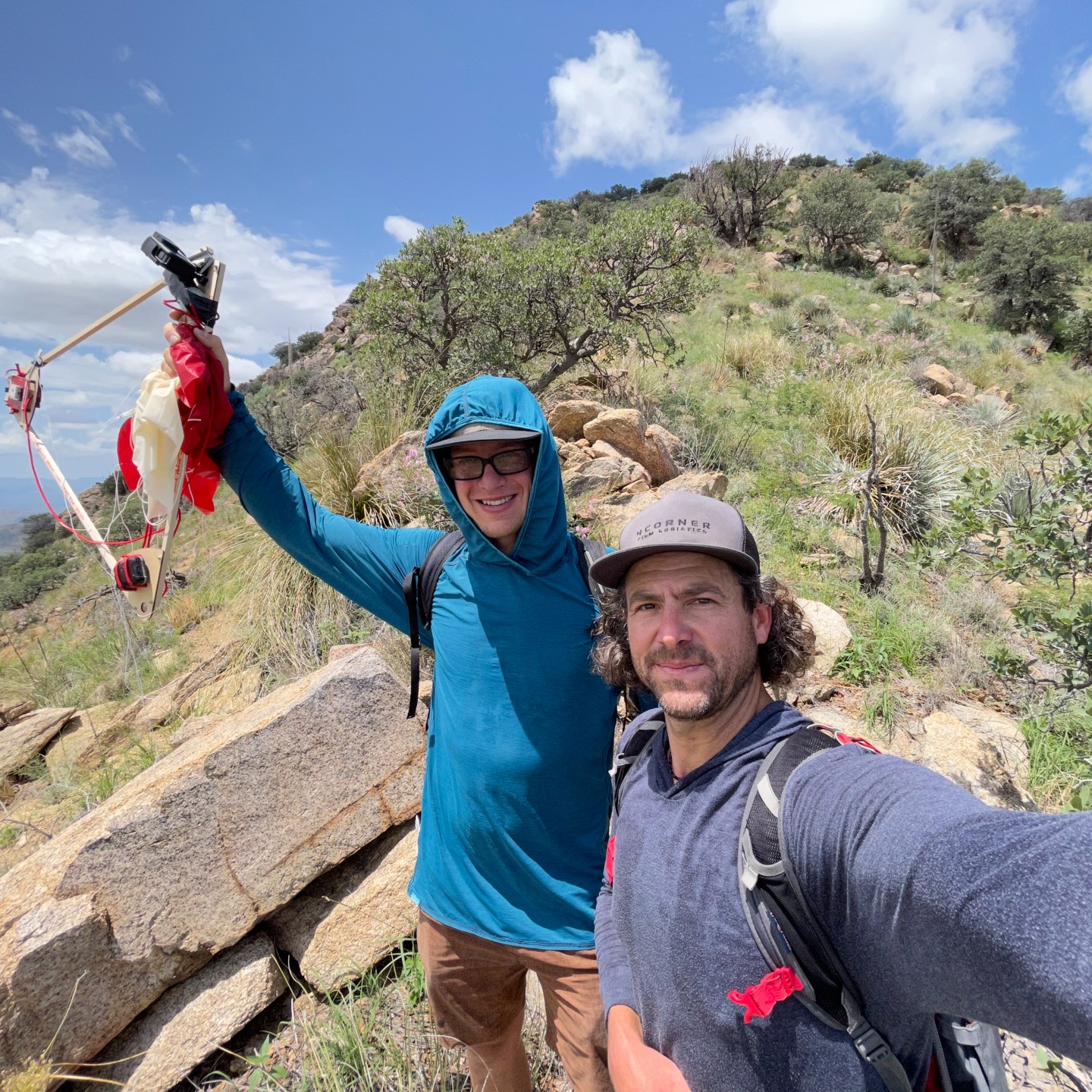 Why is exploration important to you?
It makes me feel alive. I'm a person who can feel stagnant easily. Exploring and going as far out as the time allows is a way for me to tap into myself, my skills, and be a part of something that's not man-made. Putting myself out in big, wild places, adventuring, or just being out there gives me a sense of humility and recharges my batteries.
How does an off-road trailer change the game for you? Does it open up new modes of adventure or opportunities you wouldn't otherwise have?
Having an off-road trailer changes the game in my family life by being able to go off longer and have a home base to support all of our adventures. I have struggled for a long time with finding the right setup for us because the places we go are way off-grid and have difficult access roads. To have a trailer that can go the places we go is perfect. For professional use, an off-road trailer doubles as our mobile production unit. It allows us to have a plug-and-play base to charge equipment, manage the data on our computers, and support our production team while off-grid.
Where is a dream destination for you?
I want to take 6 months to drive from my home in Arizona to South America and circumnavigate the continent. I'd plan it out to spend time in certain places and get involved in community and cultural projects (plus bring all the adventure toys). In my travels I've learned that the more time you can spend somewhere, the more you get a chance to really understand the people and how their way of life is different from your own. I want to share that experience with my kids.
Jenny O'Brien // @Sea2Sage
Home Base: Bend, OR
Pursuits: Fly Fishing, Hunting, Skiing, Hiking, Beach Volleyball
Trailer: HQ12
Vehicle: Toyota Tundra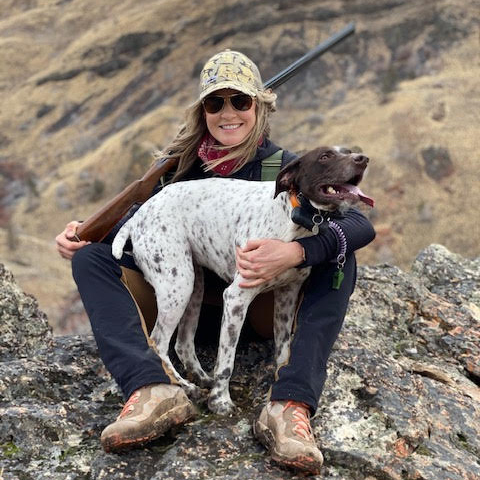 What's your primary outdoor activity?
Fly fishing! I chase all types of species, from saltwater to high mountain creeks and lakes. I've traveled all over the US and internationally to pursue my passion and love sharing the gift of fly fishing with others – it takes me to the most beautiful places and allows me to find peace and purpose outside of my professional life.
And after fly fishing? What adventures fill your calendar?
I'm an avid bird hunter, chasing chukar, quail, pheasant, and other birds during the fall and winter. I love to take my German Shorthaired Pointer, Kai (pictured), along for my adventures.I ski quite a bit in the winter, too, and love to take weekend adventures to new ski resorts. Other activities include sand/beach volleyball, hiking, camping, finding remote hot springs, taking in some beautiful sunsets, and spending time with my loved ones.
Where is your favorite place to spend a day?
When I close my eyes and think of the place most near and dear to my heart, it would have to be the Lower Deschutes River. There's something magical about that canyon. I would love to spend my day walking the banks of the river, taking in the views of the canyon walls, hearing the sound of the river, watching the birds golden eagles and ospreys, and looking for small ripples in the water where large trout are sipping flies. During the late summer, there are blackberries, wildflowers, and that infamous warm wind that always blows upriver. It is the most peaceful place I know.
How does an off-road trailer change the game for you? Does it open up new modes of adventure or opportunities you wouldn't otherwise have?
Having an off-road trailer is a dream come true for me! As a female, I often have to plan ahead with hotels depending on the location, which can limit how far out I can actually go. Personal safety is definitely a concern when I am adventuring solo, and the trailer provides a safe, secure home base. In addition, I like to be outdoors year-round so shelter from the elements is imperative. Being able to have a cozy space to cook, sleep, read, and regroup for the next day is a complete game-changer.
Maria Lovely // @MariaLovely_
Home Base: Big Timber, MT
Pursuits: Hunting, Skiing, Hiking, Horseback Riding, Snowmobiling, Flying Airplanes
Trailer: HQ21
Vehicle: Ford F350 a.k.a "The Toy Hauler"!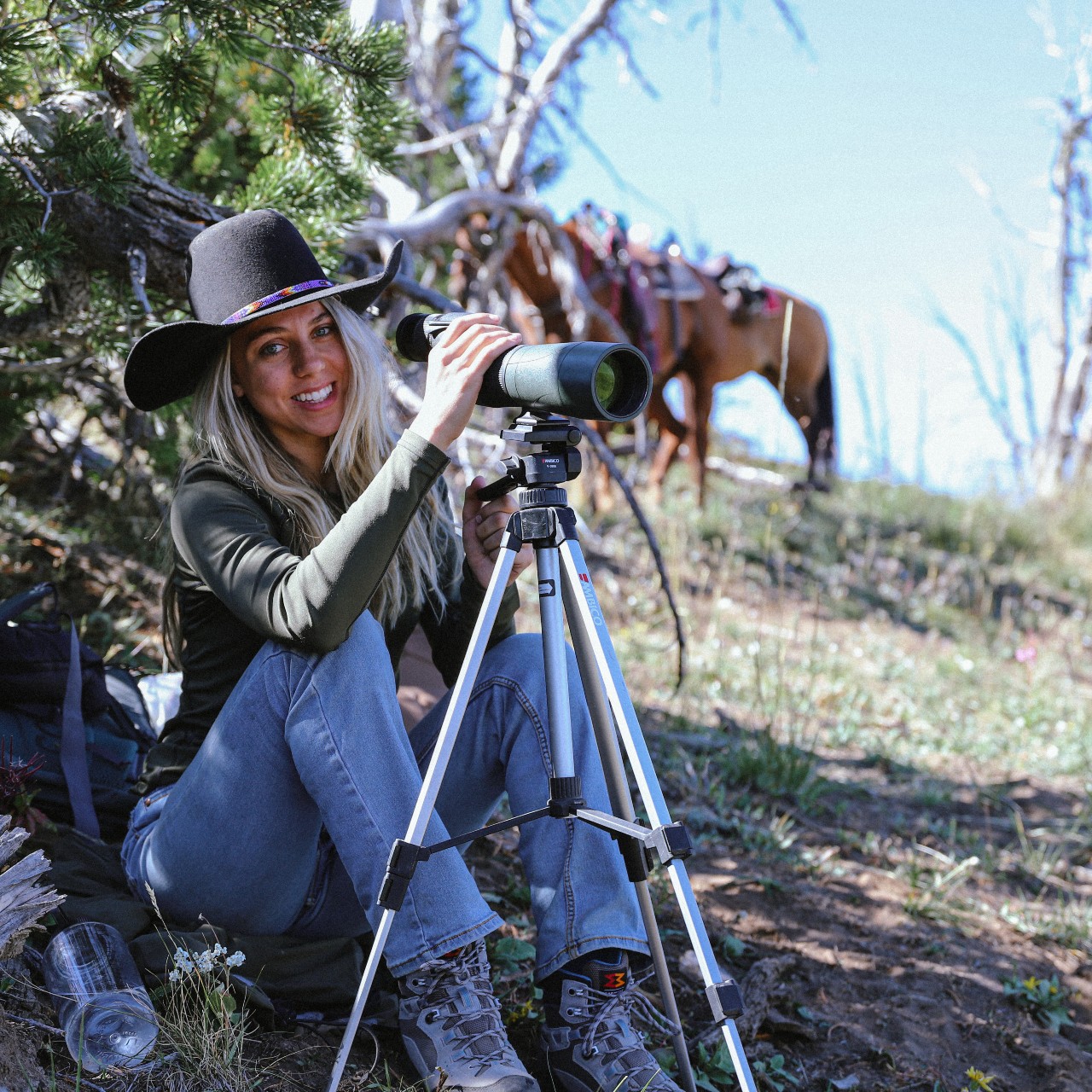 Where is your favorite place to spend a day?
My favorite place to spend a day is deep in the mountains with my favorite people and dogs. No cell service and lots of good snacks are a bonus.
What are your primary passions? And how'd you get the itch?
Along with skiing and hunting, you might catch me horseback riding, snowmobiling, flying airplanes, or camping… you name it! I grew up in an extremely remote area; the mountain lifestyle began for me long before I can remember. At merely three weeks old, my mom strapped me into a front pack on her chest and rode our old mule, Red, up a mountain trail to scout for bighorn sheep with my father.
What has been your greatest adventure triumph so far?
The day I flew our Cessna 172 by myself is one I'll never forget, but skiing the Little Couloir at Big Sky Resort was pretty cool too. It also felt really good to quarter and pack an elk out of the mountains on horseback without the help of someone who had done it before. There's been lots of hard work, trials, and errors, and times spent pulling myself up off the ground to make those triumphs happen. Plus, lots of elbow grease is yet to come to get to where I want to go.
What adventures do you have planned for the 2021/2022 winter season?
Skiing & snowmobiling! I'll go where there's snow, and having a camper will provide the flexibility to do so. Pray for La Niña!
Stephen Jones // @mr.jones
Home Base: Tacoma, WA
Pursuits: Adventure, Gear Making, YouTube Content Creation
Trailer: C15
Vehicle: Toyota Tacoma TRD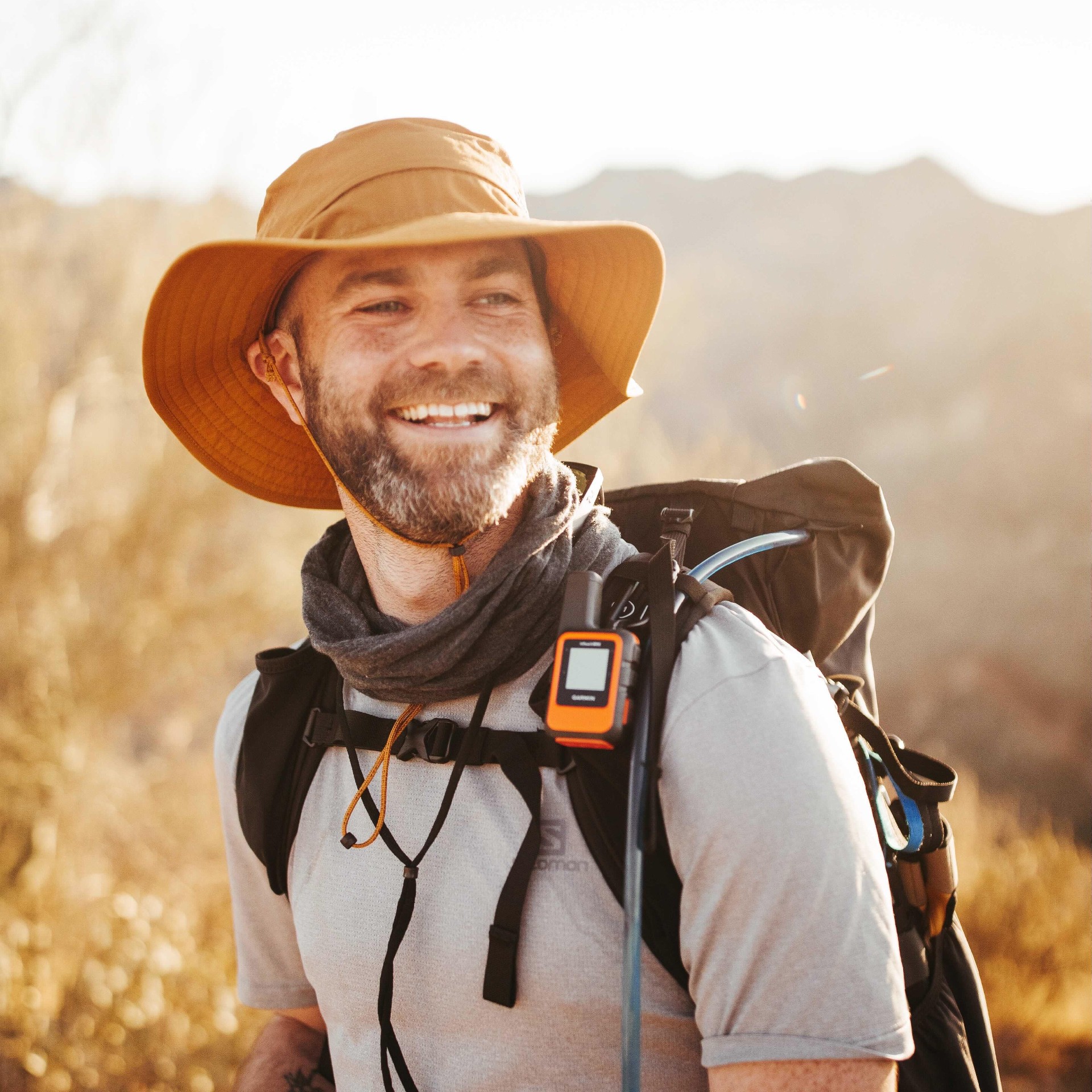 How does an off-road trailer change the way you adventure?
Having a truck with bigger suspension and bigger tires has changed the game for me because I can get to more places I used to not be able to explore. With a trailer, I can spend more time in those places using the trailer as a home base.
What feature are you most excited to try out on the Black Series Camper?
My favorite feature of the Black Series camper is the suspension. Being able to take to the
backroads with a rig like that… I mean... WOAH. My largest hesitation in getting a camper has
always been accessing the backcountry. The vanilla KOA experience is not my style.
What has been your greatest adventure triumph so far?
A few years ago, my buddy asked if I wanted to climb Mt Adams with him. I was in the best shape of my life, bagging peaks every week along the I-90 corridor. Of course, I said, "Hell ya!"
We got to the trailhead in my tiny little Ford Focus (I didn't always have a Taco), and we hit the
trail for an hour before getting some sleep. The next morning we started the climb. We made the
peak in a great time, soaked in the views of Mt. Hood, Mt. Rainier, and Mt. St. Helens, and then
descended back to the car to drive home since my buddy had to be at work the next morning.
It was a short trip, physically demanding, but we slayed the climb, and I've never felt more
capable.
How about adventure mishaps?
Mishaps? Sure. I decided to thru-hike the Enchantments but only had one car. I spent so much time in the core reveling in the beauty of the alpine lakes that I didn't get to the opposite trailhead until 10 pm. My plan was to hitchhike back to the starting trailhead where my car was parked when I finished up the hike, but I ended up having to hitchhike to my camp at Eightmile campground, get some sleep, and hitchhike the rest of the way the next morning. That morning I successfully hitchhiked to the trailhead to get my car, but when I got into town I realized I had left my phone in the car of the person who gave me a ride that morning. I had to drive back to the trailhead, leave a note on the person's car in hopes they would meet up to get my phone back. I met up with her in Seattle a few days later. So it worked out
Follow these badasses throughout winter and spring on our Instagram and right here on the blog, where we'll share trip reports and editorial pieces from their off-grid adventures. Have questions for us or our ambassadors? Reach out on social! Safe travels, everyone.
Caravans Shown in this Post: