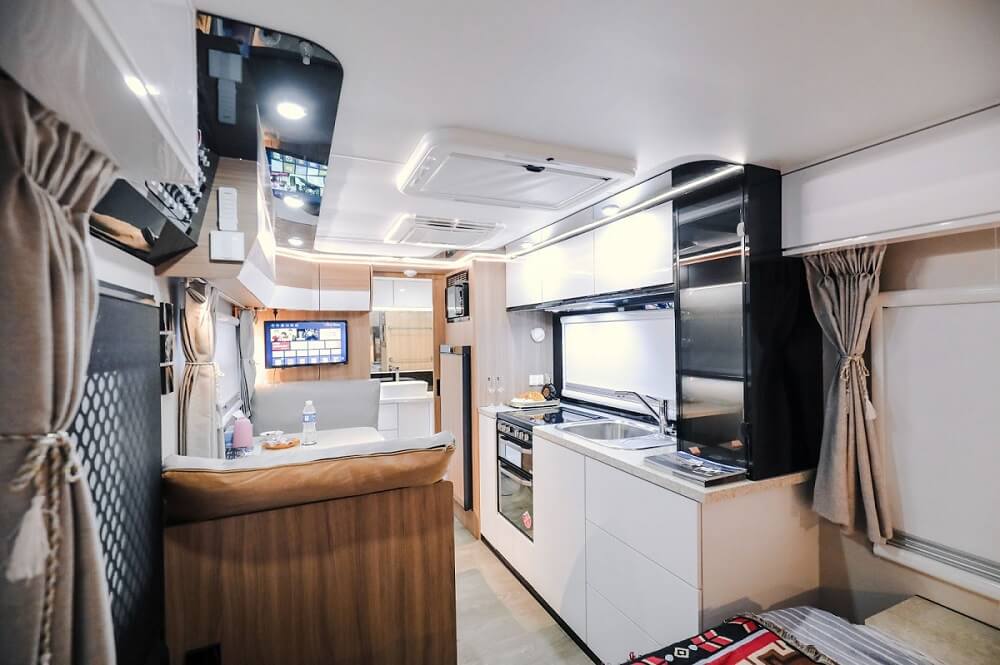 Thanks to the advances in technology, off-the-grid capability, and luxurious features, RV travel and the camping world has taken itself to new heights. There's no better time to become travel trailer owners than now, but what should you be looking for when there are so many options to consider.
If you're planning to buy a travel trailer sometime in the future, it's important that you understand your options and can make a more informed decision. Travel trailers and indeed all RVs are not created equal. A travel trailer is going to be a big investment, so you want it to be right.
What are the Most Important Travel Trailer Features?
If your budget allows you to invest in some essential features your RV trip will be so much better. For those of you shopping for a new travel trailer, the following features, facilities, and equipment are definitely worth considering as they will make your camping trip more comfortable.
Aluminum Construction
Aluminum is a good choice for the construction of your travel trailer because it's lightweight, but at the same time strong and durable.
Stairs
The door to your travel trailer will be a few feet off the floor which means stairs are essential. Most travel trailers come with stairs, but they're not always best suited for the occupants of the trailer. Small children and pets, for example, will struggle with the standard stairs.
Outside Shower
If you'd rather not make the inside of your trailer dirty, an outside trailer is a fantastic solution. You'll be able to use it to wash your dirty boots, children, clothes, pets, and even your dishes.
If your trailer is particularly small, an inside shower will take up a lot of space. An outside shower is the most obvious alternative, as long as you make sure it's fitted and functioning correctly.
Fully Equipped Kitchen
Most travel trailer kitchens will have some kind of cooking appliance (oven, hob, or microwave), a sink, and a fridge. The size of an RV kitchen and the range of equipment will increase along with the size of the travel trailer.
The stove will usually run on gas, while the refrigerator will run on both gas and electric. In many modern RVs, the system will switch back and forth automatically. Microwaves will need to be plugged into electricity, or run your generator.
Solar panel
When you purchase your travel trailer you may find you've got two options when it comes to solar panels. Some trailers are solar ready, which means there is a terminal in the exterior that you can use to install a portable solar system in the future.
Solar installed, on the other hand, means the trailer's manufacturer has included a preinstalled panel and a controller. This eliminates the need for you to run wires through the roof to connect to the controller and then to the battery.
Beds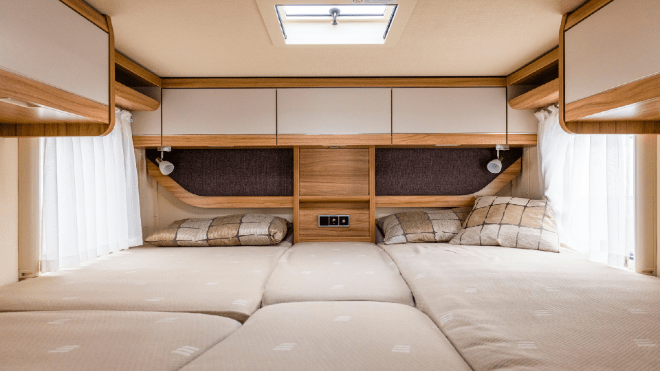 Sleeping will be an important part of your RVing experience so beds are an important consideration.
Normally, a travel trailer or motorhome will include at least one traditional style bed as a sleeping space. It won't convert into something else or fold away. In addition, there are other types of bed you could have in your travel trailer:
Sofa bed

Dinette

Bunk beds

Bed ends

Overhead beds

Murphy beds
Power Tongue Jack
A power tongue jack saves RV owners the trouble of using a hand crank when hitching up and unhitching.
Many RV manufacturers include power tongue jacks as a standard camper trailer feature, however, they can also be installed aftermarket. Because the jack is located close to the battery box, it makes wiring them an easy job.
Don't remove the manual hand crank completely as you may still need it if your battery is running low. It will also be useful if the power tongue jack fails for some reason.
Power Stabilizing Jacks
Power stabilizing jacks are another feature that's going to save the arms of the RV owner. The mechanisms can vary, for example, some use a single button to deploy the jacks, whereas others have a switch on each of the corners to release each jack manually.
Thermal Insulation
If you're planning to use your travel trailer when the weather gets a little cooler, thermal insulation is a must. Not only will it help to keep you warm, but it will also keep the heat in and save on your heating bills.
Toilet and Bath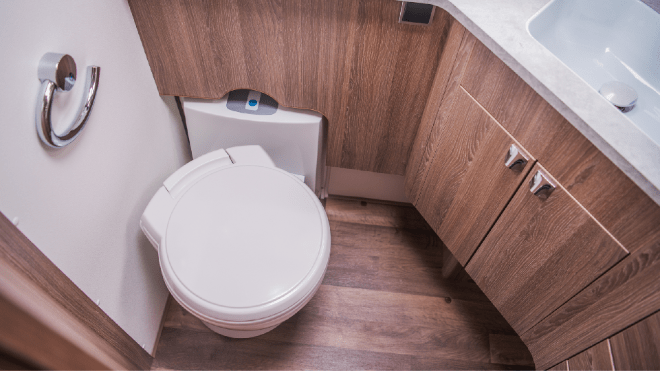 The extent of your trailer's bathroom facilities will depend on its size. Many of the smaller trailers won't have any at all. The next step up would be a wet-bath, which is a small room that's sealed off where you can shower and sit on the toilet at the same time. A wet-bath is good because they take up very little space. However, on the downside, everything in the room gets quite wet and it feels very cramped.
Other Extra Features
Remote Controlled Electric Awning
A remote controlled power awning allows you to quickly bring the awning in at night if it's windy or planning to head out for the day. Some of the more modern awnings have a wind sensor that automatically brings in the awning to prevent wind damage.
Central Control Panel for all electrical appliances
With the electrical controls all in one place you can quickly and easily access everything you need without having to feel around in the dark or squeeze into awkward spaces. It might also be possible to control all the appliances from an app and have everything ready for you when you return to your trailer for the night.
You'll be able to use your smartphone to control everything from the HVAC system to the power stabilizing jacks or the slide outs.
Indoor and Outdoor Sound System
Many camping trailers have an indoor and outdoor system, but not all of them. Being able to listen to your favorite tunes when you're sitting outside as well as inside makes camping much more fun. In addition, it'll be great for entertaining and for tailgating parties.
Open Lounge Space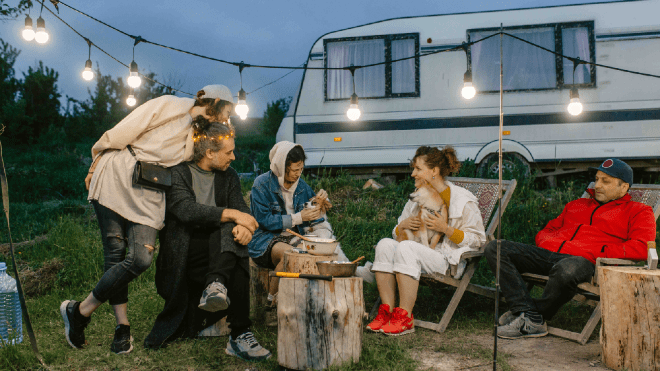 An open lounge space will make your travel trailer feel more spacious. You'll be able to invite guests around for a party or go camping with the whole family or larger groups of people.
Extra Storage Space
Storage space is something that's often at a premium in a travel trailer, so any additional storage space is sure to be welcome. Think about how many things you'll want to take with you on your camping or road trips. All the little things quickly add up and it's bound to help if you've got somewhere you can keep everything organized.
On Board Generator
An onboard generator is usually propane so you won't have to worry about driving around with a big generator, extra tanks or gas. There will usually be space inside and the option to buy direct or install an aftermarket generator.
If you don't want to use the space for a generator, you could use it for storing a small vehicle or extra camping gear. If the unit is pre installed, all it'll take is pushing a button and your power will be up and running straight away.
Outdoor Kitchen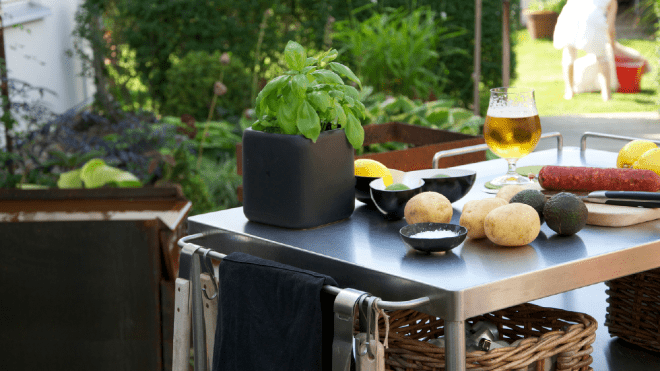 The reason you're camping with a trailer in the first place is because you like being outdoors. Almost all travel trailers now include an outdoor kitchen. You can expect there to be an oven, fridge, and a sink.
An outdoor kitchen makes food preparation much easier and keeps your trailer clean. Depending on the season, you might not need to use your AC or heating quite so much.
Climate Control - AC / HVAC
A travel trailer is essentially a small box which means it can get very hot in the summer and cold in the winter. Being able to control the temperature inside your trailer will make your camping experience a more comfortable one.
WiFi Range Extender
WiFi is a useful addition but its often a case that the campground WiFi is a long way from where you want to park for the night. With a WiFi range extender you'll get a better signal, quicker reception, and be able to communicate with the world around you, even when there's no cell phone service.
You can have this gadget pre-installed which will save you the stress of wiring it in yourself. In addition, you won't have to worry about making a hole in the trailer roof.
Blind spot warning
One of the more challenging things about being a travel trailer owner is learning how to maneuver it. Backing your trailer into your camping spot can be a nightmare.
A backup camera is an essential piece of kit that will allow you to park your rig perfectly. You'll be able to spot any obstacles that are hiding in your blind spot. A backup camera helps you to see behind your trailer, and both sides.
Ventilation
Ventilation is a standard feature on almost all RV trailers, but they're known for being junky and inefficient. They also tend to draw lots of power which means they can be expensive to run.
With an upgrade on your ventilation system, you'll be able to save on your running costs, enjoy a quieter and more efficient fan, and be able to control your ventilation system by remote control or thermostat.
A fan cover that closes automatically when the system detects that it's raining means you can keep your trailer cool while you're out for the day and not have to worry about rushing back.
Larger Water Tanks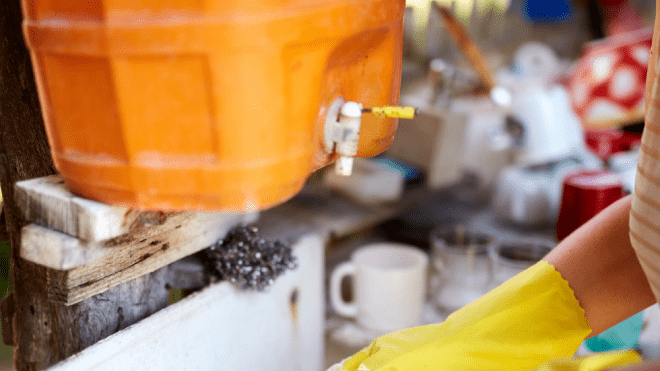 Travel trailers have running water on the whole, which means there's a fresh water tank you can fill up. Obviously, the larger the water tank, the less times you'll need to fill up.
Automatic emergency braking
Most camper trailers use electric brakes that are activated via an electrical connection from the vehicle that's towing. In addition, US federal laws require that there is also an automatic emergency braking system that applies the brakes if the trailer comes unhitched from the towing vehicle or the fifth wheel.
Water Pressure Regulator
Without a water pressure regulator, there is a risk that your trailer's plumbing could spring a leak. Without such protection, excessive pressure could damage the seals, fittings, and the plastic pipes running throughout your trailer.
Features you should consider if you are a fan of the off road activities
Independent suspensions
If you're planning anything seriously off-road, you'll need independent suspension. A trailer that's equipped with this will travel and perform much better off-road and for the tow vehicle..
Ground Clearance
Look for a trailer with as much ground clearance as possible, because you're likely going to be traveling over some rugged terrain. If the towing vehicle has good ground clearance, it should be matched by the trailer.
Rooftop Tent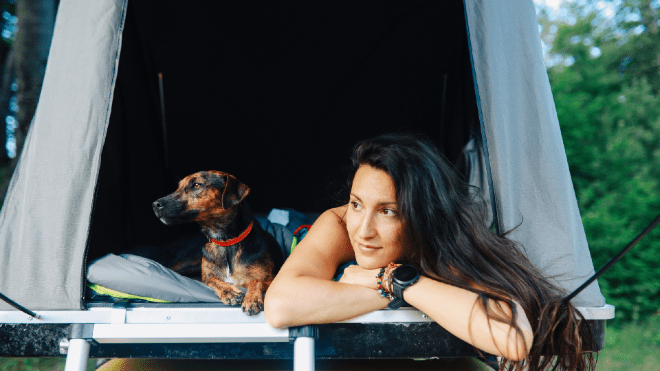 If you've got a roof top tent it will free up more space inside your trailer for other things. It's also quite a cool thing to have especially if you've got kids or like the experience of sleeping in the open air.
Off-grid lithium battery
Lithium batteries are more reliable, resilient to damage from deep discharging, cheaper, function better in hot climates, and last up to three times longer.
Armored Chassis
When you want to take your travel trailer off-road it's going to encounter some pretty bumpy terrain. If the chassis is armored it's less likely to become damaged. Finding yourself in the middle of nowhere with a chassis that needs repairing is not an ideal scenario.
If you're looking for a truly superb off-road travel trailer you can't go far wrong with Black Series. These heavy duty off-road camper trailers let you enjoy nature without having to compromise on the luxuries.
Features include premium furnishings, European appliances, comfortable beds, spacious living areas, and kitchen appliances that make it a home from home. In addition, the patented suspension system and rugged construction means you can be completely confident about taking them off-road.
Conclusion
All-in-all, you've got a wide range of features to look out for when you're making your purchase, whether you're looking at new or used models. We didn't have space to mention everything you could possibly need. But now you've got a list of the must haves to refer to, the task should be much easier.
Discover the ultimate off-road experience with Black Series off-road travel trailers. Engineered for adventure, these heavy-duty campers boast luxurious interiors, European appliances, and unrivaled build quality. Tackle any terrain confidently with our patented suspension system and superior ground clearance, and enjoy premium features like a full kitchen, rooftop tent, and ample storage.
With a 15-year structural warranty, Black Series trailers can be your perfect off-road companion today!