Typically known as wilderness camping or boondocking, going of the off the grid in your camper trailer is the ideal way to enjoy camping in complete peace and serenity. You see, there's an uniqueness to stopping in a beautiful spot, surrounded by awe-inspiring flora and fauna with nobody around you. You'll have place to yourself for as long as you desire.
But perhaps the greatest advantage of boondocking in an off-road RV is the fact you won't have to really worry about social distancing. Given that the world is still gradually opening up – and the pandemic showing no signs of letting up, it's probably a good idea to independently travel in your RV rather than booking a campsite.
And it's also true that camp sites are usually bustling with people, especially during summer. Why expose yourself to the risk of contracting Covid-19 symptoms? After all, isn't the idea of going off-grid all about being secluded or escaping the busy city life for some quality and peaceful time with your loved ones?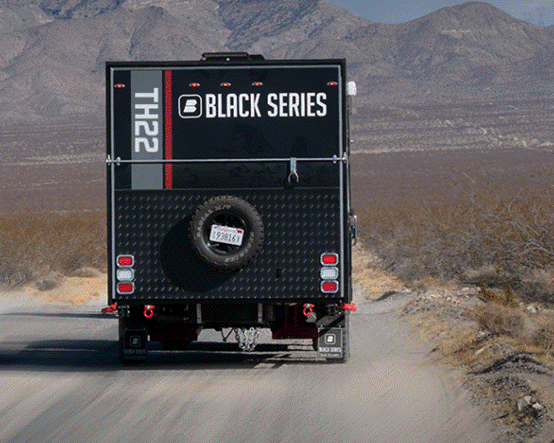 Staying Safe – Some Things to Keep in Mind in the Current RV Landscape
Travelling in a pop up camper trailer automatically guarantees social distancing. However, there might instances where you may encounter other people. Here are some safety measures to keep in mind under Covid-19.
RVing is a wonderful way for you and family to escape the city and truly enjoy the outdoors and engage in fun activities. However, you have to ensure you adhere to the Covid-19 guidelines stipulated by both state and federal governments. This also includes staying up to date with the coronavirus spread region by region. It's critical to understand when exactly you should set out in your RV.
Taking a trip in an off-road trailer will always require logistical planning and knowing when to schedule maintenance for your camper trailer. You need to layout everything pertaining to where you're going and what route to take. Here are some things to keep in mind:
· Plan out every stop. In the current landscape, you must factor things like park closures, the amount of people visiting a particular site you're travelling to, and Covid-19 restrictions.
· Be absolutely sure whether all your reservations are valid.
· If you're planning to make a detour to stop by a historic or any other specific attraction, make sure it's open.
· Stock extra food. Sure, as Covid-19 restrictions are getting lighter, restaurants and convenient stores are reopening. But remember there are still some restrictions in place.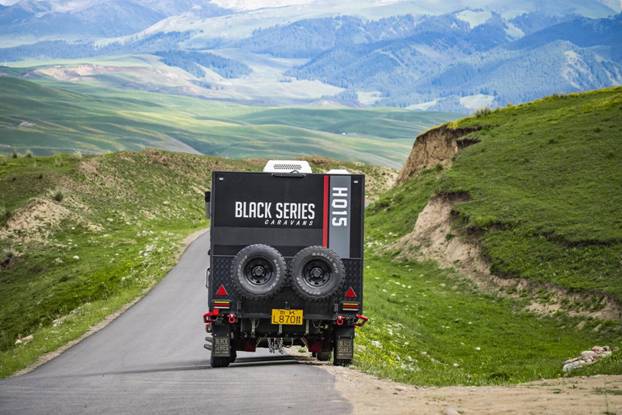 Maximize The Great Outdoors Experience with the New and Improved Black Series HQ19 Off-Road RV
The 2021 HQ19 overland trailer is an epitome of luxury, comfort, and sheer class. With a string of new features and a brand new design, the HQ19 is built to last a lifetime without compromising on quality. Above all, it's built to fit your budget. In light of this, here are some powerful reasons why you should consider investing in this one-for all off-road RV.
Unmatched Interior Elegance
The HQ19 is by far the most ambitious yet absolutely elegant RV available from Black Series. It comes with a brand new interior design, making it more spacious and equally luxurious. It's like travelling in a mini penthouse on wheels! It's more comfortable, well-lit, and features new lighting and sound effects combining fashionable elements with modern design. Here are some other incredible interior features to look forward to:
· The wood cabinets boast an elegant yet light-colored theme, making the interior space brighter. The PET black and white cabinets are designed to complement each other.
· The wood cabinets have topnotch durability, manufactured with high-quality materials that make them wear and scratch-resistant – while maintaining a chic and fashionable look.
· New ROB lighting adds warmer tones with the addition of a side light strip on the sofa for added aesthetics and a comfortable experience.
· Upgraded with multi-fold light gray velvet and linen curtains on both sides for a modern yet practical look.
· Rounded cabinets with a new multi-line design for improved aesthetics.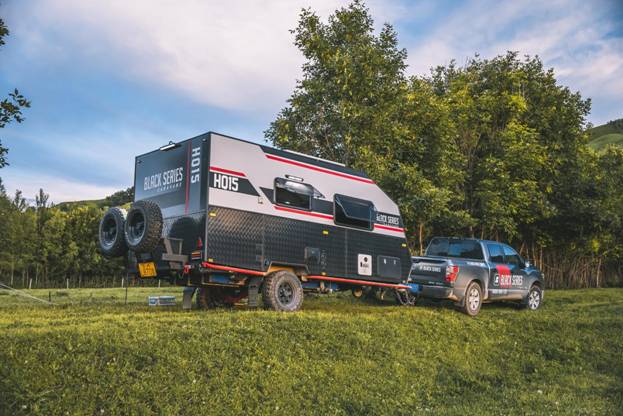 Redesigned Wall Paneling for Added Ergonomics
The new HQ19 off grid trailers come completely redesigned with soft wall paneling and improved sofa and bed ergonomics. The new sofa structure boasts an unobstructed design for a more relaxing experience with a raised backrest design so that you can more comfortably sit or lie down and read a book, have cup of coffee, or just relax.
The backrest of the bed is made with softer materials to help you sleep peacefully without having to adjust your posture every now and then. Moreover, you'd also be happy to know that the bedding has been upgraded with down feathers, which is considerably lighter, comfortable, and skin-friendly. Plus, it's also easier to clean and dry.
An Easy and Organized Design
The new off road camper trailer comes with easily accessible cabinet doors – yes, they don't have any handles. The cabinets are press-to-open/close. In addition, you can easily reactivate the door whenever you desire. Moreover, the bathroom has also been upgraded with durable materials. The double cup holder, shower, faucet, and towel rack are redone with grey hairline finish technology, which means they're more wear-resistant and require no frequent maintenance.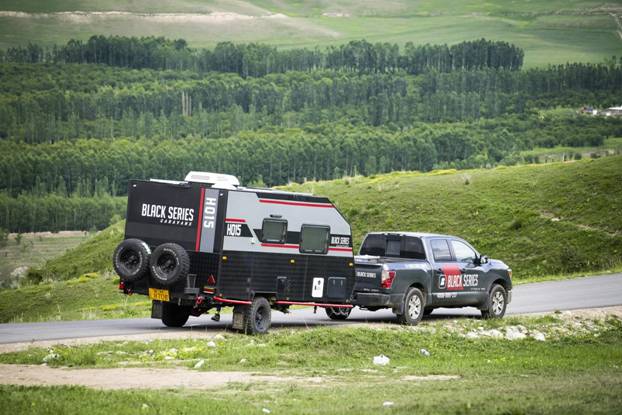 Upgraded Circuitrywith Wireless Touch System
The upgraded HQ19 travel trailers also come with wireless touch circuitry, boasting high-tech functionality. And you'll have the time of your life watching a movie or your favorite show or listening to your play lists as the upgraded model comes with a topnotch super-bass sound system with a 4-channel amplifier for high quality and crisp sound.
Moreover, the new design features electronically controlled double-sided mirrors for added convenience and adjustments. The mirrors are built-in with electronic triggers making them easier to operate. The RV also has a brand new logo design – which is exclusive only for Black Series off grid trailers.
Optimized Interior/Exterior Structural Design
The HQ19 off road camper trailer boasts the same incredible suspension design that it's popular for. The suspension is specifically designed for equal weight distribution; the dual axle system helps provide a comfortable driving experience – also making towing easier and smoother. However, the 2021 model comes with a new set of features and integrations that you'll be happy to know.
The new model comes with an adjusted indoor height, which is raised by 10-cm. Black Series has also brilliantly redesigned the kitchen space, adding more height and width to the kitchen window (30-cm) – giving travelers a better field of vision. Also, the new kitchen table leg is designed with free lifting columnar support rods, providing more durability and even more space.
At the exterior, the height of the pedal has been reduced and redesigned into a single step ladder, making it easier to enter and exit the large vehicle.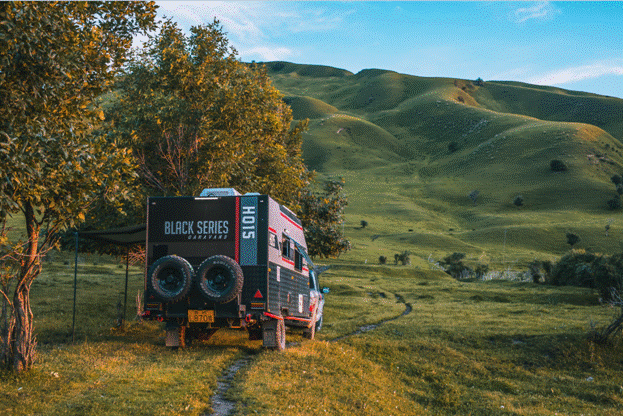 State-of-the-Art Control System
The upgraded overland trailer comes with a cutting-edge, one-stop control system that you can use to monitor and control the RV's electricity consumption, gas, and other essential data. The smart screen displays data in real-time and you can also integrate your smartphone with the control system for real-time monitoring.
Moreover, you can also use various electrical appliances separately – but there's also an all-in-one master switch for increased convenience and flexibility. The new HQ19 offroad trailer also comes with enhanced GPS capabilities, allowing campers to remotely locate their RV as well. But perhaps, the best upgrade to the 2021 edition is its built-in diagnostic system, which allows for real-time vehicle maintenance monitoring for safer travels.
New and Improved RV Power System
The new HQ19 is equipped with cutting-edge solar and booster chargers, which is going help consistently recharge the battery anytime, anywhere. This is a pretty significant upgrade and will considerably reduce your downtime and dependence on setting up camp to charge the vehicle.
The vehicle is also fitted with a new battery system and boasts a 12V 800AH lithium gel battery, which is an upgrade from the conventional 12V 400AH lead-acid battery, offering bigger and more reliable battery capacity. The battery is charged and powered by an inverter, which makes it noiseless.
At full charge, the new lithium battery system will provide 32 hours of uninterrupted power supply. This means you can comfortably use all electrical appliances, including microwave ovens and refrigerators at full power (not including air conditioners). However, you can use air conditioning for up to 6 hours without worrying about running out of power. The battery system is specifically designed to be utilized in all four seasons – guaranteeing optimum functionality and smooth operation even during winter.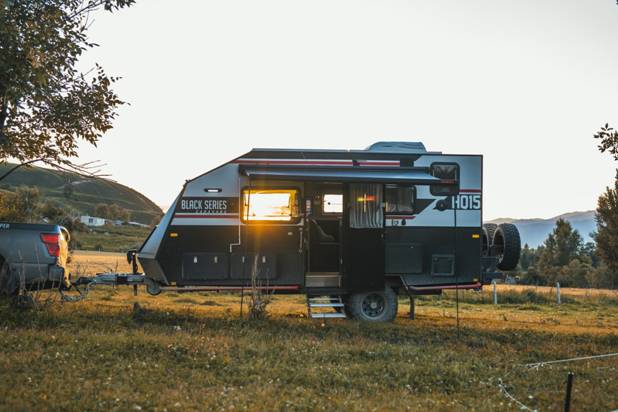 Final Thoughts
With some exceptional upgrades to the new HQ19 off road camper trailer, Black Series has stood true to their promise of providing state-of-the-art features for a more comfortable and personalized camping experience. With some exciting features and functionalities, the new flagship HQ19 series guarantees comfortable living, flexibility, and precision-based maintenance monitoring. Now you can "Be With Nature" with a peace of mind. After all, isn't exploring the great outdoors all about a serene and calming experience? The new RV is all about ergonomics and enhanced comfortability.