Spacious and self-contained travel campers are the ideal way of escaping the mundane and monotonous city life, especially during the Covid-19 pandemic. However, there are still a lot of things you should consider in order to maximize your experience while remaining safe and healthy.
It's been more than a year since the world was plunged into the nightmare that is Covid-19. Fortunately, it seems that the world is gradually reeling back from the outbreak, establishing some semblance of normalcy. Businesses are opening up and thanks to millions of vaccinations, it's safe to say now is a great time to go on a nicefamily adventure in your off road camper trailer.
And the best part about travelling in a large, feature-packed overland trailer is the fact that you don't have to make reservations for camping grounds. Independent boondocking is safer than booking a campsite. This way, you'd have no worries about social distancing or interacting with different people. It's just going to be you and your partner – or your family.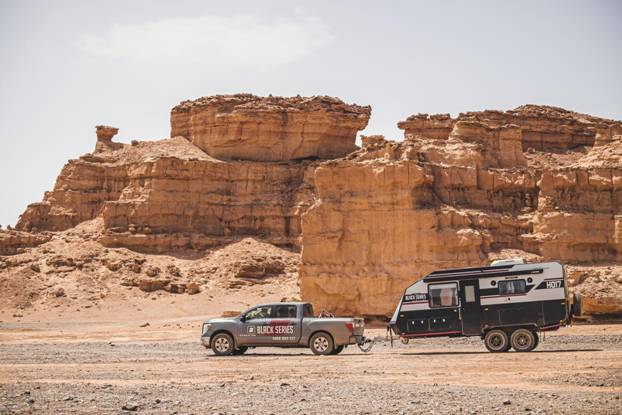 g
Important Things To Consider If You're Planning to Take off in Your RV this Summer
If you're planning to head off into the great outdoors, here are a couple of things you should keep in mind to keep your and your family, as well as the communities you go to safe during your adventure.
ü

Chart Out Your Route and Plan Your Trip Well Before You Leave
Before you even start packing and buying food for the journey, you should first plan your route and everywhere that you intend to go. Research is important. You need to know whether you could safely and reliably stop your overland trailer to resupply.
You have to know whether there are convenient stores, restaurants, motels, etc. that you will come across during your travels. Knowing where and when to stop not only allows you utilize your time more efficiently, but it also reduces the risk of Covid-19 transmission.
ü

Travel With Your Immediate Family
It's safer to travel with the people you've been quarantining with – if you're living with your partner, go with them – or if you have kids and have been living with them, take them along as well.
ü

Read Up On Local Campground Covid-19 Guidelines
If you intend to stop and camp at a local campground or if you plan to take a detour from your route and visit a special attraction, it's important to check up on all local camping health guidelines. You need to know whether the campgrounds are open; do you need to wear masks all the time you're there? Would you need to quarantine before exploring the campground? You need to know all this information in advance.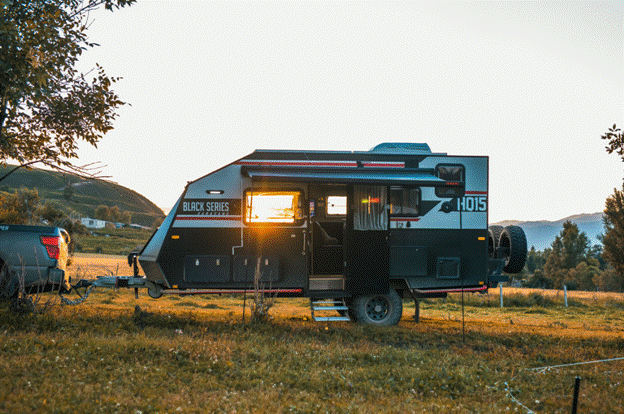 ü

Meal Planning is Important
Planning your meals should typically be done while you're making your camping checklist. However, do this first. Why? Well, that's because having enough food and essential supplies means you won't have to frequently stop and shop for food and groceries along the way. And this will help keep your interactions minimal, hence helping you avoid any risks of viral transmission. Also, stock up on nonperishables because you'll be cooking yourself most of the time, so you'll need extra items in case restaurants or convenience stores are closed in the location your traveling to or passing by.
ü

Always Travel in an RV that has a Bathroom
Having your own personal bathroom in your off road trailer is important, especially during the pandemic. This way you won't have to use public bathrooms in the campgrounds, which is going to further lower chances of contracting any Covid-19 symptoms. Secondly, most campground bathrooms don't come with showering facilities. The Black Series travel trailers come with bathrooms that have proper showering and toilet facilities with freshwater tanks.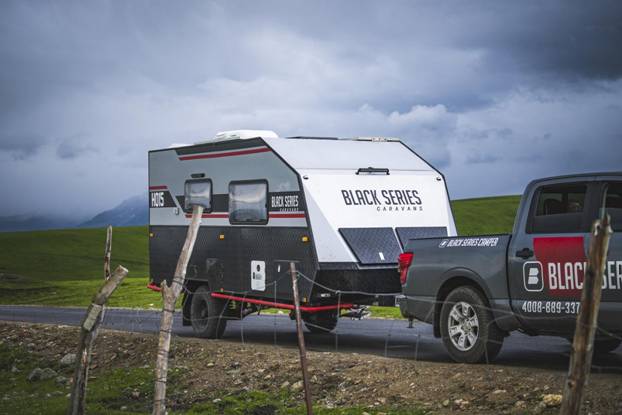 ü

Don't Forget to Disinfect Your RV
Whether you're looking to buy an overland trailer or rent one, it's important to make sure it's clean. If you're renting one, you don't know who last used the RV, disinfect, and wipe down everything. This way, you won't have to worry about getting an infection, especially if you have kids tagging along. So, get the right cleaning solution for the RV and vacuum surfaces that seem porous, and wash the carpeting if necessary.
ü

Your Camper Trailer is a Safe Haven
Escaping the pandemic by going on a weekend outdoor adventure is a great way to get some form of normalcy. However, you should still be cautious and considerate. However, one of the best things about a Black Series HQ RV is the fact that you'll be safe inside the RV no matter what the conditions are outside. All you have to do is wash your hands before you come inside. It's also recommended that you sanitize your hands after touching the RV hookup, mirrors, door, etc.
Enjoy Your Outdoor Experience in the New Black Series HQ21 RV
The Black Series HQ travel trailers give a whole new meaning to RV boondocking. You see, they aren't just towable vehicles, they're streamlined for comfort and functionality and come packed with some incredible features. The new HQ21 off road camper trailer is the newest addition to the HQ series and comes with a sharper and more robust exterior and a spacious interior full of amenities that are hard to find in other travel trailers. Here are some excellent reasons to go for the HQ21 overland trailer series.
Sleek Interior Design
The new HQ21 off road camper trailer comes with an exquisite interior design fit for a king or a queen. With polished marble slabs, the RV features a bigger interior design (over 28 feet across). Moreover, the marble finishing goes extremely well with the overall design, making the interior bolder, newer, and absolutely gorgeous. It's like driving a penthouse. The off road trailer is designed to be more than suitable for family boondocking.
Plus, the RV comes built-in with a stove, microwave oven, refrigerator, washing machine, and other essential household appliances. The marble slabs brilliantly complement the fresh, rustic interior. Moreover, the cabinet design is upgraded from previous models and the new HQ21 now boasts imitation wood cabinetry (laminated wood) with a high-glossy finish.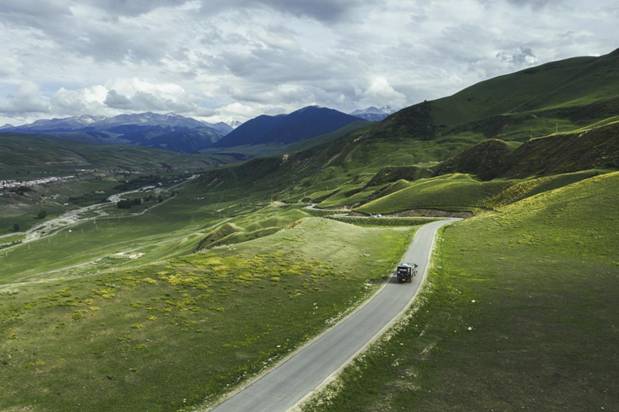 Added Ergonomics for Maximum Comfort
The new HQ21 traveler trailers come with new, softer wall paneling and an even more comfortable bed and sofa design. The sofa structure features a raised backrest, added to maximize your comfort. Moreover, the bed has a redesigned backrest that is made with skin-friendly and soft materials to help you sleep well – just like you do at home. The bedding is upgraded with down feathers, which is lighter and easier to clean.
World-Class Suspension
The HQ21 camper trailer comes with a unique and powerful suspension system. It's one of the most robust external features of the RV – boasting an independent mechanism that allows for each wheel to move individually, giving you a more stable, comfortable, and smoother ride. Drive it on the highway or go off road with it, the suspension is built with powerful load resistance capabilities. Moreover, with all new quad shock resistance design, the total load of the RV is evenly distributed between four shocks, which makes handling the overland trailer smoother and safer.
Excellent Infotainment
Another great reason to go for the HQ21 off road trailer is the fact that it comes with streamlined entertainment features. Built-in with a LED TV, the RV comes with wireless touch circuitry that allows for reliable functionality. Moreover, you can watch movies and listen to music as the HQ21 comes with a powerful surround sound system with a 4-channel amplifier for quality sound effects.
State-of-the-Art Control System
The new off road trailer is also equipped with touch control system that you can use to timely monitor your electricity and consumption along with other critical data. You can track everything in real-time and can also connect your smartphone with the control system to keep an eye on how much power you are consuming. There's a button for practically everything to make your life easier while travelling in the RV. Every functionality is clear and beautifully displayed. Black Series have also added a streamlined and visually pleasing water level gauge meter that you can use to check your water consumption.
Double Tire Safety Feature
This is perhaps one of the best features of the HQ21 travel trailers. With a double tire mechanism, you can safely drive the vehicle for a certain period of time in case a tire bursts. You can safely drive your vehicle to a reliable spot and replace the tire quickly and effortlessly.
Reliable Power Supply
The new off road trailer also comes with a powerful battery system (100AH batteries) for reliable power support. The batteries are continuously charged throughout the day thanks to four 150-watt solar panels built into the roof of the vehicle.
Final Thoughts
Boondocking in your RV should always be a fun-filled, memorable adventure. You shouldn't have to worry about breakdowns and maintenance issues along the way. That's why it's vital to travel in an overland trailer that guarantees comfort, reliability, and functionality. The HQ21 series is an epitome of comfort, style, and practicality.