When we think of outdoor travel, camping often comes to mind or fun family holidays in the RV. Unfortunately, in both instances, slightly cramped living situations and the need to use campsite facilities arise. While this is okay, it isn't great.

Hiking in the mountains or fishing for trout in crystal clear streams allows you to connect with nature and enjoy its beauty. Coming back after a day like this to lie in a tent or cramped camper seems like a bit of a flat ending to the perfect outdoor adventure.
But what if you found a travel trailer that changes all that? An off road camper trailer that not only allows you to go where no camper trailer has ever been before but also provides you with the same luxury you would find in a presidential hotel suite? Let us introduce you to the Black Series HQ21.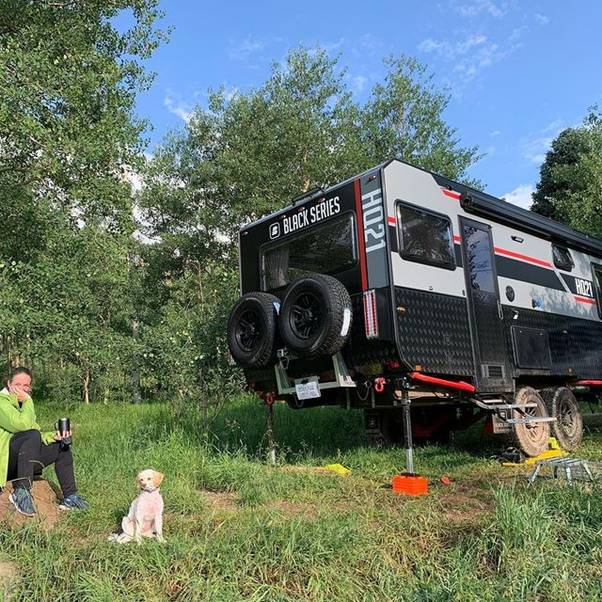 The Black Series HQ21
The HQ21 sits at the top of Black Series' range of off grid trailers. This flagship RV combines durability and the ability to traverse all-terrain environments with the luxury rarely found outside a five-star hotel suite.
Black Series expertly engineers the HQ21 to allow you to take it off-road. With this sort of all-terrain robustness, it would be easy to assume that the interior of these camper trailers is somewhat rugged, but you'll find yourself pleasantly surprised.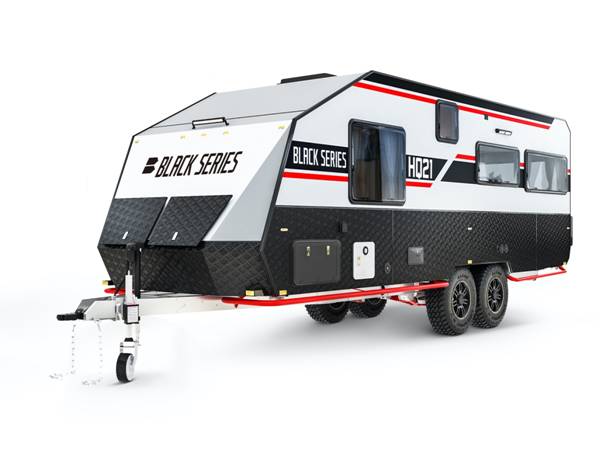 Interiors That Inspire Luxury
If you're looking for a travel trailer that offers only the basics, this is not it. Black Series has designed the HQ21 to provide you with all the comforts of a luxury hotel suite.
The spacious interior offers an open-plan living area and kitchen, along with a generous bedroom that features a screen door of its own. Add to this a sizeable bathroom, and you have the perfect home away from home.
A Bedroom Fit for Royalty
The bedroom in the HQ21 features a queen-size bed with a spring mattress. In addition, it comes fitted with soft, lightweight bedding that is gentle on the skin. Overhead lighting makes it easy to catch up on your reading.
Ample storage space comes included, and for a bit of privacy, a sliding door creates a barrier between the room and the rest of the RV.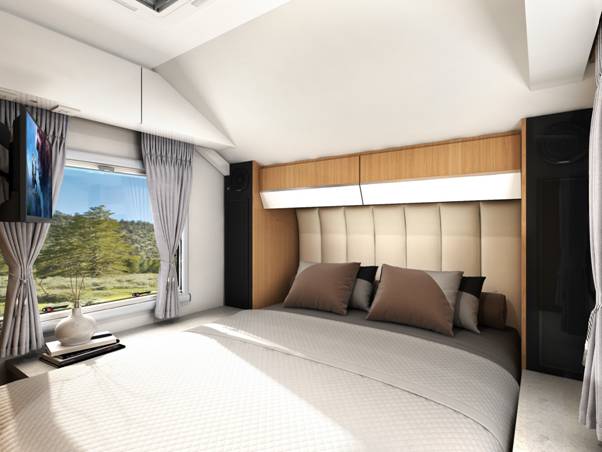 Bathroom Bliss
The en-suite bathroom will leave you feeling as though you have just spent the night in the hotel. It includes a separate private porcelain toilet accompanied by a ceramic vanity.
A full-size shower, complete with steaming hot water, adds to the notion of luxury. Black Series fits the bathrooms with stainless steel finishes and towel rails that infuse the room with a touch of refined elegance.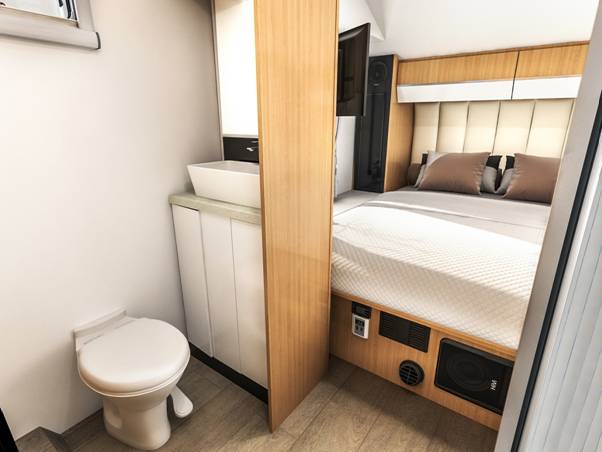 A Contemporary Kitchen
If you consider the design of most kitchens that come with an RV, you will find that they're rather cramped and offer a few small appliances. Black Series has changed the game by creating a full-size kitchen complete with domestic-sized appliances.
You will find a gleaming full-size refrigerator that fits all your perishables with ease. That cold beverage after a long hike is now a possibility. A four-hob propane stove and oven, complete with a slim twin fan and range hood with lighting and microwave allows you to create a delicious meal.
You may find yourself thinking about the laundry, and Black Series has that covered too, by including a Giantex Fully automatic 7.7 lbs. washing machine.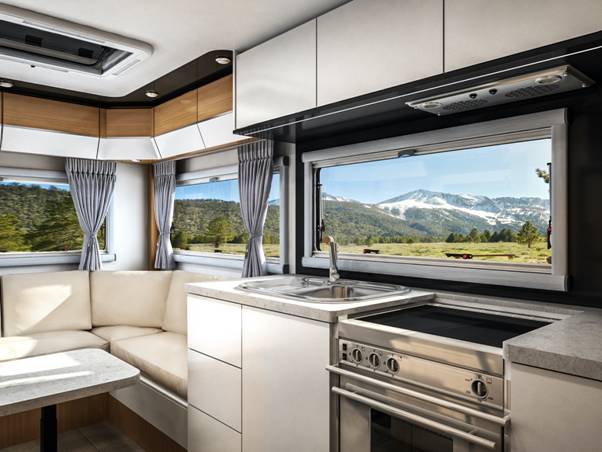 Lounging in Luxury
The HQ21 comes fitted with a spacious lounge area complete with a dinette. This features an adjustable table and premium faux leather couches that easily fold out to create a second sleeping area.
Also included in the lounge area is a 24-inch HD TV that comes with a DVD player and entertainment system.
Elegant Design
The designers at Black Series take the cabin's interior design seriously. The interior spaces feature modern wood vinyl flooring complemented by the contemporary 5-Star timber-finish veneer of the cabinetry. Gas struts fitted into the cabinets allow you to open or close them with a gentle push that negates the need for handles.
Rounded countertops and table edges prevent you from any injuries by eliminating any sharp corners.
Catch a glimpse of the world around you with the seven Eurovision windows. Each window comes fitted with a fly screen and privacy shades.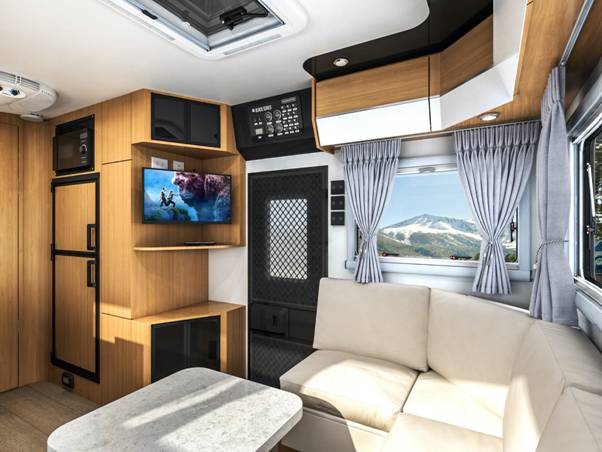 Additional Features
Black Series incorporates a selection of additional features within the HQ21 overland trailer. You will find a 16,000 BTU Thermostat Control for the days when the air is a little cooler, and when the heat picks up, the 13,500 BTU rooftop air conditioning unit will keep you comfortable.
A fold-out outdoor kitchen and table area make having sunset barbeques a breeze. In addition, the four-meter electrical awning creates a sheltered patio.
When it comes to plumbing, Black Series offers a complex system of tanks that provides you with fresh drinking water that is filtered through a unique filtration system. Separate black water and grey water tanks collect the wastewater for pumping at a later stage. It also heats the water using the solar panels on the RV's roof so you can enjoy a hot shower daily.
This offroad trailer is powered by four 100Ah batteries kept charged by four roof-mounted 150watts solar panels, so you always have electricity and hot water. A digital control panel manages the electrical components within the RV so that you can turn the lighting or air conditioning on with a single touch.
Final Thoughts
The attention to detail combined with the high-end appliances and expansive space not seen in an overland trailer before makes the HQ21 the ideal choice for anyone looking for the outdoor adventure of a lifetime. Black Series provides outdoor adventurers the opportunity to experience the wilderness while still living in luxury.
Outdoor travel no longer requires you have to rough it in the wild or hang out at a noisy campground. Instead, experience the great outdoors the way you want to without sacrificing comfort or style with the Black Series HQ21.