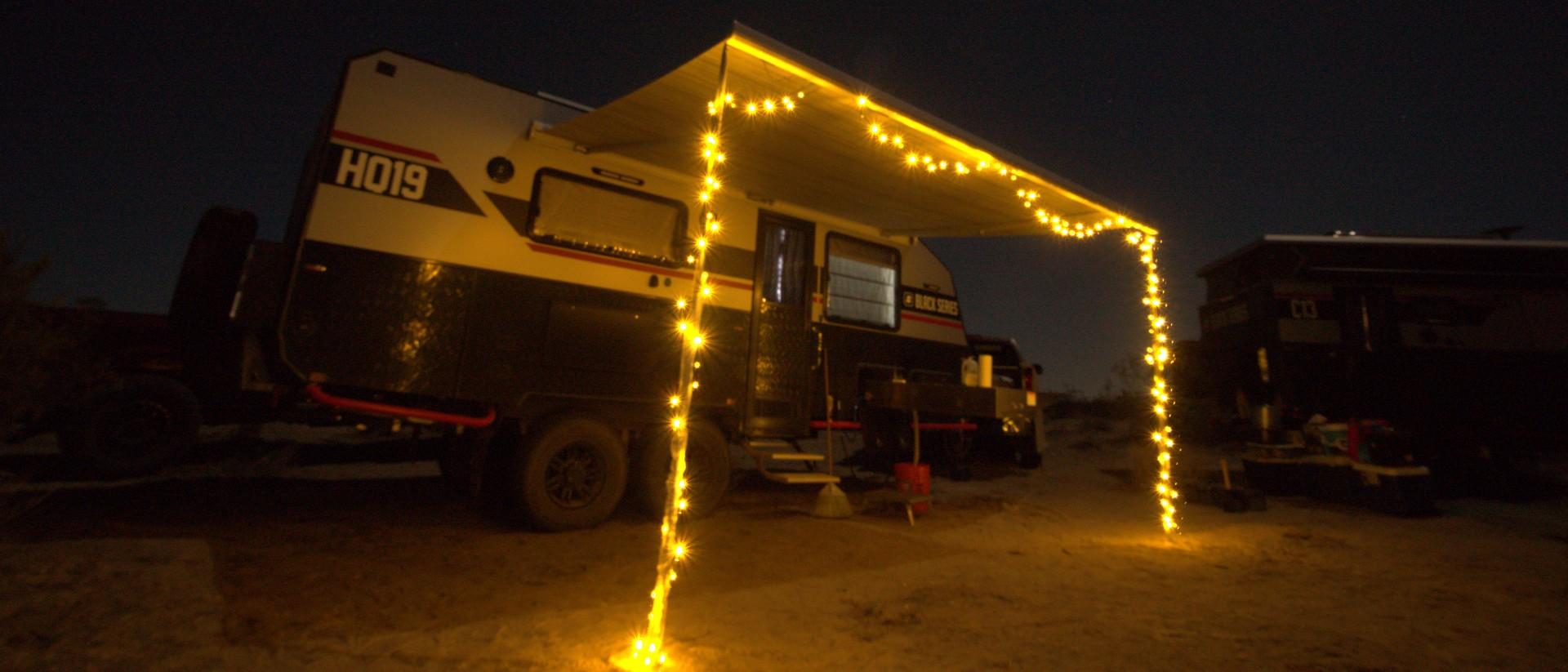 Living in a camper full time is a trend that's picked up steam of late. The ubiquity of cell service, internet connections, and information about available campsites combined with a cultural shift toward remote work has lead many people to take their lives – families, dogs, the whole shabang – on the road, full time. And why not? If your work-life situation allows for it, why not seize the opportunity and make a lifestyle out of adventure travel?
Once you've decided to make a new life out on the road full time, it's hard to think of anything else leading up to your departure besides preparations for the journey. There is a seemingly endless list of to-do's and must-haves, yet somehow, no matter how many things you check off of that list, there will be obstacles you can't predict. Only in hindsight will you press your hand against your forehead in frustration, as you couldn't believe you didn't prep for that.
Whether you're in a sprinter van or Black Series camper, full-time life on the road requires preparation and a commitment to a more minimalist way of life. In this article we're presenting 10 Commandments for living out of your trailer full time – rules of thumb that will steer you right should you make the leap and live life on the road. Godspeed!
---
Commandment #1: Thou shalt bring a portable yard.
Let's start with something light-hearted (that also happens to be a favorite of ours): the portable yard. Yes, this might sound backwards after telling you that you'll need to commit to a more minimalist lifestyle. But believe us when we say– having a mini yard to put out in front of your camper creates a space that feels like home, wherever you park it. So whether it's a roll of turf, a few lawn chairs, two pink flamingos, and a kiddie pool, or maybe something a little more practical like an outdoor rug, camper chairs, and a string of lights, you won't regret having this portable yard along for the ride.
*Bonus if you have a Black Series Trailer with a complete outdoor kitchen and Dometic fridge-cooler for the ultimate camp chef setup.
Commandment #2: Thou shalt make friends with sunlight.
If you're living on the road, you're going to have to do laundry. Period. You can drop some coin at the local laundromat, if there's one nearby (big if). But if you're camping remote or sticking to a tight budget, then washing by hand and line drying will be your best bet for clean clothing.
For washing, fill up a large Tupperware with water, add detergent, let your clothes soak for a few hours, and then scrub your garments. After, you need to line dry, and this is where the sun comes in handy. We like scheduling our wash day around the local weather if we can, so all we need is two trees (or any sturdy structures with a bit of height), a line, and a pack of clothespins. Of course, drying will be much faster when there is full sun and a breeze.
You might be thinking, "Sheesh. I'll just hit the laundromat when I have a chance. That sounds like too much work." Okay. But listen, there's something about the smell of detergent, the warm sun, the soft breeze, and hanging your clothes that makes laundry a grounding experience – something you do in tandem with nature.

Commandment #3: But sometimes thou shalt make enemies with sunlight.
Sun is fantastic – until it's not. If you've ever stepped inside a boiling hot camper, you know why we do everything we can to plan for shade. Sometimes that means forgoing the more convenient or idyllic campsites on our list for ones that have shade, because where you park your RV is critical. Ideally, you'll have shade throughout the day with protection on all sides, but if not, we recommend parking with the nose of your camper toward the sun. This prevents your trailer from get blasted broadside by the sun's heat. Another consideration is where you awning is placed, so park in a way that makes the living space beneath your awning the most livable i.e. the least brain-meltingly hot.
Every campsite is different and knowing how to park your trailer for optimal thermal efficiency is graduate-level stuff. For more on how to manage high temps while trailer camping, check out our previous article, "6 Tips for Staying Cool While OFf-Road Camping".

Commandment #4: Thou shalt follow the "3Rs."
Reduce. Reuse. Recycle. These are the "3Rs." Done properly they keep your resources, your products and your waste in order, which is crucial in a minimalist space like a camper trailer. But let's face it, recycling is a bit complicated when you're living in a camper. All those bins blocking your walkway, all those bottles piling up, it can be a headache. Your best bet is to focus first on reducing and reusing. Buying items in bulk (like laundry detergent, frozen foods, soaps, cleaning products) and then reusing small containers from previous purchases to store things is our favorite way to curb trash and live a bit greener while on the road.
Commandment #5: Thou shalt learn how to fix things yourself.
Youtube, Youtube, and oh, did we mention Youtube? It's the world's how-to guide and it will be your best friend for fixing or customizing the little quirks within your trailer. Of course, if you know everything about everything, outstanding, you don't need it. But if you're like us, there is always something to tighten, un-clog, or re-connect, and going to the auto shop or dealership for every little thing will start to add up when you're living out of your camper full-time. Plus, once you've learned how to fix minor issues on your own, the next time it happens, it'll be a quick fix. And there's something about learning to fix things ourselves that makes us feel pretty good.
Another highly-recommended online resource for any Black Series owner is the Black Series US Owners group on Facebook. Black Series owners are constantly sharing their latest custom modifications, little repair tips, and photos from their adventures. If you have a question, chances are you'll find an answer by posting in the Facebook group.
Commandment #6: Thou shalt invest in AAA
AAA or any other roadside assistance membership is a must-have, in our opinion (more for your tow vehicle than your camper). Because there might come a time when your tow vehicle needs a tow, and having to pay for a tow truck to come out to the middle of nowhere is going to cost you a heck of a lot more than your annual membership fee. AAA, and similar services, offer roadside assistance (towing, fuel, and battery service), plus you can use it for discounts on hotels and other travel services in case you want a night off of the road.
Commandment #7: Thou shalt be safe, secure, and bring two of everything.
No, it's not Noah's Ark, but it won't hurt to bring two of everything. Gas cans, spare tires, water jugs, batteries - there should be an extra in case of emergency and an extra of that extra in case of another emergency. And when it comes to security and safety while living from your camper full time, you can never be too careful. So spend your money now, save yourself in the future. It would be best if you had a carbon monoxide detector, a fire extinguisher, an electronic safe for your valuables, a magnetic GPS tracker in case your rig is stolen (this happens, and it's a nightmare) and an alarm system with autostart. We don't mean to sound like nagging parents here, but all of these things have been lifesavers for trailer owners we know, at one point or another. You should have them just in case.

Commandment #8: Honor thy work week with solar panels.
Don't have a job that requires you to get online 40 hours a week? Sounds wonderful. But if you happen to be among those who need to log on regularly, having a solid solar kit is your ticket to going further off-grid while maintaining your ability to make money. And the good news is that solar panels are only getting more affordable and more packable. So a solar setup will not only boost your rig's livability for work, but it can help you power your other electronics when your camper isn't running, making this a must-have for off-grid living.
*Solar panels come standard on most Black Series models.
Commandment #9: Thou shalt know where to go if the weather turns.
If you're from the midwest, you know where to go in case of a tornado. If you're from the coast, you know what to do in case of a tsunami. And if you live on the "Ring of Fire," you know what to do in case of an earthquake. Call it an "Act of God," "Mother Nature's fury," call it whatever you want, but the weather is powerful, and it can change instantly. So what happens if you're on the road in unfamiliar territory? Educate yourself every time you cross state lines on where to go and what to do if the weather changes. Pinpoint overpasses, routes to high ground, hospitals – knowledge is power in these situations.

Commandment #10 - Thou shalt master the art of navigating with a compass and map.
We saved this one for last because of how important we think this one is. There are countless apps that can help you find the best camping spots, routes, and things to do on the road (anyone up for seeing the biggest ball of yarn?). But what happens when the apps don't work? What happens if you've lost/broken your phone or your GPS fails? Most of us will have another phone among the people we're with, or a GPS in our car, but these are electronics, after all, and they tend to fail at the worst possible times. They run out of battery or fail after years of use, so better safe than sorry.
A compass, on the other hand, is the durable pocket-sized friend that has brought many a traveler safely to their destination. They don't need to be charged, and they don't need batteries or updates. When a compass has been cared for properly, it rarely fails. And when paired with a map and a little basic "know-how," this dynamic duo can help you out of an otherwise dire situation on the road.
---
And there you have it, our 10 Commandments for living full-time in your camper.
Important note: Recreational vehicles and off-road trailers aren't typically built to be full-time homes. They are generally built for leisure and transportation, meaning that if your camper is your primary residence, you will be placing more pressure on it than its design was intended to handle. Heating, plumbing, electrical, and any other underlying system will be used more than initially intended. Keep that in mind. That said, full-time camper living is entirely possible, even without any huge custom modifications. The right prep, the right mindset, and the right knowledge base and you dreams of living out of your camper full-time can become a reality.
Let us know if these tips were helpful or if you have any tips you'd like to add to the list in the comments below. We hope to see you out there on the road.
---
Caravans Shown in this Post: