RVing is a wonderful way of broadening one's horizons and experiencing life all around you in a more profound and holistic way. It can be the same for your children. You see, children also show strong inclinations to absorb new experiences and are full of quirks and positivity to look up to challenges that their parents help push them through. Allowing your children to be one with nature will significantly help them develop a strong personality. They will learn to appreciate the environment they live in, which is going to help them grow and develop necessary life skills.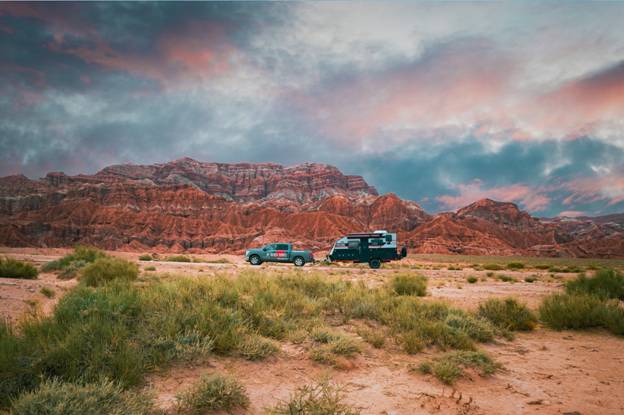 How Exactly Does RVing Help Children Grow?
1.
They Learn to Become More Flexible

Travelling to new locations in your overland trailer can help your kids get their bearings and learn how to navigate, as each place is unique. They will learn to appreciate the new environment and landscape and quickly adapt to discovering new things about different places. Whether you're camping at the beach or somewhere mountainous, your kids will learn to have to fun.
2.
They Learn to Become Sociable

When you're moving around place to place in search of new adventures – it really doesn't matter if it's a weekend trip or a summer holiday, your kids will have the opportunity to meet people from all walks of life. They'll learn how to strike conversations, be respectful to other adults, and socialize with other kids.
3.
The Opportunity for More Physical Activity

Exploring the vast national parks and rocky terrains in your travel trailers will help your kids get considerably more exercise. There's nothing better than to hike, swim, and walk, exploring different landscapes. Moreover, playing in a rugged and untamed environment also helps children develop stronger immunity.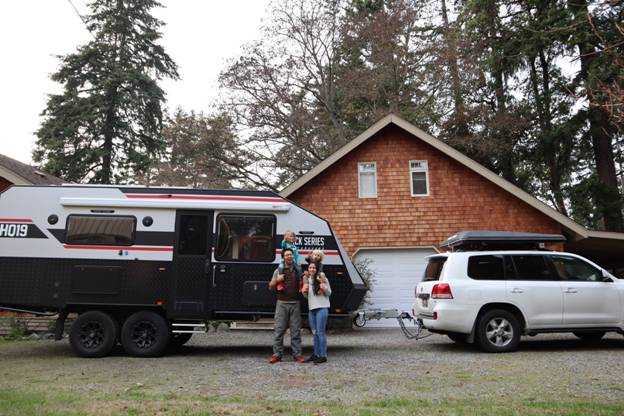 How Black Series Travel Trailers Are Changing the Boondocking Game
When you talk about luxurious, comfortable, and feature-packed RVing, it really doesn't get any better than the Black Series pop-up campers. Built-in with several modern amenities and first-class interior, these cutting-edge RVs are more like mini-apartments on wheels. Let's explore some of the most amazing reasons why you should opt to rent or buy a HQ series RV.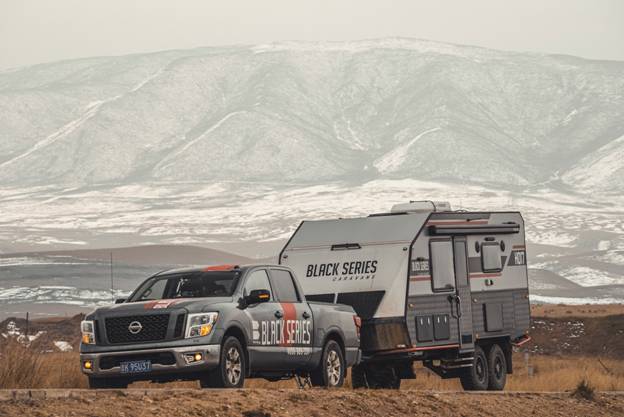 You Won't Have to Depend on Campsites
Sure, the world is opening again, gradually reeling back from the pandemic. But the threat isn't really over. The Covid-19 outbreak hasn't yet shown any signs of letting up. This means it's still not a good idea to dock on camping grounds where there are several other RVers. And if you're travelling with kids, you need to adhere to the SOPs and practice stringent social distancing even if everybody is vaccinated.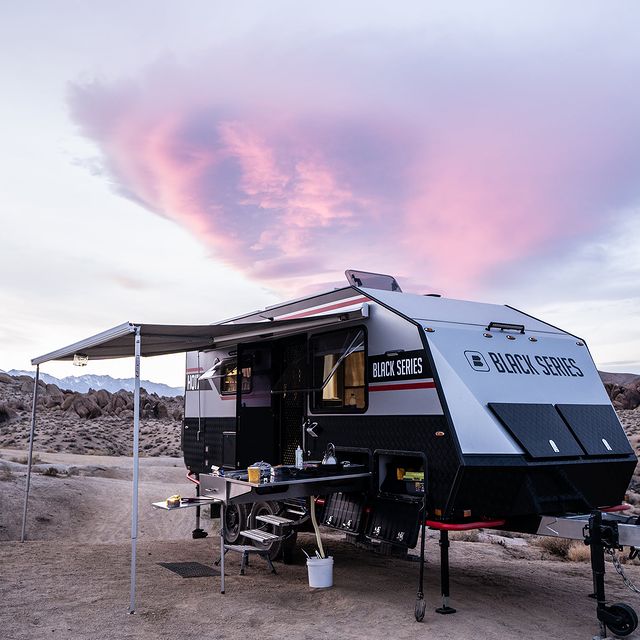 Black Series travel trailers offer an excellent opportunity to explore the country's vast natural parks independently, without mingling with other campers. Here are some excellent features the HQ series offers:
ü Bigger Water Tanks
The new HQ series off-road camper trailer comes with a 50 gallon water tank that acts as your water reservoir. The large size means you won't have to frequently stop at different camping sites to restore your water supply. Moreover, the water tanks are color coded. The grey tank collects all the useable water for the family and the blank tank holds all the wastewater and toilet paper. You can easily connect a sewer hose on the black tank and dispose of the wastewater in a responsible manner. The water tank is located on the bottom left side of the trailer and is easy to reach.
ü Longer and Better Battery Life
The new pop-up campers are equipped with state-of-the-art solar chargers and boosters. This means the RV will have a continuously recharged battery. This is going to help significantly reduce your downtime and you won't have worry about making frequent stops and wait for the battery to charge. For example, the HQ-19 is upgraded with a 12V 800AH lithium gel battery, providing more battery capacity and power. The RV is also fitted with a noiseless inverter, which is going to recharge the battery while you drive.
When fully charged, the battery system provides 32 hours of consistent power supply. Plus, you'll also be able to use a slew of modern appliances that come built-in the RV. You'll also be able to use the microwave oven and the refrigerator. But be sure not to turn on the AC while using these appliances or you'll drain the battery quicker. However, when not in use, you can turn on the AC for up to 6 hours.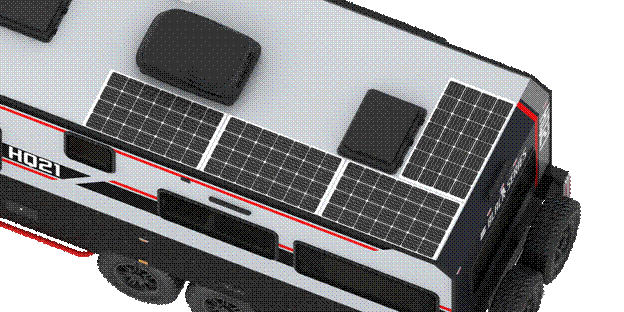 ü Bathroom with Modern Fixtures and Fittings
Another reason why most RVers have to make frequent stops at camping grounds is to use the toilet. This can be a problem because of the pandemic. You don't know whose been using the toilets and whether or not they are sanitized. Black Series HQ travel trailers come equipped with a modern bathroom with fixtures such as a towel rack, soap and toothbrush trays, and a shower. And with a large water tank, you won't have to worry about taking frequent showers or using the toilet whenever you want. It certainly beats having to use public restrooms!
Best-In Class Interior
The HQ travel trailers come with exquisite and unmatched interior design with practically everything you would need for your travels – and more! These RVs are designed to be your home away from home. The interior boasts considerably more space and is fitted with modern appliances. The pop-up campers are also well-lit and have a host of other features such as:
ü Laminated, high-gloss wood cabinetry with PET black and white colors. The cabinets are durable and easy to maintain.
ü ROB lighting effects that provide atmospheric lighting. For example, the sofa is installed with a strip of LED lighting to boost aesthetics and add a warmer tone to the environment.
ü The overland trailer also features grey velvet and multi-fold curtains for more privacy and practical aesthetics.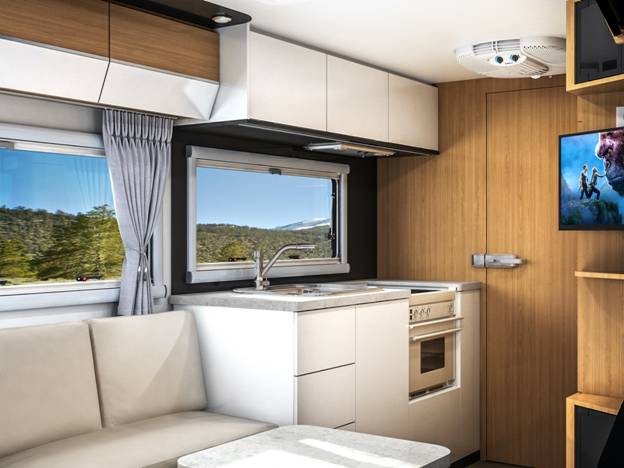 Final Thoughts
All in all, Black Series travel trailers have truly changed the boondocking game, adding more comfort and fun to all your outdoor adventures.