If you truly want to experience the thrill and excitement on being on the road, exploring different landmarks, vast forests, and big national parks, then you've got to plan an RV boondocking trip. There's a reason why travelling in an overland trailer is becoming so popular throughout the US. And there are some excellent reasons why this is true.
You see, exploring the great outdoors in an RV is considerably more affordable than air travel, it's fun, and you can take your family with you! Boondocking is an excellent reason to bond with your family, exposing your children to the flora and fauna of Mother Nature, teaching them to appreciate the environment, and showing them how to be self-sufficient.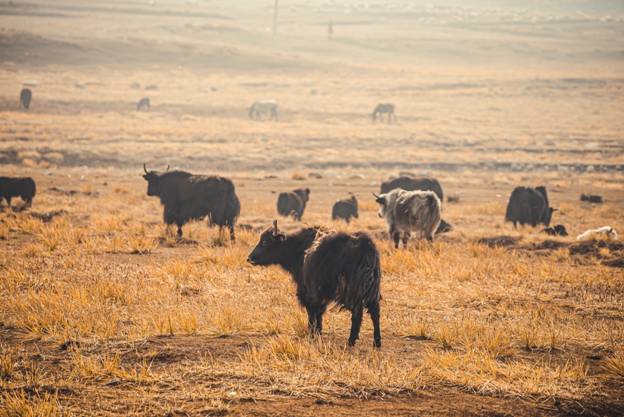 Why You Should Get an RV
Travel Wherever You Want, Whenever You Want
One of the best things about a luxurious camper trailer is the fact that you will always be in control of your schedule. With complete flexibility, you can change your travel routes on a whim. If you decide to change your plan, just simply drive to another location. RVs can give you total freedom and you will never be bound by a schedule.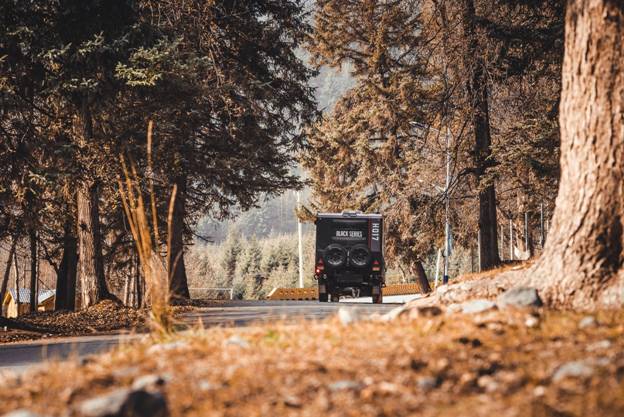 Pack Anything You Want that will Make Your Journey Enjoyable
Well-designed and spacious travel trailers come up ample space where you can store your travel essentials along with anything else that you would need to make your journey fun and exciting. You can pack your laptops and other electronics, gaming consoles, board games, etc. Travelling on the road doesn't have to be boring or monotonous. Stop wherever you want to stop (if it's legal), break out the awning, grab a couple of folding chairs and just take in the picturesque beauty of Mother Nature.
However, be mindful of the weight capacity of the RV. Overpacking can cause problems. Stay within the recommended weight level. And remember, you'll also be spending a lot of time inside, relaxing and sleeping – a cluttered environment in an already small space can be highly irritating. Plus, overpacking can also lead to accidents – you don't want to bump your head or toe anywhere.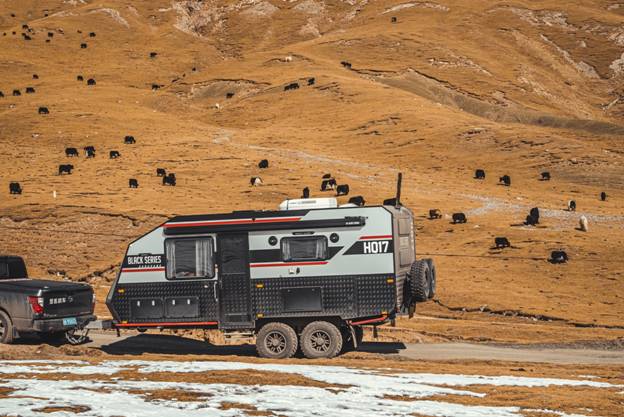 You'll Appreciate Minimalism
If you're like so many of us (people who don't like to get rid of stuff) or declutter, getting an RV will compel you to look at life with a minimalistic point of view. You can't take a lot of stuff with you on your journey. This may help motivate you to declutter you house and put things in order. Boondocking in off-grid trailers is a wonderful way to learn how to live humbly.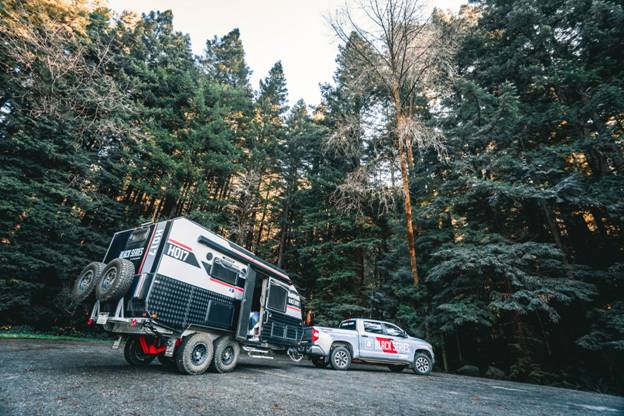 Introducing the New HQ17 By Black Series – Sheer Elegance Combined with Powerful Functionality
Black Series has been at the forefront of designing some of the best pop-up campers in the market. Their unique design methodology focuses more on providing couples with an overwhelming sense of comfort, functionality, and reliability. Black Series travel trailers are no less than a penthouse on wheels – truly, with so much interior space, a bunch of incredible amenities, and comfort, the HQ17 is a home away from home. Let's take a look at why you should get your hands on one: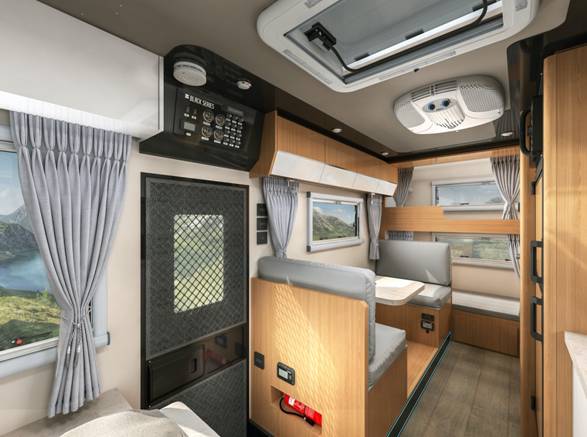 Fantastic Interior Design
With an enormous external body length of over 23 feet, the HQ17 has a cozy and beautiful interior design, perfect for a small family. As soon as you enter the overland trailer, you'll be surprised to see that the RV has a three-bed design, which includes bunk beds and a queen sized bed for the couple.
With a black, suspended ceiling, HQ17 travel trailers come with beautifully designed, rounded cabinets laminated with high quality veneer. Moreover, the RV is comes built-in with Dometic appliances, which basically include a stove-top kitchen with a microwave, a Dometic 15-gallon fridge, a low profile Penguin II rooftop air conditioner, a TV, and a Kenwood CD receiver. You'll feel as if you're staying at a luxurious resort.
The queen-size bed is placed right at the front of the RV with two bunk beds for the kids at the back. Moreover, you can convert the sleeping area into a seating area for more space during the day. You can store your personal items in the RV's durable latching cabinets and soft-close drawers to keep things organized.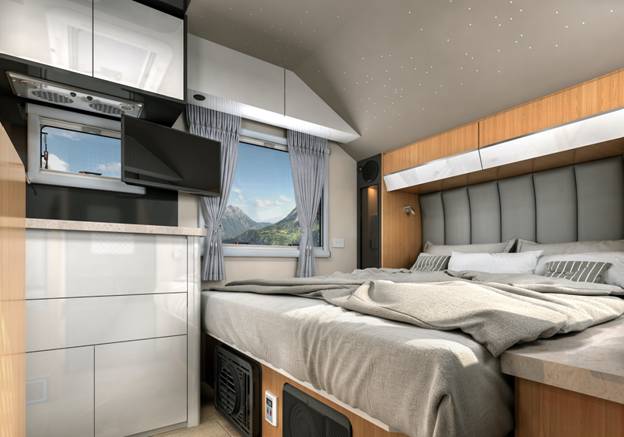 Ingenious Exterior Construction
The HQ17 is designed with Black Series' patented cone nose design, which guarantees smoother aerodynamics, which is absolutely essential for towable pop up campers for sale. The adventure vehicle also features a diamond plated undersection with strong corner bash bars to keep the RV steady and stable when the drive gets rugged.
Plus, the RV is also designed with Black Series' cutting-edge, dual-axle suspension system that allows for an even weight distribution on all four axles.
The HQ17 has a shorter body compared to most mainstream travel trailers, which means you're going to experience unmatched and comfortable off-road performance. And the best part is, you'll never have to worry about the RV wobbling behind as you as you drive your pickup. No matter how rugged the terrain is, the HQ17 will never break alignment and will follow you smoothly.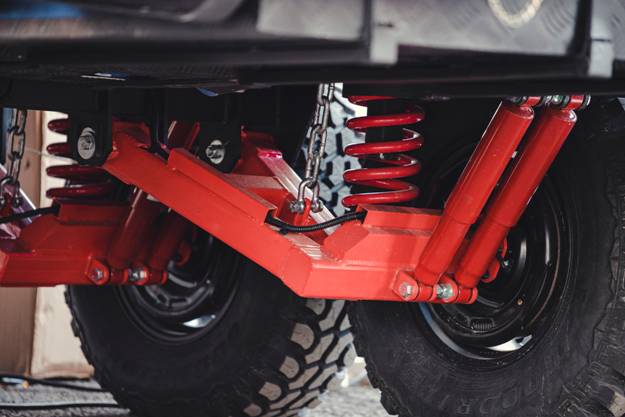 Reliable Battery System and Solar Panels
The new HQ17 overland trailer has a new and powerful battery system. Black Series has upgraded the battery system for all its pop-up campers. The HQ17 comes with a 100-AH battery for continuous and uninterrupted power supply. Plus, the overland trailer is also fitted with 150-watt solar panels on the roof. Even if you park the RV or drive around, the battery will not stop charging throughout the day. So, yes, you'll never have any power issues – even if you use all the amenities.
Touch Screen Control Panel
The camper trailer for sales comes with a state-of-the-art control panel that you can synchronize with your smartphone. You can use the control panel to seamlessly access and track the RV's overall power consumption for electricity and gas. You'll always be on top of things!
Final Thoughts
Black Series has yet again proven its commitment and dedication to providing its customer with absolute comfort and functionality. They truly stand by their moto – Be With Nature.