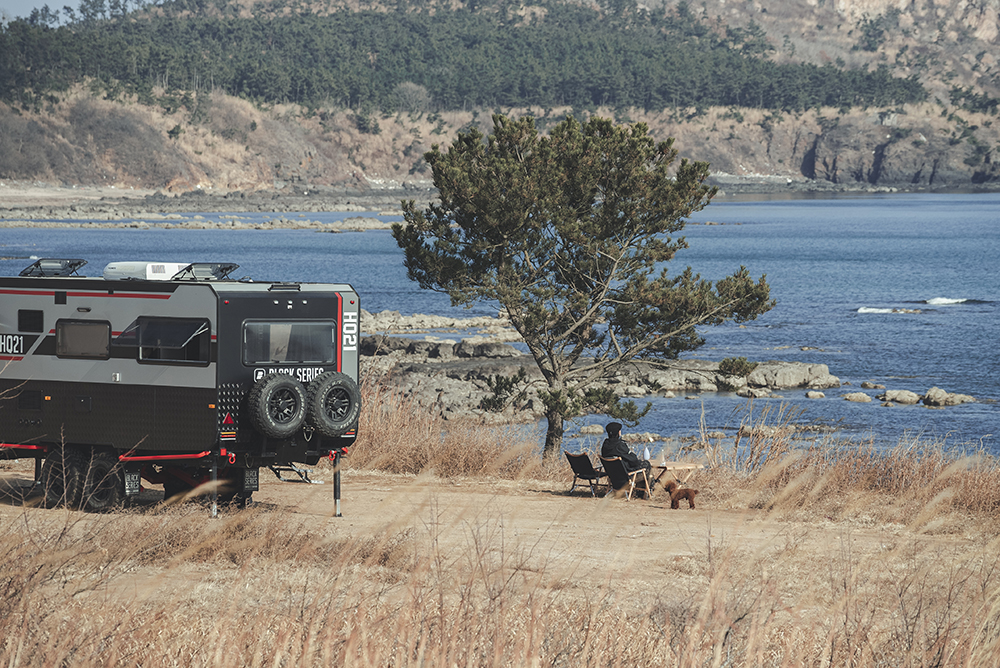 When imagining luxury on the road your mind might wander to a 5-star hotel loaded with amenities, but for us, nothing ruins the sense of exploration and adventure like ending each day by returning to civilization to check into a hotel. True luxury comes from freedom and a million-dollar view.
Environmental protection meets intelligence in our eye-catching digs that eclipse the monotony of the standard R.V. If you prefer catching your Zs somewhere in the great outdoors without sacrificing the comforts of home, our unique trailer features are sure to pique your interest. Below, we've gathered five of our best Travel Trailer features — including a surround-sound system — to inspire your next home away from home.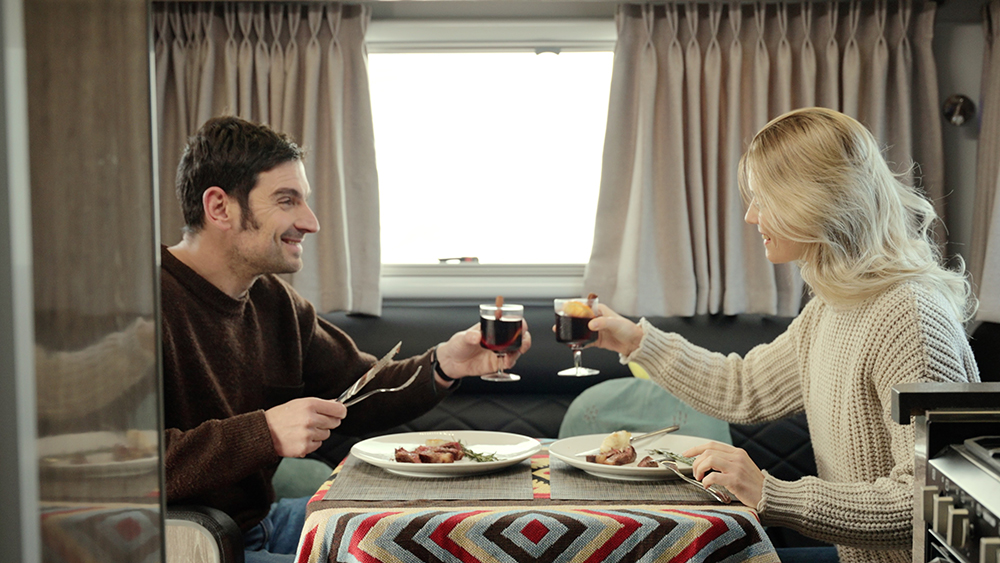 Your Own Outdoor Culinary Haven
Making the most of your natural surroundings is one of the many pleasures of off-grid living. And with all models in our Travel Trailer collection, you can take advantage of both an indoor and outdoor kitchen to create a culinary paradise for you and your family.
When the weather is less than ideal for an outdoor cookout, the interior kitchen has a three burner propane stove, standard size sink, microwave, full-sized fridge, and a good deal of storage space to put the essentials.
But when the weather is nice? There is no doubt you'll find us with a spatula in hand, enjoying the pleasures of preparing meals in the great outdoors. You can go as simple or luxurious as you like when building your perfect outdoor cooking space. Equipped with a prep table that folds and locks into place, a stainless steel slideout sink, and a propane burner stove, you will feel just as much the BBQ master as you do in your own backyard. To take things to the next level of luxury, you can add outdoor furniture, turn up the surround sound system, and establish a gastronomic sanctuary.
If the weather takes a turn for the worse but you are not willing to give up the dream of outdoor cooking, there is a weatherproof awning for year-round outdoor cooking capabilities.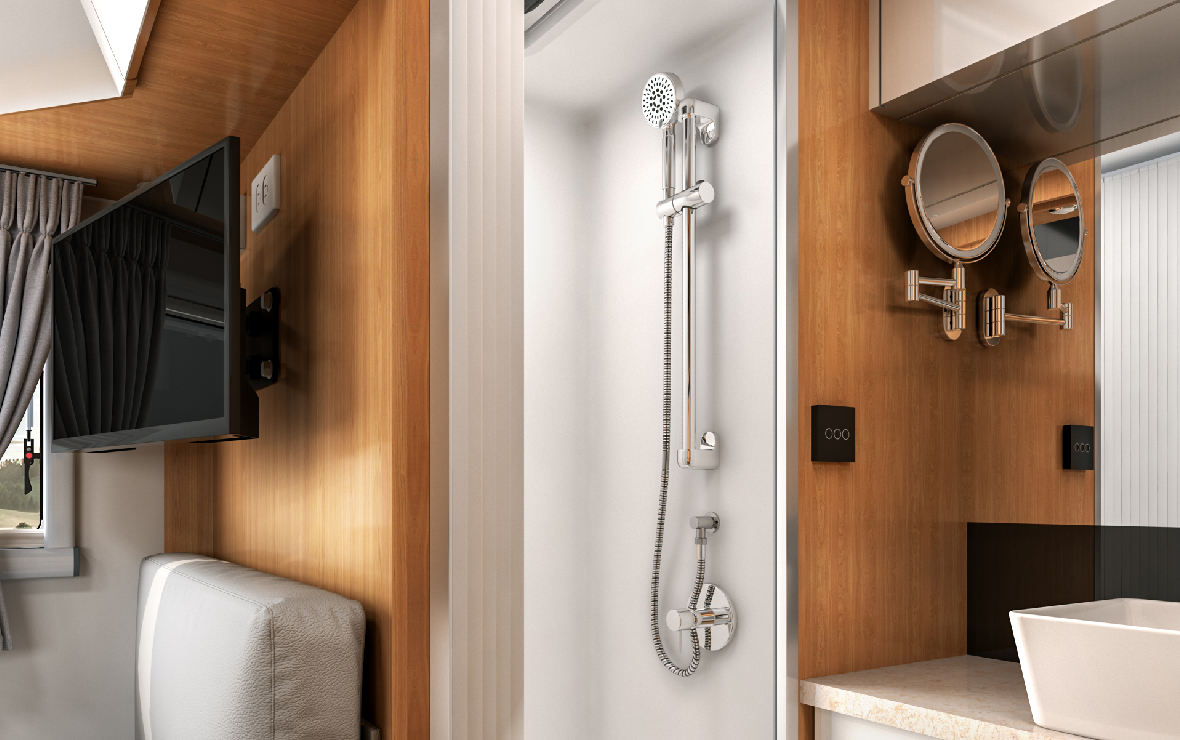 Fresh Water and Solar Panels
Harnessing electricity and storing water is vital to life off the grid. Thanks to the expansive solar panels and the generous water tank design, the Travel Trailers provide outstanding support for your extended trips with the entire family.
Since sunlight is a free renewable resource, using solar panels produces an abundance of energy that's free and easy to use. On top of that, the maintenance requirements are minimal, and the fact that you don't need to bring along extra fuel makes running a solar generator low-cost and low-hassle. Your luxurious wet bath is made possible by the extensive 64-gallon water tank system in every Travel Trailer model. Just imagine, after a long day of hiking and adventuring with the family, you all return back to camp with the promise of a hot shower — the perfect way to settle in for the night.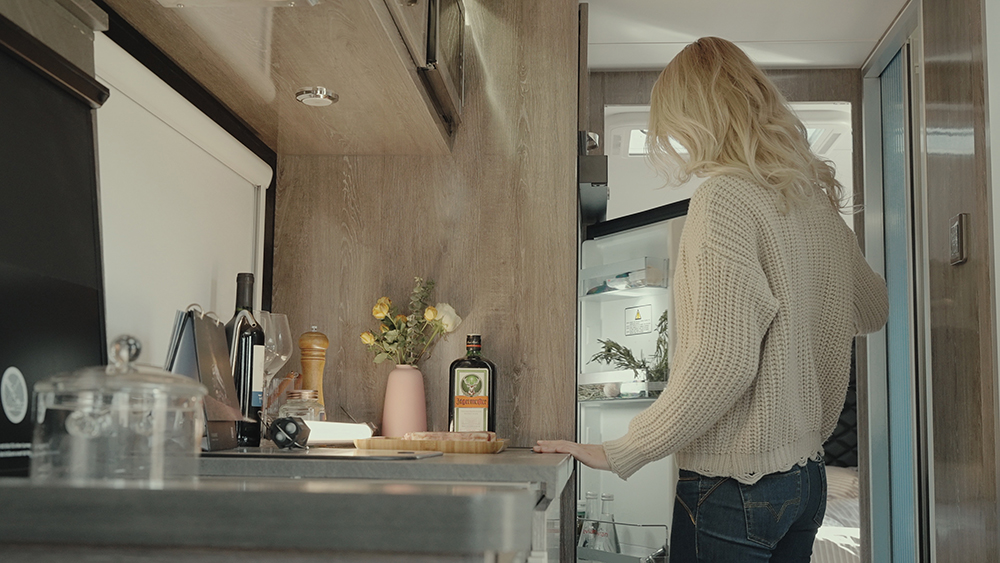 Home-Like Interior
From the full kitchen to the ergonomic bed to the luxury bathroom, every detail is made to make you feel at home, even when you're far from it. As soon as you and your family walk into the trailer, you are transported to a luxurious living space that rivals any hotel room. Fitted with easy-to-clean surfaces (removable covers, wipeable seats, etc.), the Travel Trailers make it easy to spend time making memories with loved ones, and less time cleaning up afterward.
When it's time to pass out after a fun day, the primary bedroom features a queen bed, and the main lounge area converts into another sleeping space with a large bed. The HQ19 and HQ21 models also have an en-suite bathroom with a shower and toilet for privacy and a laundry machine.

You're met with premium faux leather seating and an adjustable table in the dining room. The kitchen has a propane stove, sink, microwave, and fridge. The ultra-modern 5-star timber cabinetry houses the gas strut supports with push to open travel-safe locks and soft close drawers. The wood vinyl flooring keeps the aesthetic modern with the perk of being extremely easy to keep clean.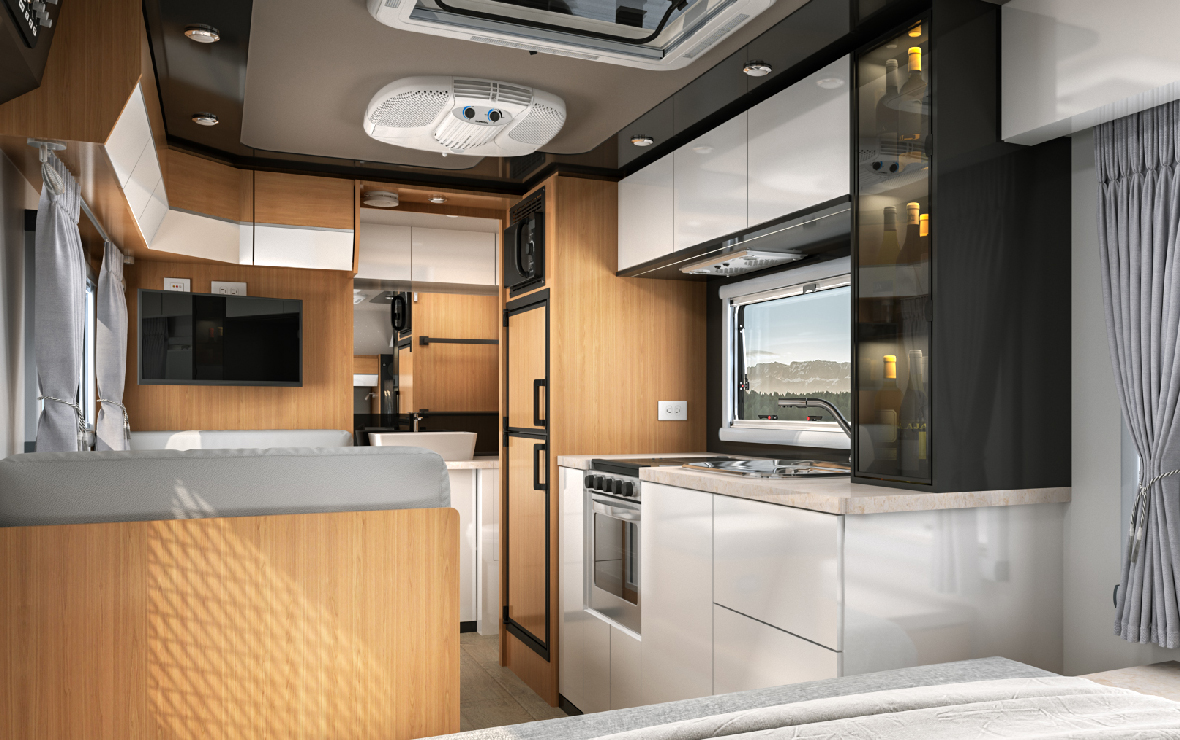 Climate Control
Air conditioning (AC) units can use massive amounts of energy. Even when you've got ample power, they can still be a substantial drain on the system. Nevertheless, you needn't relinquish the dream of living in climate-controllable comfort through the hotter months on the road. Our rooftop Air Conditioning Unit has been specifically designed to run on solar power, meaning you'll always have the capability to retreat to cool quarters during the hot summer months.

And when the temperature drops a bit below your liking? Don't worry. Every trailer comes equipped with a furnace to keep you warm and cozy. Whatever the weather, the Travel Trailers are ready to battle the elements and keep you comfortable.

Entertainment System
Nothing gets the party started like a good sound system. Our trailers are equipped with independent-control sound systems for indoor and outdoor use. The outdoor system consists of two waterproof, marine-grade speakers with super bass, which envelopes the whole camper with crisp stereo sound.

And because getting stuck indoors is inevitable, whether it's time to turn in for the night or the weather has taken a turn for the worse, the Travel Trailers are designed to be just as fun on the inside. There are two interior, high-quality Bluetooth speakers ready to hook up to any device. Additionally, every trailer comes equipped with a 24" TV with both DVD capabilities and an over-the-air antenna, perfect for an epic movie night at the end of a long day or simply to pass the time.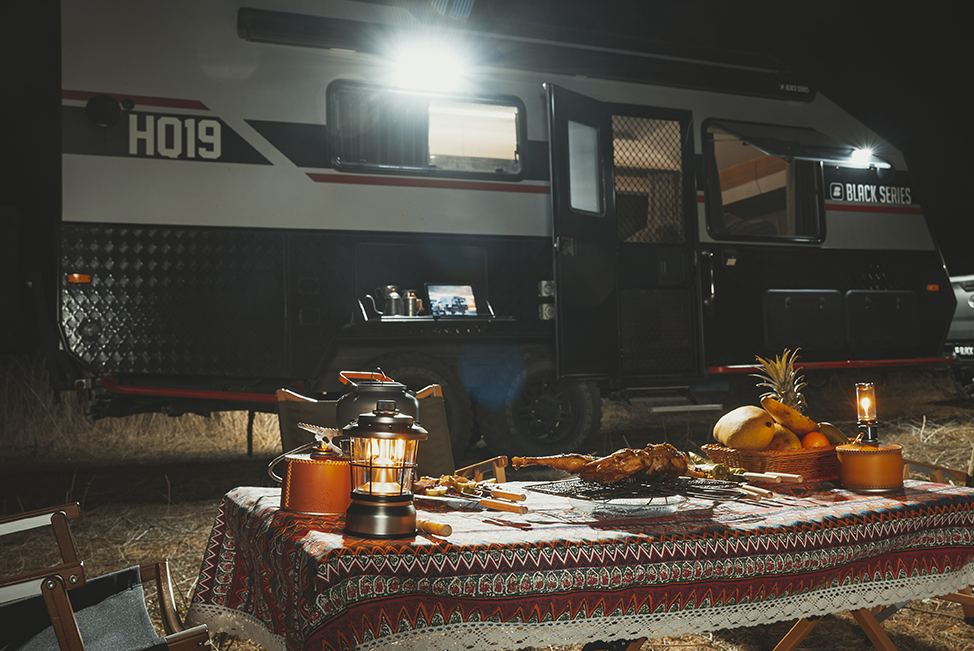 There are seemingly endless options for luxury on the road. Still, a trailer offers a special experience, supporting you and your family's freedom to roam, allowing you to easily set up camp wherever you wish without sacrificing the comforts of home. So whether you're dreaming of visiting a front-country campground at a bucket list location or heading further down the road into off-grid territory, you can get into one of our Travel Trailer models just in time for peak trailer season. Learn more about our full offering on our website, and we'll see you out on the road!

Did you enjoy this article? Check out Best In The Us: 5 Dispersed Camping Locations By Region


Black Series Trailers Featured in This Post:

HQ19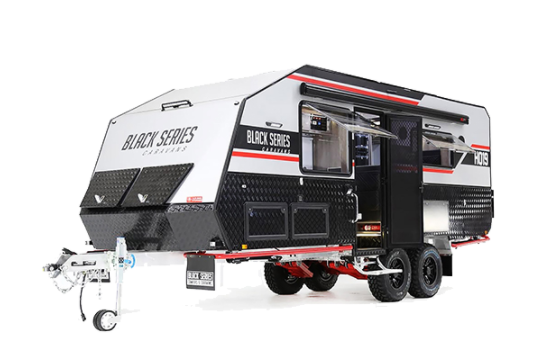 HQ21