Travel trailers, like other campers, are susceptible to thefts not only because of the contents but because they can drive off with the vehicle. It can always be a hassle to monitor your trailer while camping.
Most people with campers are always worried about their RV security. That's why we will show you different ways to take your trailer security to the next level today.
Why Improving Your Travel Trailer Security Is Essential?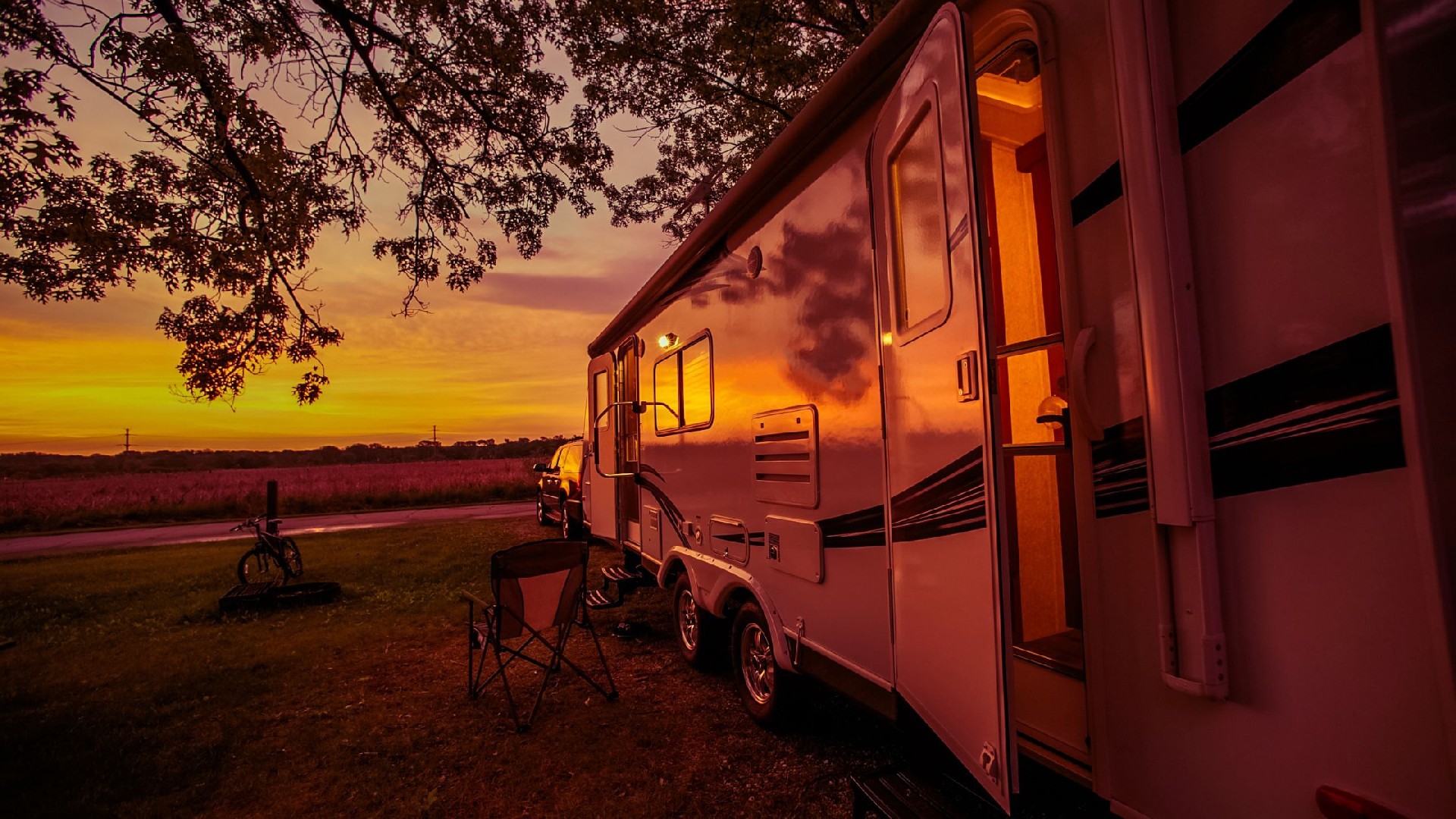 Your travel trailer's security should be one of your top priorities. These are some of the reasons why you should improve your RV security;
It ensures you have less to worry about while you are traveling.

It helps you fight against damage and vandalism.

A camper with motion detector lights would scare off potential thieves.

It helps to protect your personal belongings including your laptop, phone, and even cooking equipment.

It helps protect the RV from theft.
Is Travel Trailer Theft Common?
Travel trailers and RVs alike are considered to be the fourth most common vehicle type to be stolen.
But, since almost every stolen travel trailer is categorized as a vehicle, it is very hard to get accurate statistics on them.
Most times that these vehicles get stolen are usually when they are left unoccupied, like in storage.
How To Improve Your Travel Trailer Security?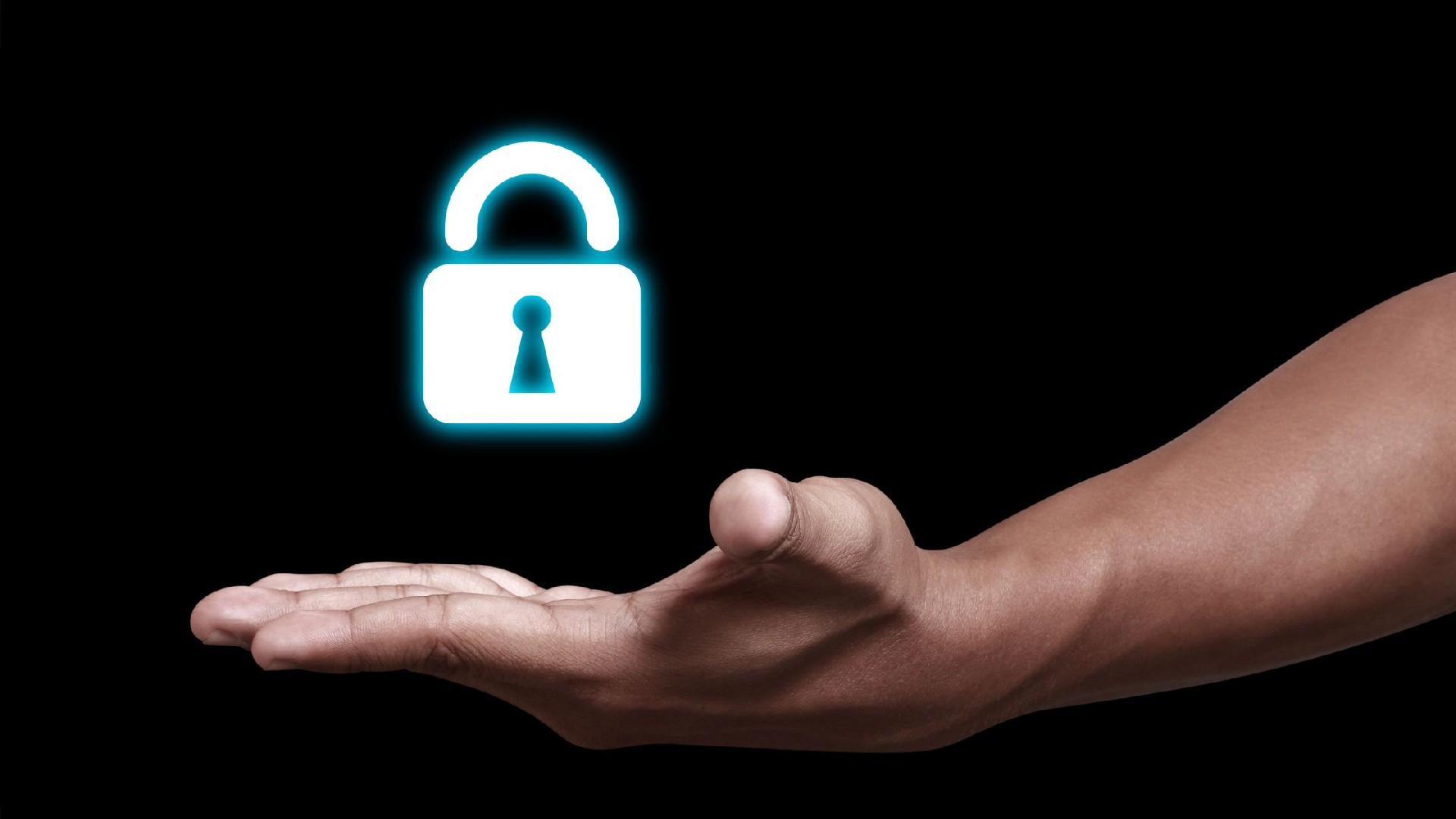 These are some of the top and most effective ways to increase your RV security and keep it safe whether it is at an RV park or a public campground.
Invest In Good Locks
Upgrade Your RV Locks and Deadbolts: One of the major things that bring you peace of mind when traveling is that you can lock your RV door securely. Invest in high-quality deadbolts and locks. You should go for modern RV locks with features like an infrared camera and Wi-Fi compatibility.

Locking SAFE and Keeping your doors and compartments locked: It is recommended that you keep a waterproof and fireproof safe in an unobtrusive location to keep all your important documents and security devices safe. Also, make sure your doors and compartments are locked at all times.

Get a Coupler Lock: A coupler lock is one that is fitted over the hitch ball. This would stop a thief from uncoupling the trailer from your tow vehicle.

Get a Tongue Lock: A tongue lock connects to your ball hitch after attaching it to the coupler of the trailer. The lock plugs up the coupler and then makes the vehicle inoperable.

Get a Hitch Lock: Hitch locks ensures that the hitch pin stays in place. Hitch locks also prevent someone from taking apart the hitch altogether. To keep your vehicle more secure, you should get a solid hitch lock.

Use a Chock Lock: Chock locks are devices that are attached to your wheel to stop the camper's wheels from turning. Make sure you use a noticeable chock lock so that criminals would not approach your trailer.

Get Trailer Hitch Receiver Pin Lock: This is like a deadbolt for your tow vehicle. This would also prevent thieves from stealing your hitch. This replaces the hitch pin with a pin featuring a lock. Think of a steering wheel lock but this time it is on the hitch.

Use wheel locks, including fifth wheel locks: Fifth wheel locks make it impossible for someone to connect a hitch as it wraps around the hitch underneath the travel trailer.

Door and Window Locks: One of the most vital security measures is to secure the entry points of your RV. Upgrading your security systems like the RV door lock and window lock can help prevent RV theft.
Consider A GPS Tracker
You should consider getting a GPS tracker as it would always give you the location of your travel trailer and can be hidden easily inside the vehicle.
Install An Alarm System
You should install door and window alarms to help boost your RV security. This way you will be alerted on time if someone tries to steal from your camper.
Install Surveillance Cameras
You should mount security cameras on your travel trailer that you can monitor remotely. Installing security cameras around your travel trailer can deter potential thieves and provide valuable evidence in case of an incident.
Some features to look for in a security camera system include:
Motion detection

Night vision capabilities

Remote viewing and alerts

Weather-resistant construction
Dummy security camera
Even if you do not feel the need to install a real security camera, you can still put up dummy cameras outside your RV to give that sense of surveillance.
Use Window Coverings
Pull Blinds or Shades When You Leave: Let the shades or blinds remain there even when you are away so that passersby don't get to see what you have stored inside.
Install Exterior And Interior Lighting
Install Motion Sensor LIGHTS: People are way less likely to target your RV if it looks like it is occupied. You can go for RV light bulbs with motion sensors so that they light up when anyone gets too close to your vehicle.
Additional Tips On How To Secure Your Trailer From Theft?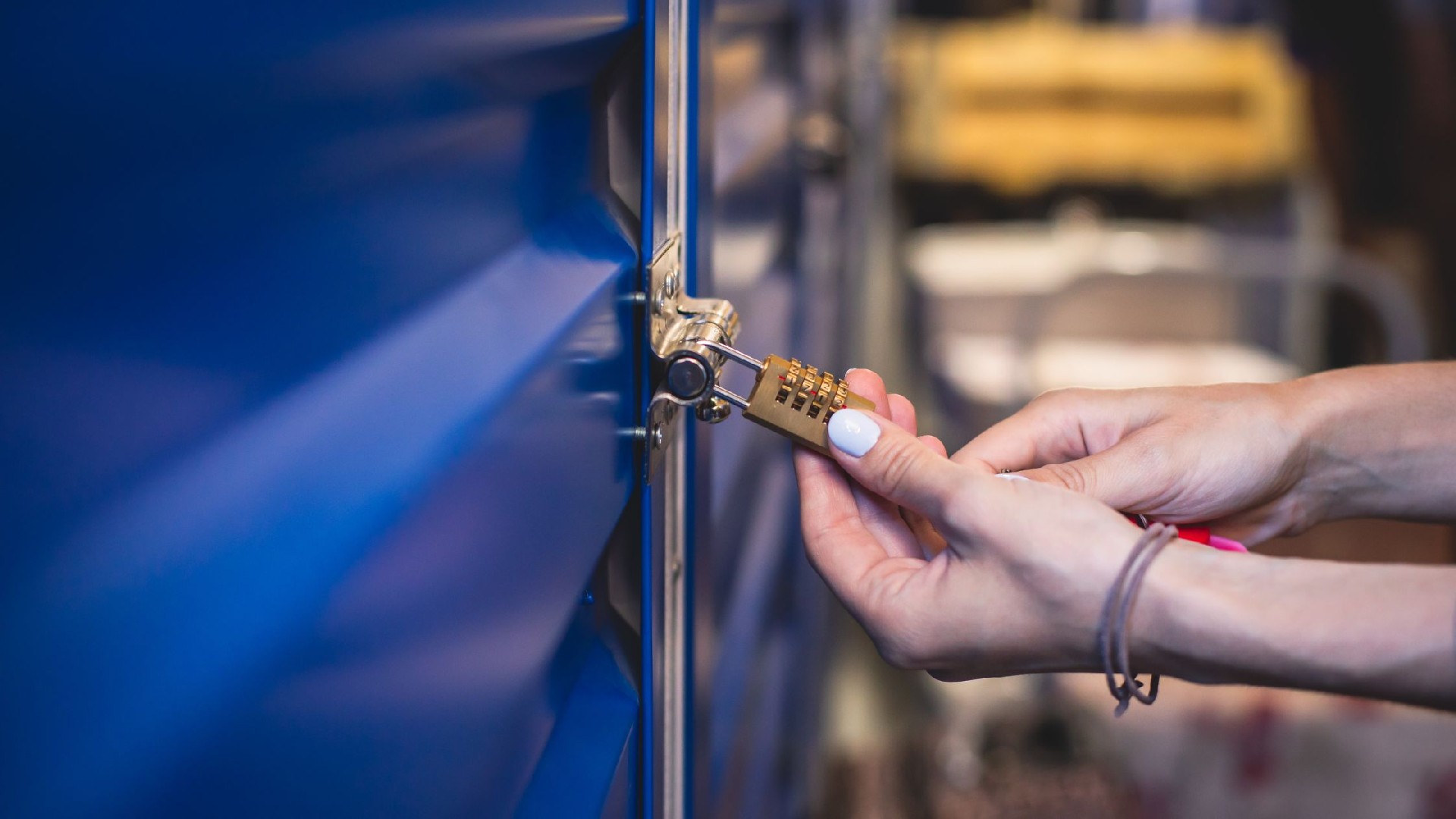 Here are some extra tips to further decrease the chances of getting your travel trailer stolen:
Get a Dog: A guard dog would be very helpful in securing your trailer from theft. A dog would help ward off intruders.

Research the area where you're staying: Be up to date with the recent happenings in the location where you are staying to be ready for anything.

Camp in Group: It can be nice to camp in groups because you can be sure someone is there to watch over your RV when you need to run a quick errand.

Get Your Own RV Wi-Fi: Using your own Wi-Fi means you don't get to step out unnecessarily to get an internet connection.

Add Unique Markings: You can spice up your trailer with some bright and unique markings up to the point that nobody wants to mess with it.

Hide GPS Tracking Devices: Get GPS tracking devices and hide them in your RV so that you can know its exact location in case of an incident.

Maintain a Low Profile: While you are out with your travel trailer, ensure you don't live a flashy lifestyle to avoid attracting thieves.

Be careful What You Share On Social Media: Don't share sensitive information like your exact location on social media as it could attract the wrong audience.

Always Take Your Keys And Key Fobs: Don't leave your keys and key fobs in your trailer or motorhome, especially when you are away from your vehicle.

Keep valuables out of sight: Make sure that your valuable items are not kept in plain sight for everybody to see. You could stash them in a safe.
Park Smartly And Know Your Exact Location
Choose a well-lit area: If you wish to park your RV, try to choose a location that has great lighting and if possible, video surveillance. This would help deter thieves as they are less likely to hit that sort of spot.

Park close to a wall or barrier: One of the best ways to limit access to your RV windows and doors is by parking it next to a barrier, like a wall. This way it would be harder for criminals to break into it.

Block with towing vehicle: If it is feasible, try to park a tow vehicle behind or in front of your RV. What this does is it creates a physical barrier that stops criminals from hitching and stealing your trailer.

Get to know your neighbors: If you are staying at a campground, then we recommend you get familiar with your neighbors there. Getting close to the people there would ensure that you help each other watch over your trailers. This helps in increasing overall security.

Be vigilant: You should check on your RV regularly to be sure there is nothing wrong. Inspect the entrance and storage doors. This would help you pick out any issues early enough to take action.

Try to keep your trailer out of everyone's sight if possible. You can hide it, but not in an overly lonely spot.
Build A Security Routine
It is very important that you build and stick to a security routine to make sure that your RV remains safe even in your absence. Try to incorporate these into your routine;
Inspect the surrounding environment for suspicious activity.

Don't keep keys in visible locations outside your trailer.

When you are leaving your trailer unattended, make sure that the windows and doors are locked properly,

Check your window and door locks for signs of tampering.
Don't Forget To Get An Insurance
Make sure you do not leave out insurance in your plans to keep your RV safe. Getting coverage is a vital way to ensure that you are covered and compensated should anything go wrong. As you would in an automobile policy, you need to be equipped with collision and comprehensive insurance.
Extra Tips To Improve Travel Trailer Security While Traveling For Longer Periods Of Time
If you are planning to travel and stay at the campground for longer periods of time, then you need to ramp up your RV security with the essential tips below.
Make sure you disable your RV when it is not being operated.

Try to invest in a spare tire lock so that you don't end up losing your spare tire.

Do not utilize the cargo areas of your side-by-side to store your gear, instead, you should keep them in a lockable trailer tongue box.

Make sure that you store all your alarm controls, keys, and every other RV security device in a secure location.

Stay Informed About Local Crime Trends: You should always be up to date with the local crime reports and also be informed of any recent incident or theft in the area you wish to visit. This would help you decide where you should camp out or where you should park your camper.

Chain and lock your propane tanks: Your propane takes should be secured with a heavy-duty padlock and chain as this would prevent them from being stolen or damaged.
How To Improve Your Travel Trailer Security While Camping?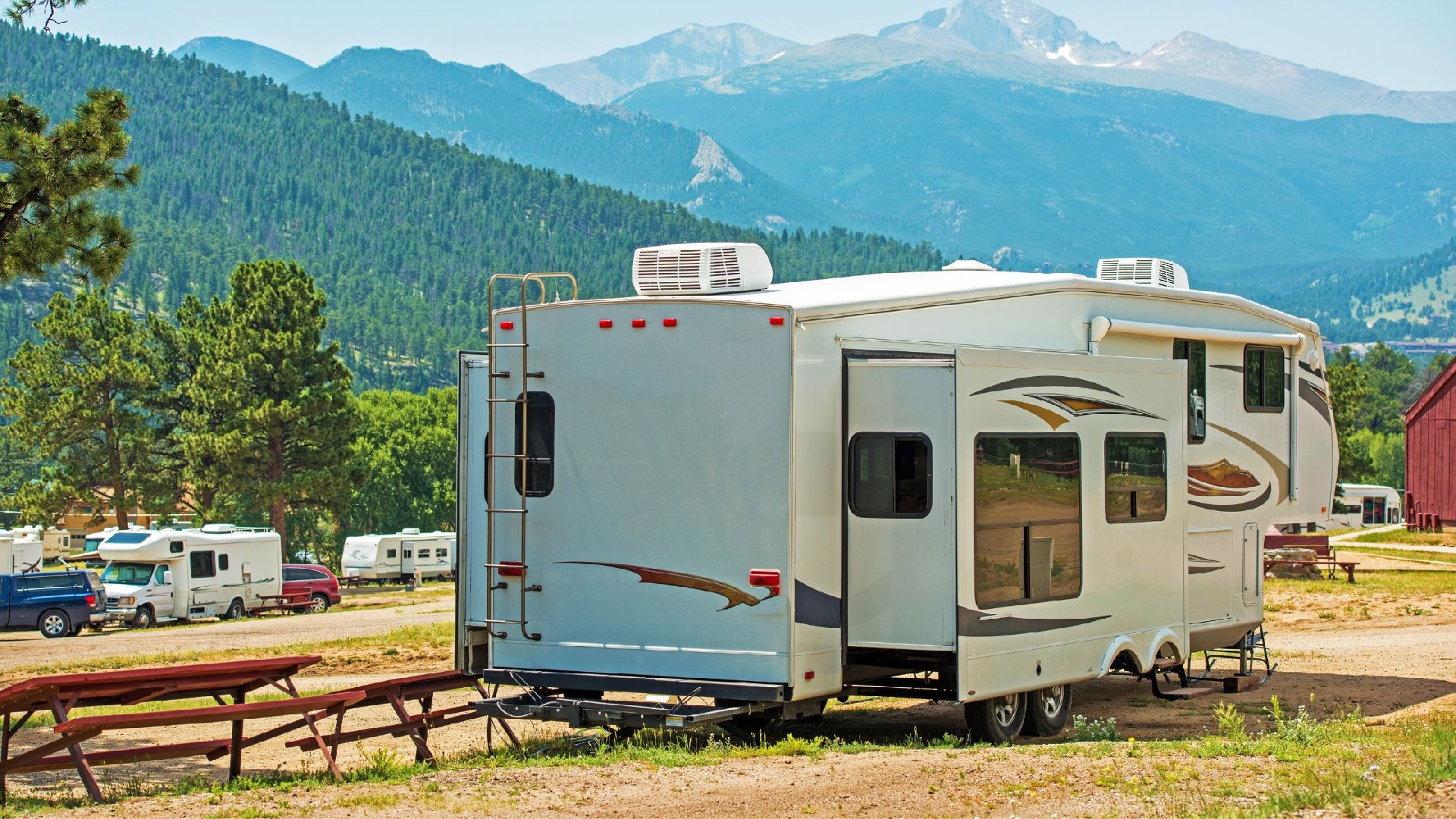 Choose a safe campsite: One of the best RV security tips is to select your campground site very carefully. Make sure the site you go for is well renowned for safety and no criminal activity. Your camping spot should have either staff onsite or ranger stations.

Concealed parking: Concealed parking is a great way to keep your camper secure and out of sight. Having your car parked behind large rocks or bushes is an effective camper theft prevention method.

Anchor your trailer: If the campground you are staying at has uneven or windy terrain, you should consider investing in heavy-duty ground anchors. This is used by many RV owners to secure their travel trailers and avoid them rolling or shifting away.

Travel in a group: The more the merrier also applies to your RV security. You can utilize your strength in numbers and fight against RV theft.

Keep your campsite tidy: You should keep all your contents that can attract wildlife in a bear-resistant container or hanging from a tree branch.

Be aware of your surroundings: Be vigilant and familiar with your surroundings.

Establish a communication plan: You should set up a communication plan with your family or camping group to ensure that you don't lose contact with each other in case of an emergency. You can choose to use a personal locator or satellite phone.

Carry personal protection: Depending on where you choose to have your next adventure, you should consider taking some items to protect yourself with including a pocket knife or a pepper spray.

Practice fire safety: Never ever leave a fire issue unattended. Before you leave or go to bed, you should always extinguish all fires completely. You should also try keeping any fire contained within fire rings or fire pits.

Inform someone of your plans: Before you head out on your journey, the first thing to do is tell a family member or a close friend of all your plans. This is helpful because they can alert the necessary authorities if you don't show up when you are supposed to.

Trust your instincts: If you feel like something is off in your surrounding area, ensure you follow your instincts and take precautions to keep you and your group safe. In most cases, trusting your instincts pays off.

Remote alarm system: You should invest in a remote alarm as it is one of those security systems that allow you to keep an eye on your trailer without having to be there. It is an added security that alerts you if any storage compartment, windows, or doors are open.
Conclusion
A travel trailer is a significant investment and making sure it is safe from all forms of theft and damage is a small price to pay.
While your own driveway and most campgrounds are safe, we have listed enough tips to help you keep your RV and personal belongings safe anywhere you go.