There's nothing quite like the thrill of heading out on the highway exploring your local area or venturing further afield. An increasing number of people choose the RV vacation option, and if you're looking for an RV, there are many options.
In your search, you'll encounter names such as camper van, Class A, fifth wheel, Class C, travel trailer, toy hauler, and toy hauler RV.
In this post, we will look at toy haulers in particular., discover more about the different types of toy hauler RV, their benefits and disadvantages, what they're best for, and explore some of the most common features.
What is a toy hauler?
A toy hauler is an RV you can tow. It has a living area, much like any other RV but what sets a toy hauler apart is that it also has a dedicated space for storing all your "toys" or outdoor recreational equipment.
You can store a small car, ATV golf cart, canoe, snowmobiles, mountain bike, motorbike, small boat, kayak, and other outdoor equipment in the garage area.
As well as a garage area, toy haulers also typically have a living area, kitchenette, bedroom, and bathroom. It's possible to sleep up to eight people very comfortably, depending on the type of trailer.
The living space will be at the front of the toy hauler. At the same time, the garage space will be at the rear of the trailer.
You access the garage area via a ramp created when the rear wall of the trailer is lowered.
The design can be Class A or C, travel trailer, or fifth wheel. Their length ranges from 18 right up to 40 feet, and their dry weight will be between 3,000 and 10,000 pounds.
What are toy haulers used for?
Outdoor enthusiasts heading out for their latest camping adventure

Attending motorsport events

Traveling to other types of gathering such as music events, bike rallies, winter sports

You can also use the garage space as a playroom, woodworking space, mini gym, office area
Different types of toy haulers
There are several types to choose from, for example:
Travel trailer toy haulers
This is the most traditional type of toy hauler and is where the idea came from. It utilizes the frame of a travel trailer, and the tow vehicle uses a bumper hitch. Another name for this type of toy hauler is a pull-behind.
Class A motorhome toy haulers
A Class A toy hauler look very much like a tour bus. The difference is that this trailer has a garage area. There might also be the option of towing another vehicle behind.
As you might expect, this top-of-the-range toy hauler has the highest price tag. This is due not only to the luxurious features but the fact that it has a diesel engine, robust construction, and is the biggest toy hauler by far.
Fifth wheel toy hauler
A tow vehicle hauls this type of toy hauler through a special fifth-wheel apparatus attached to the tow vehicle's bed. It also has the recognizable "gooseneck."
Other distinguishing features include luxurious interiors and, multiple slide-outs which increase the living space.
Class C motorhome toy hauler
A Class C toy hauler is much smaller than its Class A cousin. Its distinguishing feature is the living space over the cab.
Typically built using a truck chassis, they will have either a gas or diesel engine. The range of styles and layouts is vast, but they will all include standard kitchen, bathroom, and bedroom features. There will also be a storage area for your "toys."
Who are the toy hauler RVs best for?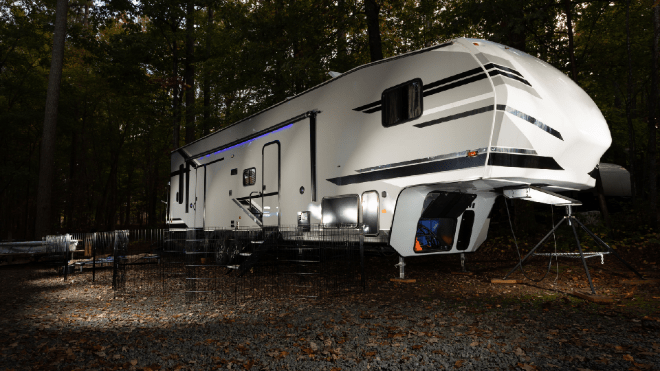 Toy haulers are a type of RV trailer that will suit a wide range of people. For example:

Outdoor enthusiasts: Outdoor enthusiasts can make the most of their trips with a toy hauler. The extra storage space means they don't have to leave their favorite toys behind. There's room enough for fishing gear, motorized toys such as bikes, ATV, and any other type of outdoor equipment they might want to take along.

Remote workers: An increasing number of people choose to work on the road, and a toy hauler provides the perfect working space. It can easily double up as your office space, making remote working much more manageable and providing an area that's free from distractions. In addition, it's effortless to outfit a toy hauler with office tables, chairs, and computer equipment allowing you to work from any location worldwide.

Tailgaters: Tailgaters love the flexibility of a toy hauler and the opportunity they provide for any football fanatic who wants to bring their tailgate party right to the stadium. There's more than enough space for tailgating equipment such as a smoker, BBQ, large TV, comfy chairs, coverage tent, and anything else you might need to make the party rock.
Main features of toy hauler RVs?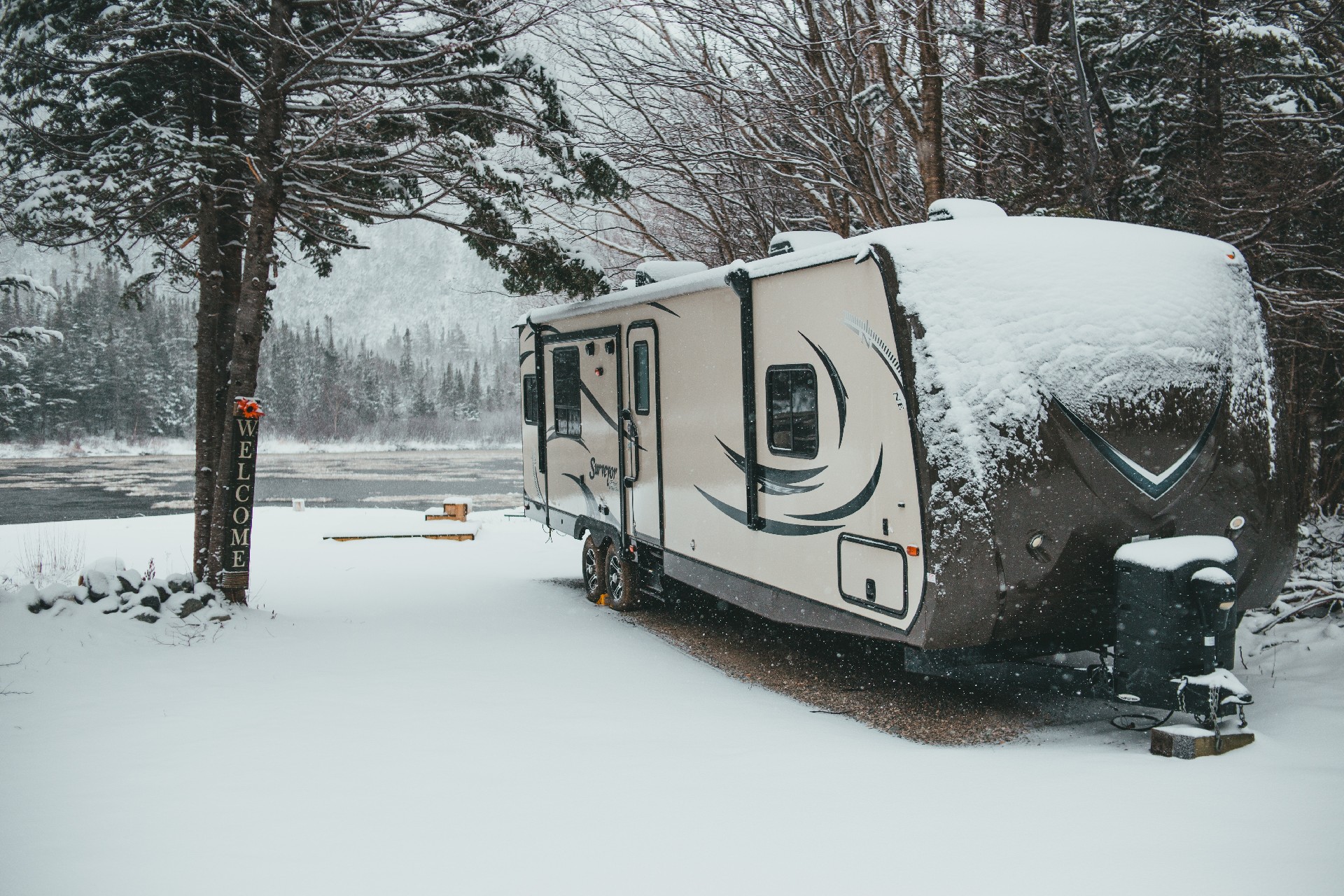 Toy haulers were designed with a specific purpose in mind. They are a type of RV, but they have some exclusive features that make them perfect for outdoor lovers and people looking for an adventure that still like access to some creature comforts.

You'll find the following features make toy haulers stand out from other camping vehicles.
Super tough
Thanks to its super-rugged construction, you can take your toy hauler RV off the beaten track. The features that make this possible include better ground clearance that protects the trailer's underbelly.
The trailer also has axles that are higher-rated. This means they can deal with the vehicle's weight as it drives over the rough terrain, rolling and bouncing as it goes.
Inside the trailer, the built-in compartments and furniture are also more robust because they have to stand up to some rough treatment as the trailer encounters dips, bumps, and other off-grid obstacles.
Weight distribution
Something to be aware of when you're packing your toy hauler is weight distribution. It has to be even and appropriate for towing.
Make sure you check out the trailer's gross weight and dry weight, and make sure you don't exceed the vehicles towing limits.
When estimating the weight of the toy hauler, remember to include items in the living quarters and the vehicles and outdoor equipment you're storing in the garage space.
Vehicle layout
The storage area to the rear of the trailer is a crucial feature with a toy hauler. No other type of RV or camper has it.
The living area includes features you'll find in many other travel trailers and RVs, such as a kitchen, living, bathroom, and sleep area.
Creative features
It's not unusual for a toy hauler to comfortably cater for up to 8 campers. Still, to make this possible, manufacturers had to put their creative caps on when it came to the furniture and other aspects.
For example, while the rear storage area is meant to store your grown-up toys, it can also double up as extra living or sleeping space.
If needed, portable or collapsible couches, tables, or beds can be included in the trailer's design. One exciting addition could be beds that come down at the push of a button from the ceiling.
The ramp or back door that drops down could have fencing and be used as a porch.
What are the benefits of toy haulers?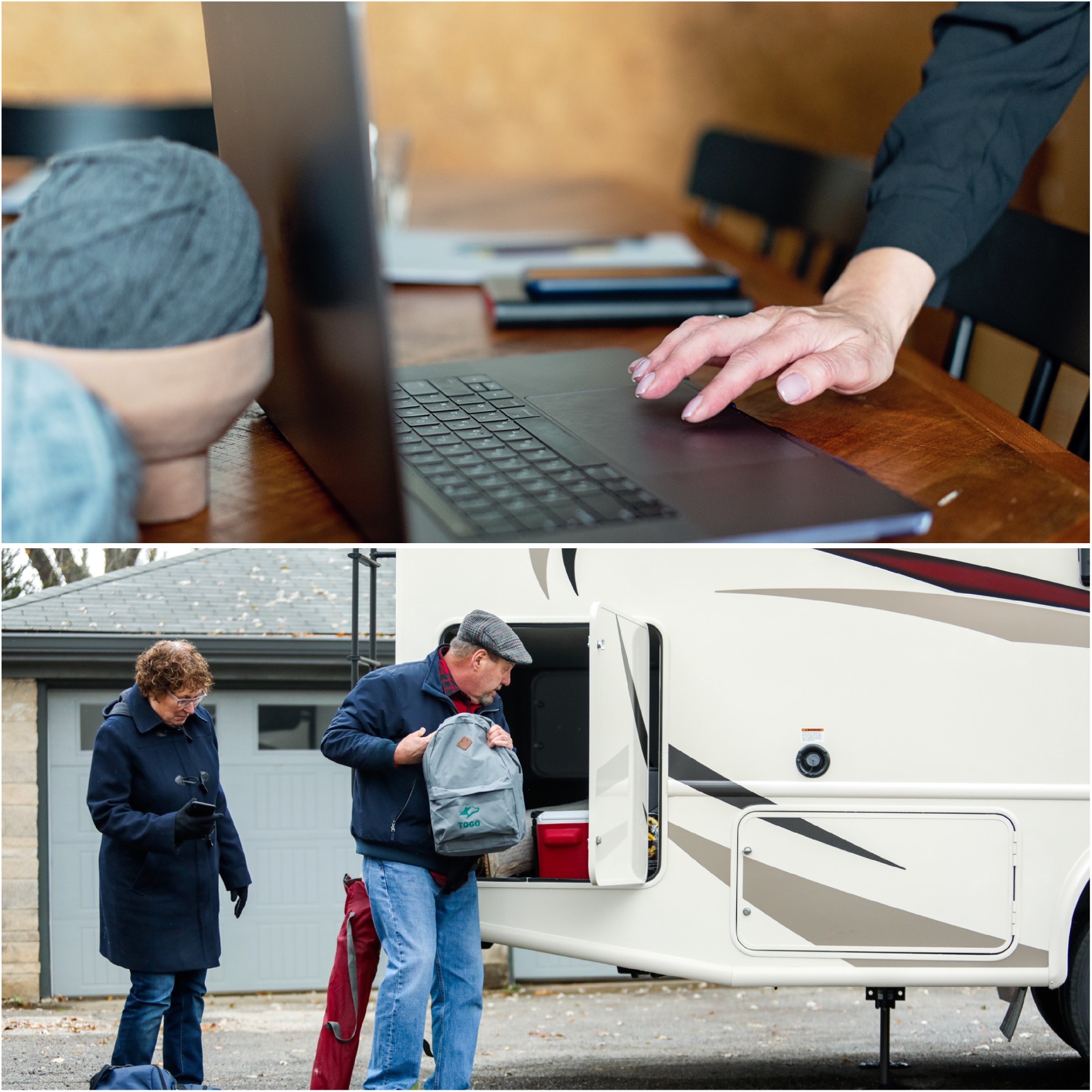 Several benefits come with toy hauler RV ownership:
You can enjoy a comfortable living space with plenty of storage for your toys

Adventurous travelers don't need to worry about hiring equipment because they can bring their toys with them

You can use the garage space as additional sleeping space or an office, depending on your needs

You can access your toys via a door in the main cabin or by dropping the back and making a ramp

If you have an integrated fuel store, you can keep your toys topped up with fuel and ready to go

The garage space is a secure place for your toys that's out of the weather
Do toy haulers have any disadvantages?
Travel trailer toy haulers do, however, have a few disadvantages:
You may be carrying a lot of additional weight in the form of your toys, which means you'll need a substantial towing vehicle

Toy haulers can be on the large side, which makes parking and maneuvering challenging

Their large size can make getting into a campground difficult

Compared to a travel trailer or fifth wheel, it has less living space

They can be costly due to their robust construction

The garage section tends to have little or no insulation, which means it can get quite cold or hot
What vehicle do you need to tow a toy hauler?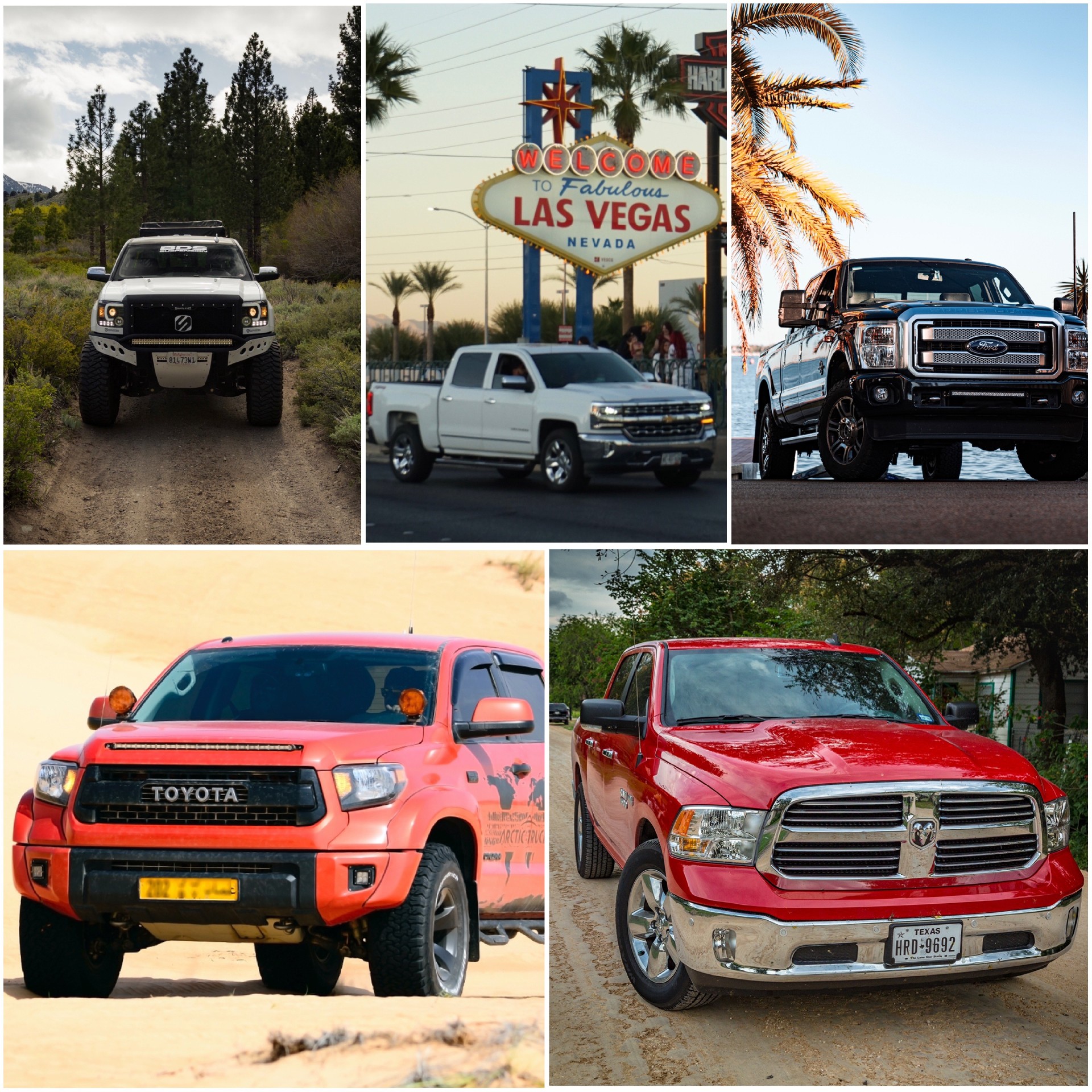 When you're looking for a truck to tow your toy hauler, many different factors go into deciding what truck is best.
Most half-ton trucks can tow a small toy hauler RV under 6,000 pounds. First, however, you must check the weight of the toy hauler and compare it to the truck towing capacity. If the toy hauler is more than 6,000 pounds, then you might need to consider using s full-ton or 3/4 ton pickup truck.
The dry weight is one thing, but add the toys to the equation, and its weight increases substantially.
Some examples you might want to consider include:
Chevy Silverado

Ford F-150

Ram 1500

Toyota Tundra

GMC Sierra
How much can you expect to pay for a toy hauler?
The retail price for a new toy hauler camper can be anything from $130,000 right up to $230,000.
A travel trailer toy hauler, on the other hand, ranges from $20,000 up to $90,000, but it's much smaller.
Another option is a fifth wheel toy hauler, which could set you back upwards of $170,000, but at the low end of the scale, you can find them starting at around $35,000.
What to look for when buying a toy hauler?
You need to answer several questions if you want to ensure you choose the best toy hauler for your needs. First, consider the following:
Garage size: Many toy haulers have a garage space between seven and a half to eight feet wide. They can be as long as twenty feet, but they are between ten and fourteen feet long on average. Make sure the garage space is big enough for the equipment you want to haul.

The number of people it can sleep: Think about how many people will be using the trailer.

Living space and additional features: The living space should be sufficient for the number of people using the trailer. A range of other features is available such as showers, kitchen equipment, and interior storage.

The rig's weight: Your tow vehicle will need to have enough horsepower to handle the load
If you're looking for one of the most durable and useful toy haulers on the market, check out the toy haulers from Black Series RVs. They have everything you need for your next outdoor adventure and enough room for your toys and everyone to sleep comfortably at night.
What is the difference between a toy hauler and a travel trailer?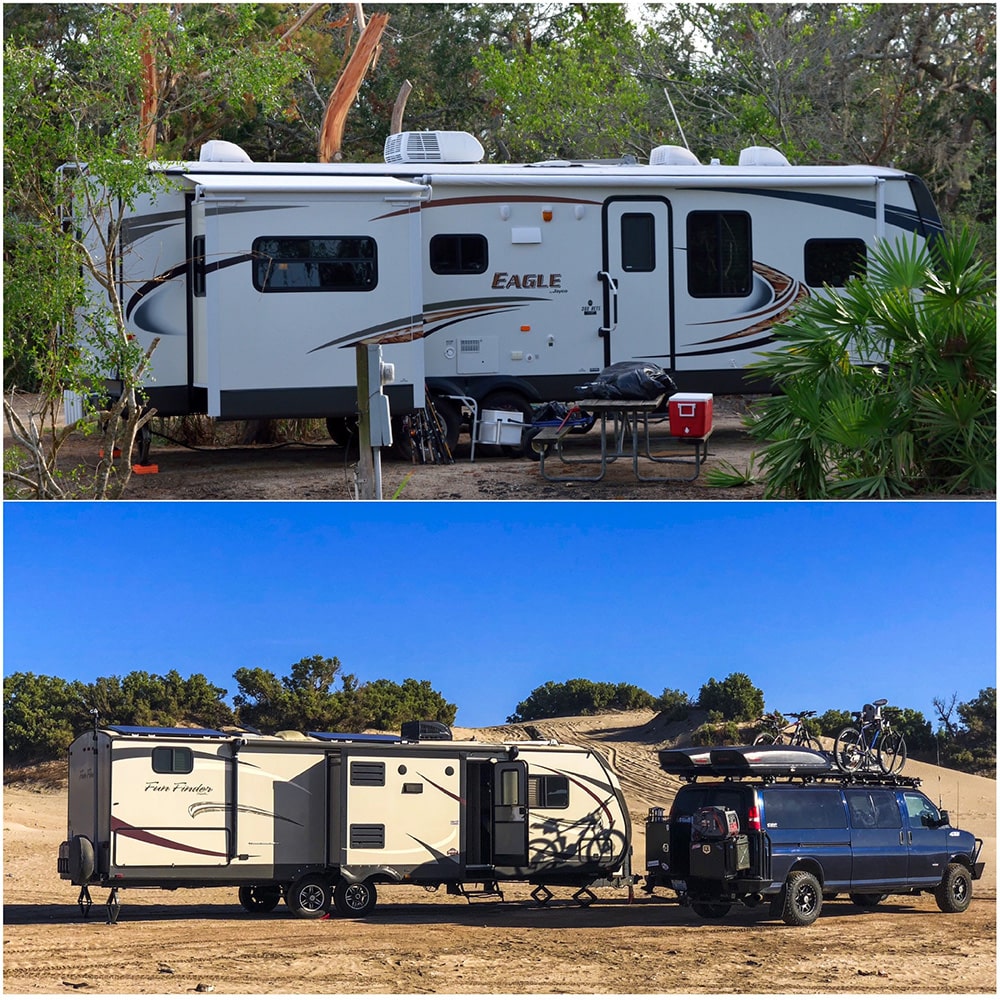 The main difference between a travel trailer and a toy hauler is the interior space and weight. A toy hauler has a sturdier frame and is therefore much heavier. However, it also has a garage area, making the living space smaller.
Different types of travel trailers tend to have more luxurious features such as a full-size refrigerator, TV, fireplace, and much more.
Conclusion
If you long for the freedom of the open road but also like to have some toys with you so you can explore further afield, a toy hauler could be what you're looking for.
FAQs
1. Are toy haulers worth it?
You can enjoy many benefits if you choose a toy hauler. You get to bring your toys with you on the road, but they can also provide a private space you can use as an office of play toom. Toy haulers are also a very versatile type of RV. Whether they are worth it is something only you can decide.
2. Is a toy hauler considered an RV
A toy hauler is an RV that features a garage at the rear with a large ramp door for access.
3. How much weight can a toy hauler haul?
Toy haulers tend to have a higher cargo capacity than most other RVs. On average, it's around 10,000 pounds.
4. Can a toy hauler carry a car?
A car is much heavier than most toys, and while some can carry a car, it's not easy. Very compact cars such as the FIAT 500 or a Smart car should be OK. However, for anything larger, you need to consider the toy hauler's weight capacity before you use it for carrying a car.