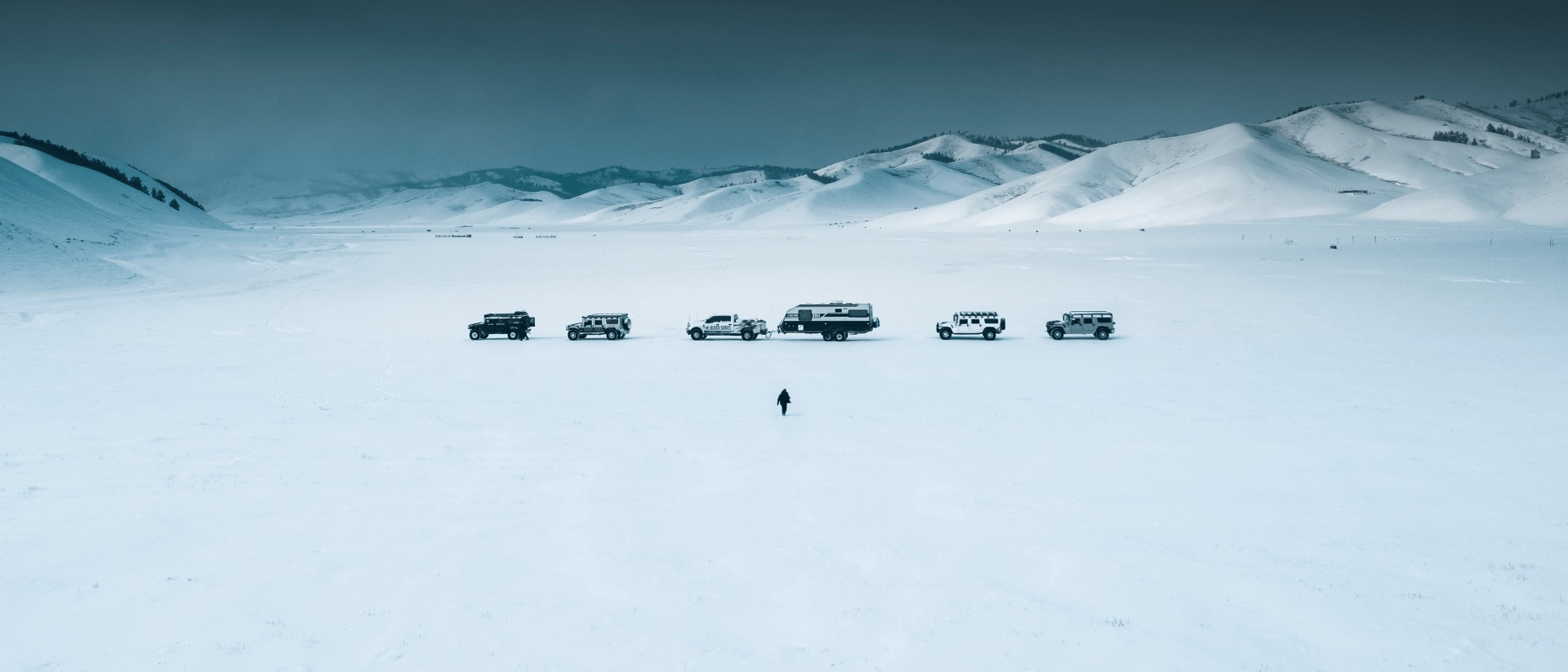 Photo by Choi Choidog (IG: @choichoidog)
For this piece, we tapped our team of ambassadors: fly fisher Jenny O'Brien (JO), climber and traveler Stephen Jones (SJ), hunter Maria Lovely (ML), and filmmaker Asher Koles (AK). They've shared their favorite winter destinations for outdoor adventures, and pro tips to help you get there and make the most of your adventure.
At Black Series, we're divided when it comes to winter. There's an urge to embrace winter and everything it entails — the snow, the cold, the sport. But there's also the urge to load the camper and migrate south to warmer terrain. Both are fair game, and for the sake of this article, we've decided that even if (especially if?) the destination is in the Mojave Desert, if you go during winter, it counts as a winter destination.
We've asked our ambassadors which activities and locations come to mind when they think about an ideal winter adventure with their camper. Plus we got their pro tips for making the most of a trip to these recommended winter destinations.
Hop in the virtual passenger seat, and enjoy the ride with us. Let's hit the road!

Photo by Choi Choidog (IG: @choichoidog)
Travel is obviously a big part of your daily life – what inspires you to get outside in the colder months?
AK: Snowboarding, split-boarding, and pow surfing are my top three winter activities. Our local [Utah] mountains offer endless opportunities via lifts, sleds, and foot-powered access.
JO: Living in Central Oregon, we're so fortunate to have access to an outdoor playground 365 days a year. My favorite winter activity is to hit the slopes at Mount Bachelor with my friends, especially on those storm days where we're getting a lot of snow. I have also recently taken up snowshoeing! It's a great way to get exercise, get the dogs out, and see some beautiful country. There are a few areas close to Bend where you can snowshoe to warming huts. We'll pack warm drinks, snacks, headlamps, and coordinate a night-time adventure under the full moon.

SJ: When it comes to winter, snowshoeing, cross country skiing, and forest road camping are on the top of my activities list.

ML: Give me all the powder! During the winter I love to ski and snowmobile across the snow and ice.


Photo by Choi Choidog (IG: @choichoidog)
What winter adventure destination would you recommend for someone with a trailer and a blank spot on their calendar?
AK: There are small, local ski resorts dotted all over the west. They have great vibes, low crowds, and can get nuked on with snow at any given moment. We always make sure to keep a close eye on the weather during the winter and load up the HQ19 when it looks like it's going to be deep at one of our favorite small resorts. Many of them let you just pop right up in the parking lot! Roll out of bed and right into the good stuff!
JO: I would definitely take off for the desert somewhere, preferably where there are hot springs accessible! The Hart Mountain area of South Eastern Oregon has some beautiful hot springs and also primitive camping areas close by. If you like wide-open spaces, this is a great place to add to your list.

SJ: For me, Mt Baker is a no-brainer — somewhere close to the lodge! I love getting up to Artist Point in Whatcom County, Washington for a day on the slopes, too.

ML: Find a small mom-and-pop ski hill that allows camping in the parking lot and go on a Black Series Ski-Cation!


Photo by Choi Choidog (IG: @choichoidog)
What's one "insider" pro-tip you can share for those visiting that destination?
AK: Bring everything you need to be self-sufficient in the trailer. You never know the next time you may need food, beers, and some propane. Being prepared for whatever happens next is key — especially in the winter.
JO: There aren't any RV Hookups at Hart Mountain Hot Springs so be prepared to have extra water on hand. It is a really remote location so be sure to fuel up with gas and propane ahead of time. I also find when I'm enjoying hot springs that it's nice to have a bathrobe to quickly access when getting out of the water. I store one in the HQ12, along with some easy-to-slip-on booties so I don't freeze!

SJ: Bring cross-country skis or snowshoes to do a day trip! Here's a good resource: Artist Point Snowshoe — Washington Trails Association

ML: Get creative with your après! I mean, just imagine: whipping up hot toddies using the outdoor kitchen, standing around a roaring campfire, a yummy dinner going on the grill, and good music playing on the speaker system. The options are infinite and I'm sure you're going to make some new friends while you're at it!

Photo by Choi Choidog (IG: @choichoidog)
Where is your dream winter destination (that you haven't been to yet)?
AK: I still haven't been to Japan to snowboard. Once travel restrictions let up, that's where I'm headed!
JO: My dream winter destination would be to visit Joshua Tree National Park. I have yet to take the trip south and it just looks like an absolutely magical place. It would be so lovely to escape the cold and snow for a few days, watch breathtaking sunsets, and check out all the cacti and other plant life. It's definitely on my radar!

SJ: Definitely somewhere in Alaska — anywhere in that region really. But my transportation method would be by helicopter and I would drop in on the side of a mountain like the massive Denali Mountain.

ML: I have always wanted to go to Haines, Alaska! The winter months in Haines are prime for skiing (heli-skiing for the truly brave of heart), snowshoeing, and even ice fishing. Haines seems like an outdoorsy person's frigid paradise!

-------------
Okay. If you're still reading this, what the heck are you doing?! Go get your gazetteer, make your packing lists, and rally the adventure crew! Winter trailer camping trips abound (to hot or cold locales). Did we miss your favorite winter destination? Follow us on Instagram and leave us a comment.
------------
Caravans Featured in this Post: