Whether you've had your eye on a new travel trailer for long-distance adventures with the family or a toy hauler that can carry your fleet of dirt bikes to camp—there's a wide range of off-road trailers that have been engineered from the ground up specifically for your favorite activities. And while in the past, finding the perfect towable meant scouring the market for a make and model with every single feature needed to live your off-road dream, now you can ease your search by going into it aware of which type of trailer fits your specific style of adventure.
Below, we'll be looking at three popular types of off-road trailers on the market: Travel Trailers, Toy Haulers, and Pop-Up Campers. We'll analyze what makes them unique, the best use cases for each, and what features really matter when you're deciding which one is right for you.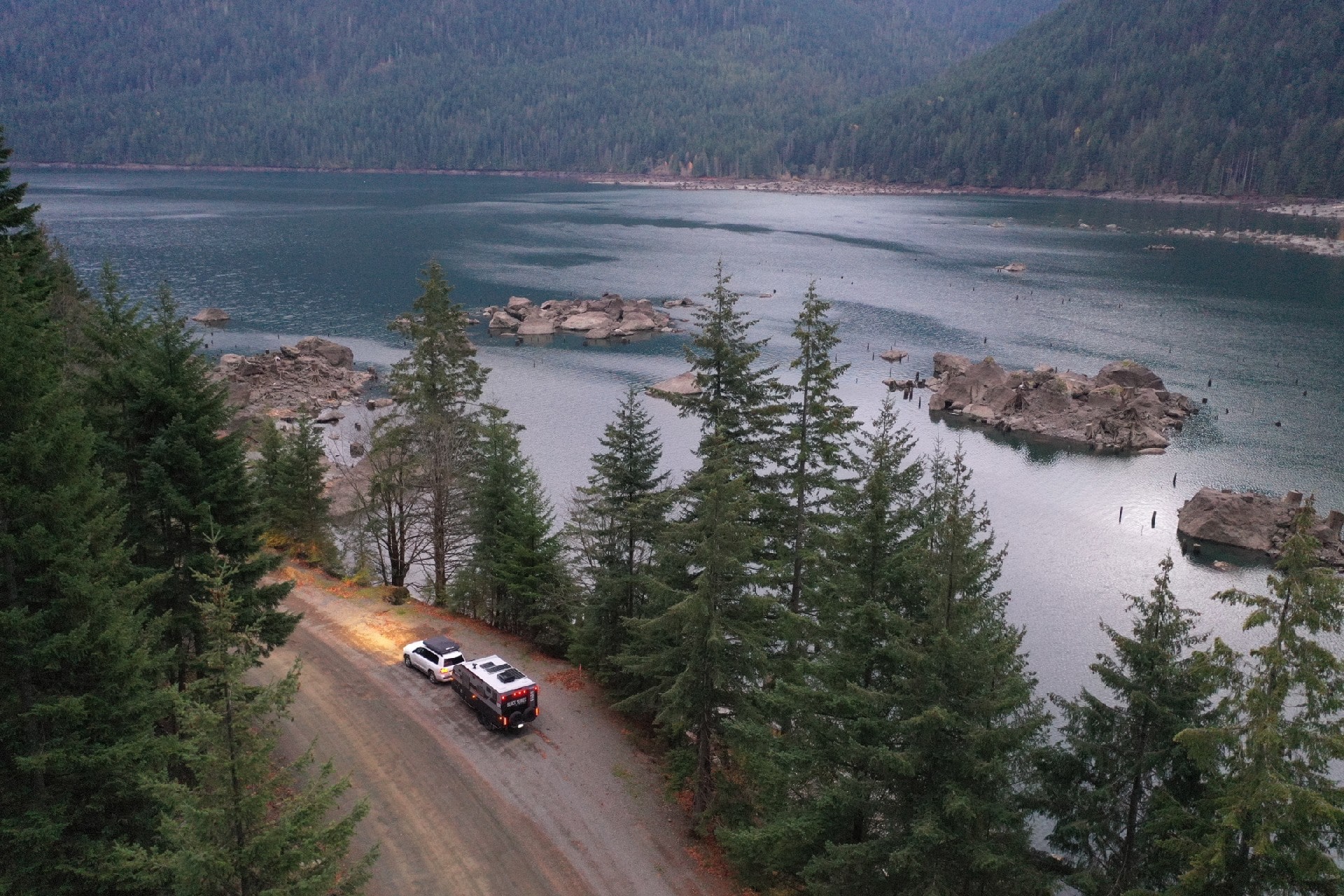 Photo: Cory Anderson
Key to selecting the towable trailer that is right for you is understanding the capabilities and limitations of the rig you will use to tow it. Before we get into the specifics of each trailer type, here are five important terms to familiarize yourself with when looking at what your rig is capable of towing:
Gross Vehicle Weight Rating (GVWR): The maximum allowable weight of the vehicle or trailer when fully loaded for travel. This includes the unloaded vehicle weight, fluids, cargo, optional equipment, and accessories.
Cargo Carrying Capacity (CCC): The maximum weight limit for personal items you can add to an R.V.
Dry Weight: The weight of the trailer as it comes in stock. This does not include supplies, water, fuel, or the weight of the passengers.
Dry Hitch Weight: The trailer's weight while unloaded that falls on the trailer hitch ball.
Towing Capacity: The maximum allowable weight that a vehicle can tow.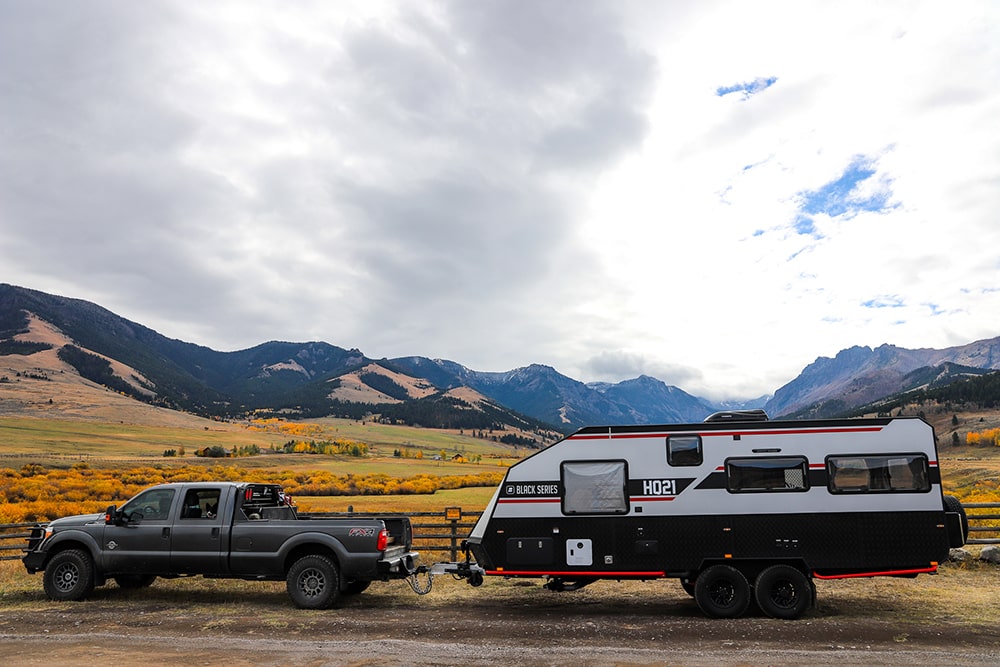 Photo: @marialovely_
Off-Road Specific Trailers
The Most Important Areas To Consider When Purchasing
Off-road trailers can include Travel Trailers, Toy Haulers, and Pop-Up Campers. While shopping for an off-road specific trailer isn't that different from buying a traditional towable, a few critical points are essential to review before purchasing. So let's briefly touch on four of the most decisive factors to consider when buying a towable.
Category: Our off-road-specific trailers come in three categories. The first is a more traditional R.V. style built for outdoor adventures known as a Travel Trailer. These come loaded with all the features you need to enjoy camping in luxury. The second of the three is the Toy Hauler. Its main difference is that it's built with storage space for your ATVs, motorcycles, and other toys. The third, a Pop-Up Camper, tends to be a more affordable option for an off-road camper. It features an innovative pop-up design, increasing space efficiency, and is easy to set up and take down in just minutes.
Terrain Capabilities: Off-road trailers are geared toward getting outdoors like traditional trailers. The difference is you can leave traditional campgrounds for remote, off-road places. The standard quad shock design spreads the load on four shocks instead of two, allowing smoother riding and safer handling. In addition, off-road trailers' lines and angular designs reduce wind resistance and maintain R.V. stability.
Size: Regardless of what type of trailer or model you're shopping for, the size should be a leading factor in your decision, as knowing the square footage gives you a sense of how many people and how much cargo each model will be able to accommodate. This is especially important because going off-road requires knowing precisely what you'll need so you don't have to make the long trek back to civilization in case of an emergency.
Warranty and Service: You want to purchase a trailer that will last through the years and over the miles, so doing some research into its warranty and service policy is important. On Black Series trailers, our warranty covers manufacturer defects, and the chassis and body frame are covered under our 15-year warranty.
Photo: @choichoidog
Travel Trailers
Travel Trailers are designed to provide comfortable mobile living spaces that make a home away from home a reality in the backcountry. They provide families with more indoor space for eating, sleeping, and gathering than other R.V. types. They typically come with amenities like a kitchen, bathroom, living room, and sleeping quarters. Solid walls on all sides provide more weather resistance and make some trailers more suitable for off-road exploration. However, they require a larger tow vehicle and are more challenging to store, so that's something to keep in mind when making your decision. The largest of our Travel Trailers is the HQ21, and it features:
Full kitchen with 3-burner stove and fridge, as well as an outdoor pull-out kitchen.

Luxurious interior with plenty of space for gathering, sleeping, and cooking.

13' remote-controlled electric awning for outdoor living.

Climate control for bringing the comforts of home to the great outdoors.

Large solar panel for long-term off-grid living.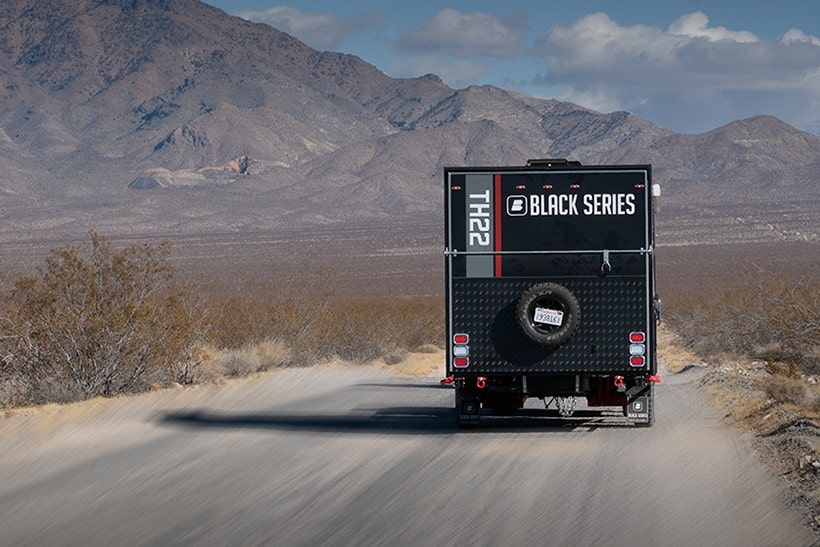 Toy Haulers
Whether you have toys to haul (motorcycles, quads, cross-country bikes, kayaks, inflatable boats, etc.) or you want extra space for kids or pets—having a toy hauler is an excellent option for those who prefer an open-concept trailer with separation from the garage storage space and the living area. Even if you haven't got any "toys," a toy hauler still provides you with available space in the back to get creative. For example, you can add an additional sleeping area or community seating to accommodate a larger family. Our TH22 is our largest toy hauler and features:
Spacious garage area for your toys and camping equipment.

13' electric awning and rear cargo door convert into a patio for an outdoor living space.

All the comforts of home, like a fridge/freezer, stove, microwave, H.D. T.V., and air conditioning.

Easy-to-use hatch for better access to your gear.

A convenient lockable door that separates the garage and living spaces.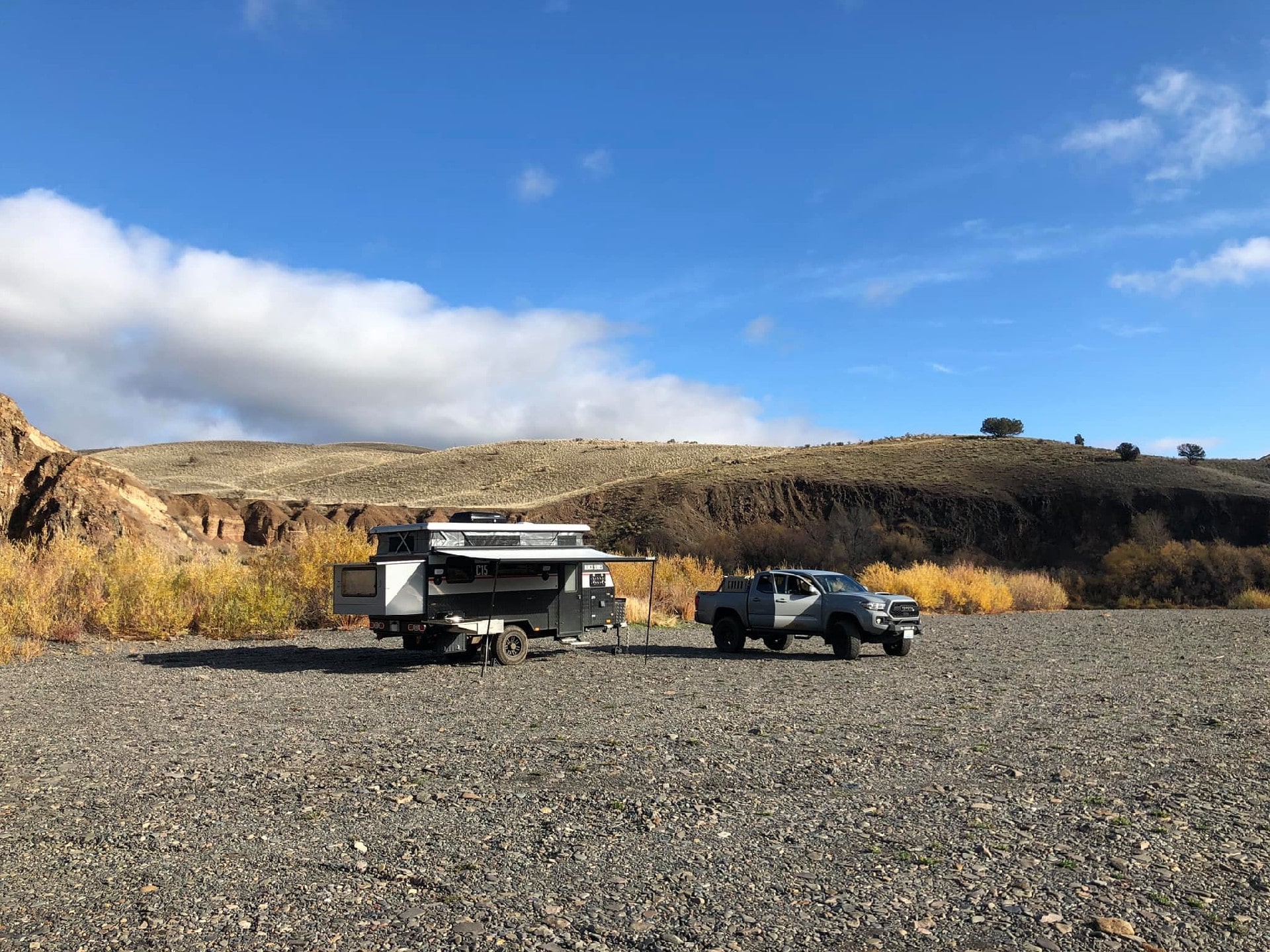 Photo: @mr.jones
Pop-Up Campers
A Pop-Up Camper is designed with the off-road minimalist in mind. If you're a fan of packing light but want to have all of the amenities you'd get from a larger towable, you might find that the Pop-Up Camper is right for you. Pop-Up Campers are the most affordable type of R.V. and are popular with smaller families or those who like the traditional camping experience, but want some of the added conveniences of home. They have collapsible walls making them easy to store and are also easier to bring on adventures if you have a smaller towing vehicle. As well as having less to stress about when it comes to the work and upkeep of a traditional towable, our largest Pop-Up Camper, The Classic 15, features:
Collapsible walls that make storing and transporting easy.

Full kitchen featuring a stove, drip sink, and drying rack for outdoor cooking.

Multiple living area/sleeping room combinations for small families.

Queen-size bed and bathroom with shower.

Battery power and portable solar panel for longer off-grid living.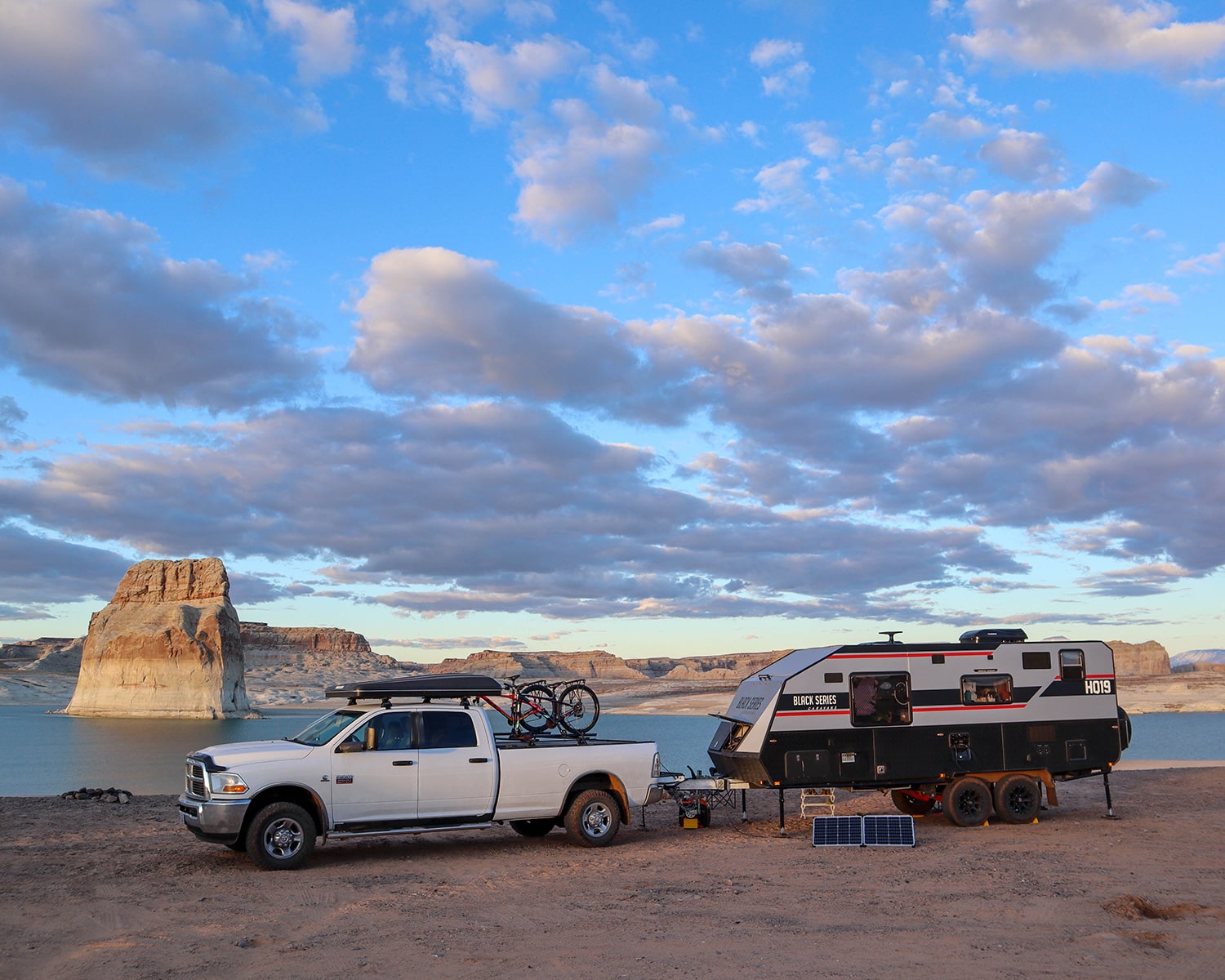 Photo: Cory Anderson
With plenty of exciting options for towables on the market, you are sure to find the right one for you. If you'd like to learn more, visit our website where you can read up on all the models offered in each of our categories of towables.
Want to learn more about living off-road? Read LESS SOCIAL, MORE DISTANCING: TAKE YOUR NEXT VACATION OFF-ROAD
Black Series Trailers Featured in This Post:
HQ19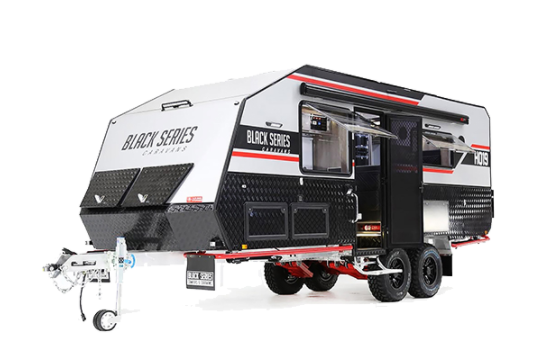 HQ21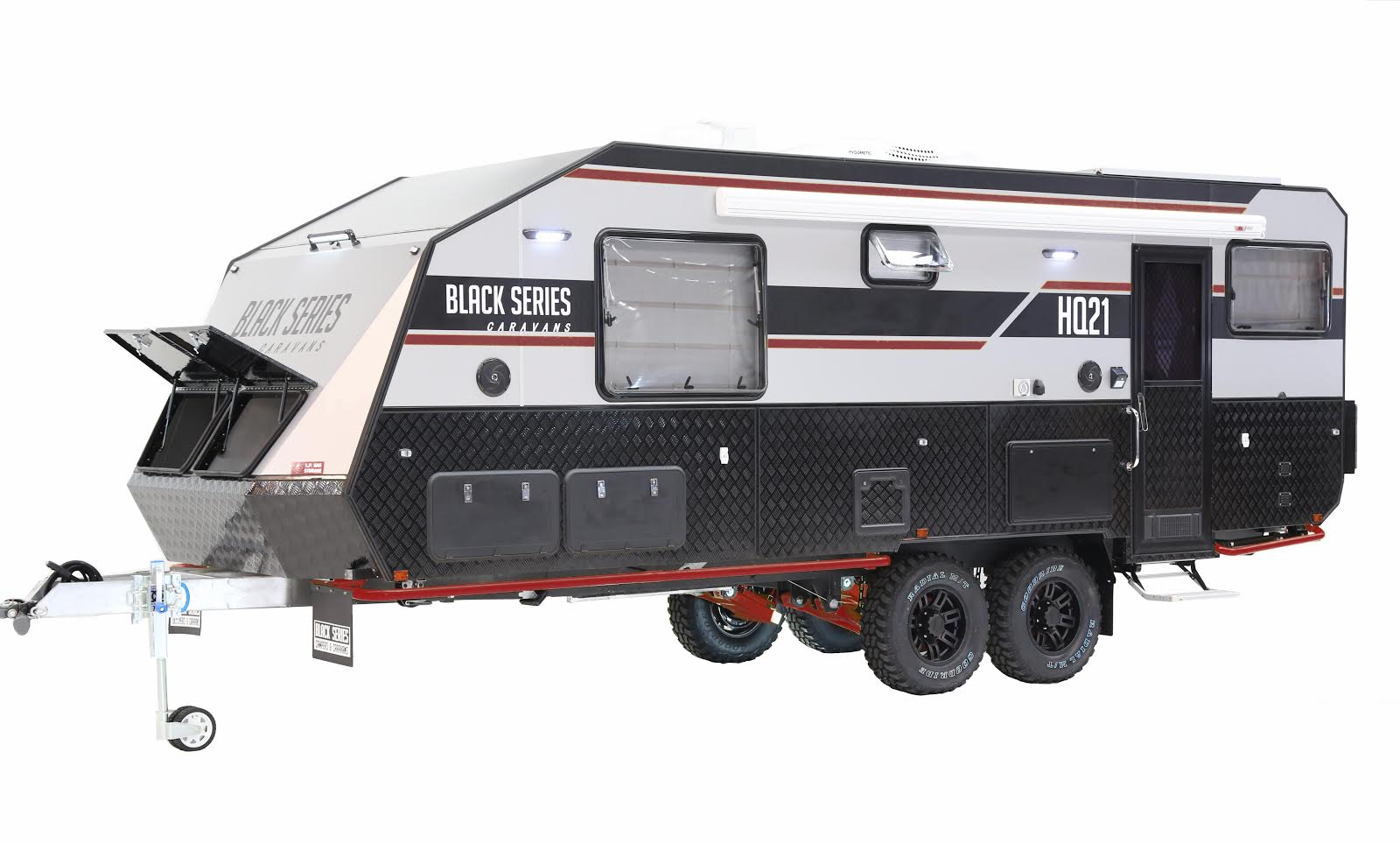 TH22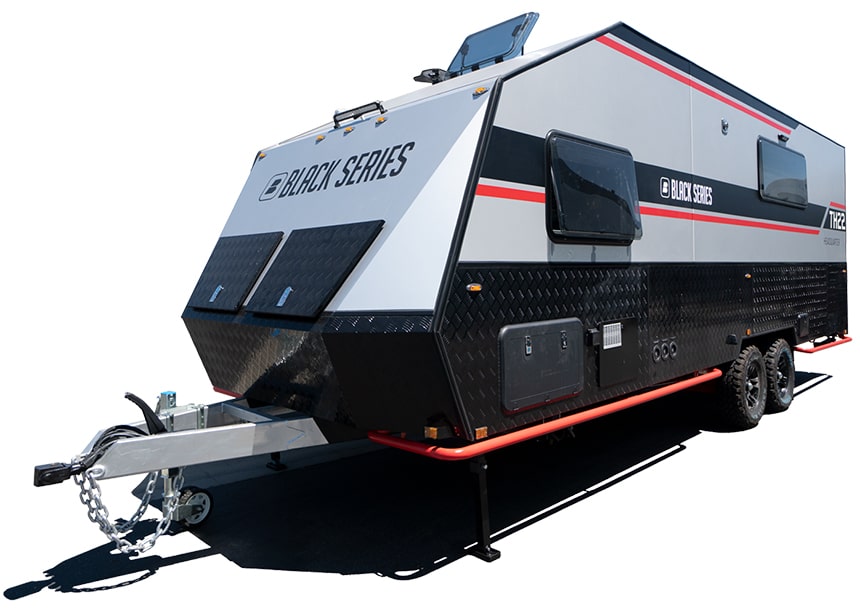 C15